What's round, warm, can be filled with almost anything and brings a smile to young and old alike? No, I meant besides me. Yes, that's right boys and girls, DUMPLINGS. Chinese dumplings is more like it. I like to believe that I hold a degree in dumplingology, having eaten enough of these little pouches of sunshine to fully understand the complexity that is dumpling dynamics… a dumpling connoisseur.

On a mission for hot steamy dumplings on a bitter -30 degree December afternoon, we found ourselves at Qing Hua Dumplings, a local dumpling joint for what else? DUMPLINGS. The menu consisted of over 30 different varieties of dumplings, from pork, beef, lamb, seafood and even a combination of various ingredients. With descriptions sounding so delicious, it was like asking a fat kid with his nose pressed up against the glass, to pick one thing at the bakery… or a dumpling shop.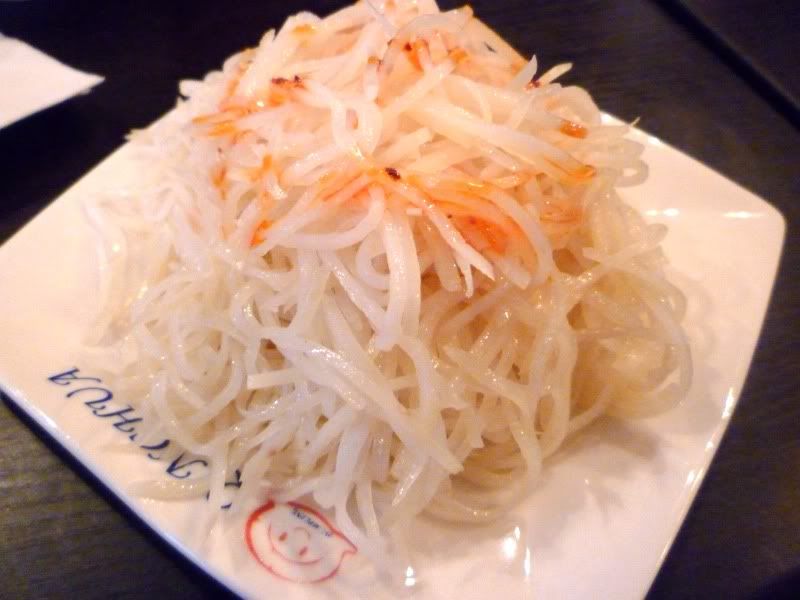 We started with what was called a potato "salad". If it was anything, it was potato alright, but it was kind of lacking in the salad department. It was salad in the sense that it was "dressed", and in this case, chili oil. It was crunchy to the bite and had a undertone of sweetness and vinegar which suggested to me that the potato was probably pickled – my assumptions are assumptions, as I did not get a chance to ask the one and only server who was busy shuffling between a full dining room. It was crisp and fresh.

We ordered from the lunch special menu, which came with a soup and salad. The salad was a great mix of rice noodles, cabbage, pickled radish, carrots and eggs in a sesame dressing, incredibly refreshing.

The soup was interesting. A Japanese miso soup with tofu and seaweed. Yeah, out of place, I know, but it's ok, I didn't expect much from it, no points lost, you don't go to a Mexican joint for foie gras anyways, right?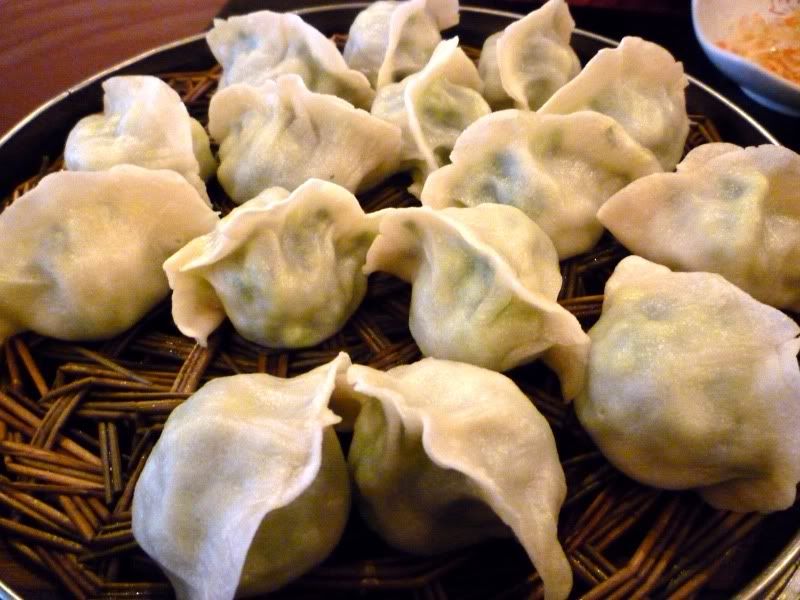 So after about 20 mins our first rung of steamed deliciousness arrived. This was pork, with eggs and leak. The leak provided a really pretty color and the eggs a really funky texture not often found in dumplings. All dumplings come in 15 piece orders, additional dumplings as well as mixing orders cost extra.

It should be noted that the dumplings take on average 20 mins to arrive at your table as they are both WRAPPED and STEAMED to order. This means, the little magical dumpling fairies were busy at work, because 20 mins ago, your dumplings were still a ball of dough and a bowl of meat (apologies to any male chefs in the kitchen, I'm not calling you a fairy, I'm just saying).

Staple dumpling condiments, soy sauce, malt vinegar and chili oil.

The second order to arrive was lamb and coriander. Extremely fragrant and busting with soupy goodness. As with my track record of shoving freshing fried foods in my mouth, I learned the hard way not to bite down on a steaming hot dumpling as soup squirted half way across my face.

Why are the dumplings are filled with soup? The trick is that congealed and gelatinous soup is mixed with the meat when the masterful hands stuff the dumpling. This way, then they're steamed, the soup melts away and is retained within the wrapper. Also, all dumplings are served steamed or boiled as ordered.
With other great and interesting dumplings listed on the menu, Qing Hau is definitly a place worth visiting more than once… or twice if not more if you've got a jonsing for dumplings. This place has a really big following and don't be surprised when the place is packed with seasoned veterans ordering up a storm. Cowboy up and don't be intimidated, immanent dumplings await.
Qing Hua Juicy Dumplings
1676 Lincoln
438.288.5366