On an early episode once upon a time on a show called Cribs – an over the top look into celebrity homes; Jermain Dupri said you're not a big dog until you have one of these *unveils a Bentley Continental GT convertible*. This suggest that you haven't made it into the industry until you had one of those. Not that it's a bench mark, but it's a given that if you're a Montreal food blogger, having a review or at least a mention of a burly Chef Martin Picard's foie gras poutine is accreditation of your place in the bloggosphere. I'm hesitant to say I subscribe to this agenda, but his genius deserves to be mentioned.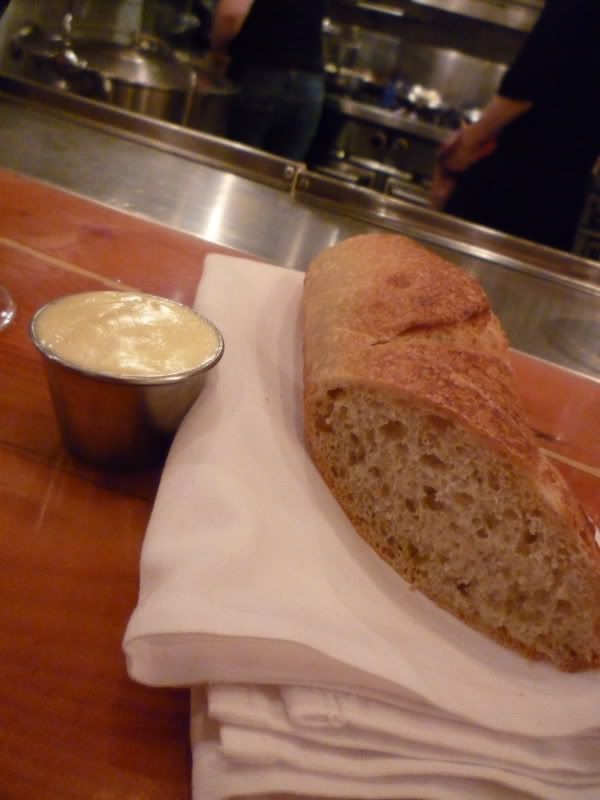 I went with a friend to celebrate a belated birthday for her and an early birthday for me. We had be discussing it for a while that we hadn't been there for a long time and decided to revisit in the name of celebrating the day of our births. We looked over the menu and after a lengthy description of the specials of the day and cooking and preparation procedures, looked at the menu again and made our choices and nomed on some of the fresh in-house made sourdough bread.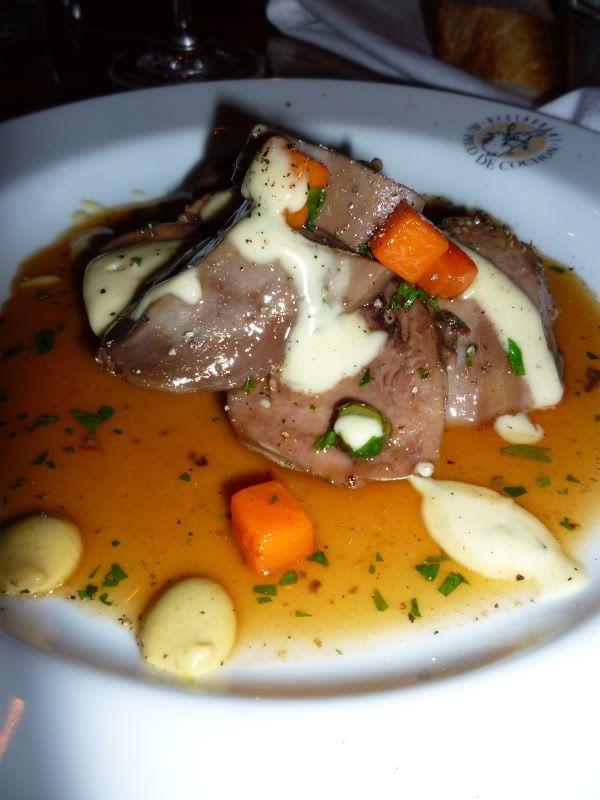 We started off with pickled tarragon braised bison tongue. Extremely tender, it was served with dijon in the braising jus. The gaminess of the tongue was taken out by the pickling process, but it still had a lot a great beefy flavor to it. My friend and I were both really impressed and knew this dish was setting the tone for the rest of our mean.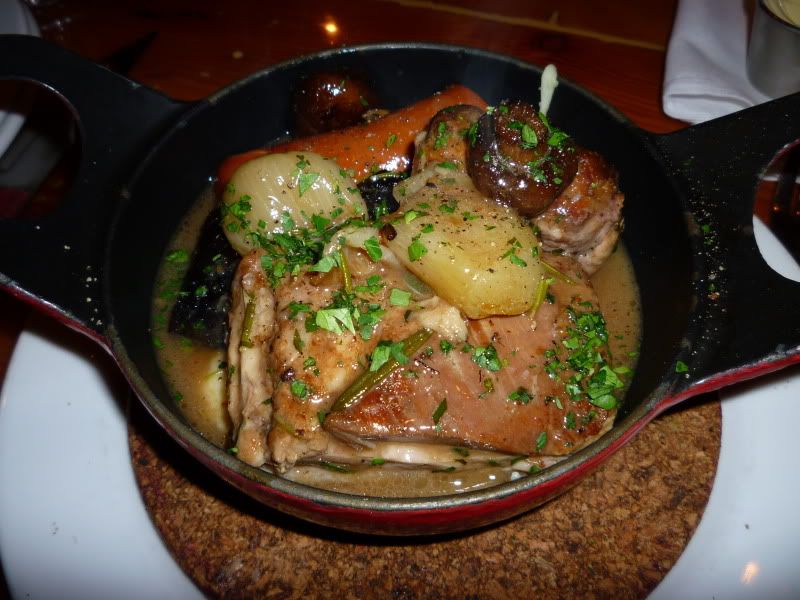 We split the PDC melting pot, which is a cast iron pot of the Pied de Cochon party pack of pork and piggy goodness. Such wonders included braised pork belly, half a chop, their homemade boudin noir (blood sausage), knockwurst, roasted onions and creminis in the braising liquid and a heaping slop of their famous garlic and cheese whipped mashed potatoes. All the flavors were robust and distinct – what else can you expect from a place whose pan seasoning is exclusively rendered butter and duck fat?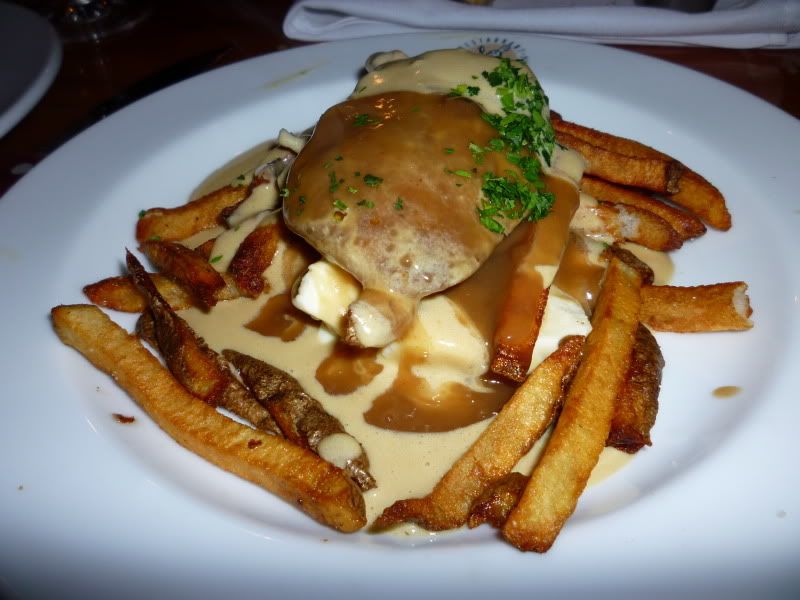 And there it is… one of the things you order when dining at Au Pied de Cochon. The anticipation of this particular dish is what I can only imagine what it's like for parents awaiting the birth of their first born. We knew this was going to be ordered and I walked in partially giddy. Fries – fried in duck fat – cheese curds, brown gravy and the piece de resistance; the middle finger and a big F-you in the face of health conscious vegan nuts… foie gras, doused in a foie gras-ie sauce. The liver cooked to masterfully, a perfect pairing and contrast to the crisp fries and chewy cheese.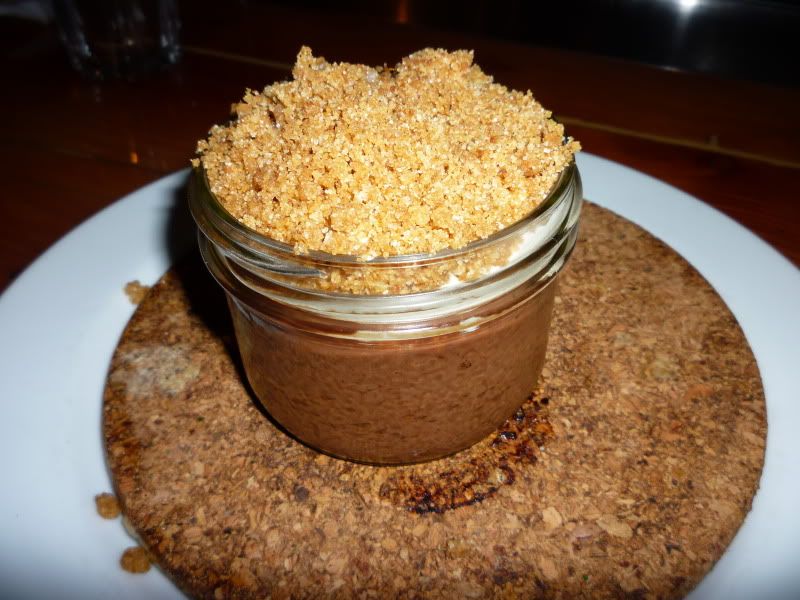 For dessert – if the rich opulant meal wasn't enough, we split the dark chocolate "pot de creme". A dark chocolate custard, toped with cream and a graham cracker and brown sugar crumble; humble and simple. We also had a creme caramel (my favorite) – no picture however… because I kind of inhaled it before I remembered I write a food blog. Ha!
The sinister mind that has the evilness to encompass the creativity of such a menu has the capacity of making the sun itself burn with envy. Chef Martin Picard brings classic Quebecois country style cooking to the city; not reinventing but more reintroducing urbanites to the wonders of pudding chomeur and Jesus ears. I suggest eating salad for breakfast and lunch on the day of your reservation… caloric intake will be equal to at least two days.
Au Pied de Cochon
536 Avenue Duluth Est
(514) 281-1114
http://www.restaurantaupieddecochon.ca/
Reservations highly suggested.