***UPDATED POST HERE***
I hit up Kazu Izakaya this week. Its place in queue on my long list of places to eat was bumped up due to a recommendation of a reader… and due to my hunger… and the fact that I was standing in front of the place when I got hungry.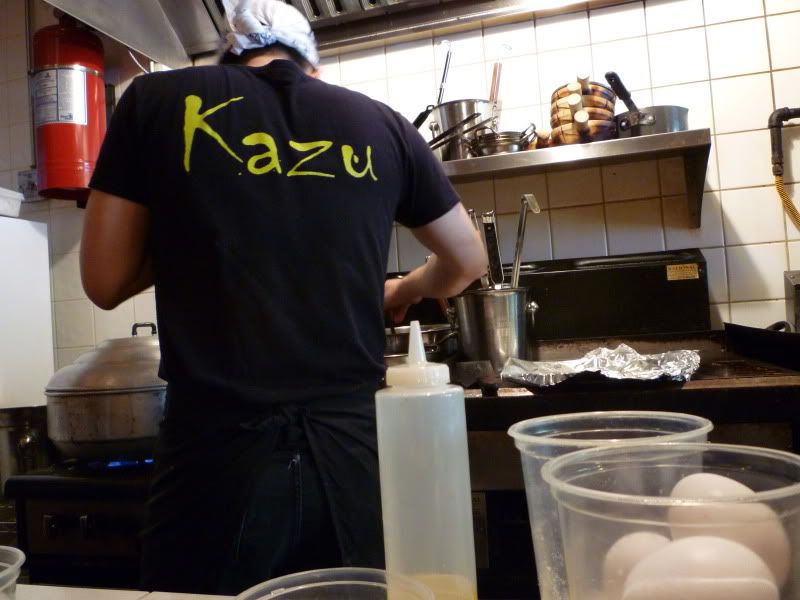 We walked in and was immediately struck by how small the place was. We were seated at the counter which I didn't oppose to and made a remark about adding to the experience, which make the chefs chuckle, who evidently were the only things separating us at the counter and the scorching hot stoves and ovens.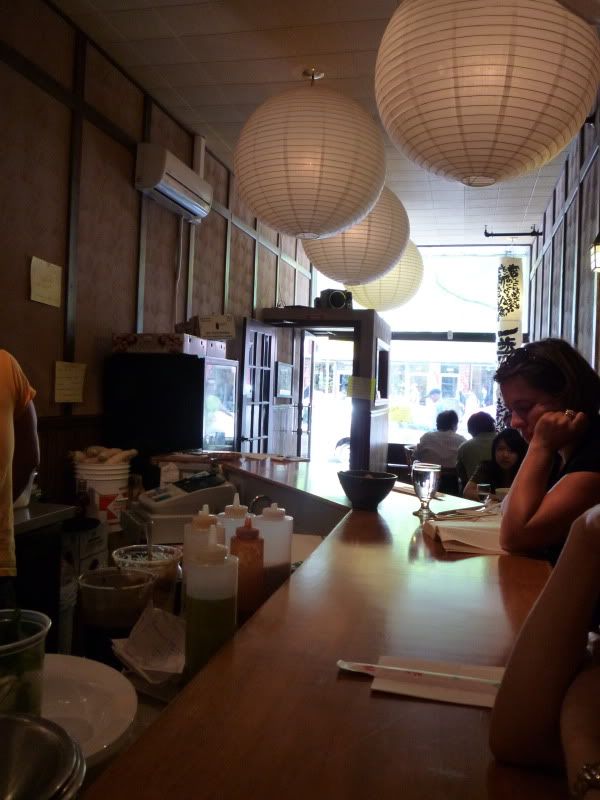 It's a very small place, 6 at the counter and a handful of tables. The quaintness adds to the charm of Kazu.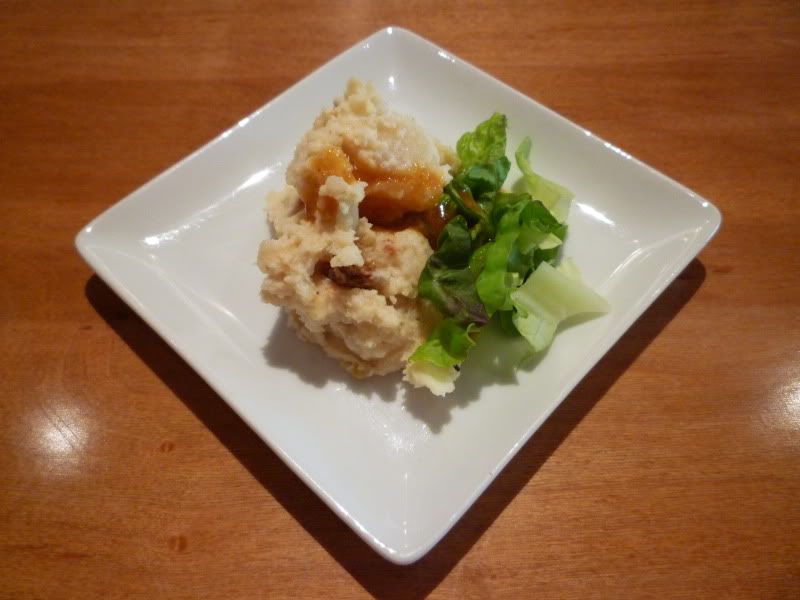 We found out that at they have a limited lunch menu which comes with a choice of either soup or salad of the day. Today was a creamy sweet miso potato salad. Somewhat subdued, but appropriate as a prelude to what was to come.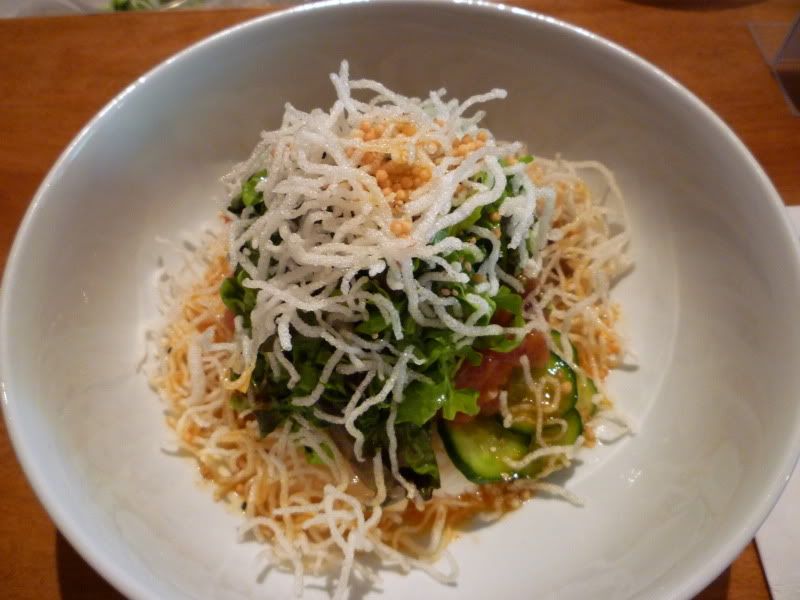 I had the tuna and salmon bowl. Rice with tuna and salmon sashimi, with lettuce and cucumbers, topped with crispy noodles, in a sweet soy dressing. I knew I wanted another one half way through and I was already full. I told them that this dish needs to be offered in different sizes a la Pho, because I would XL it up.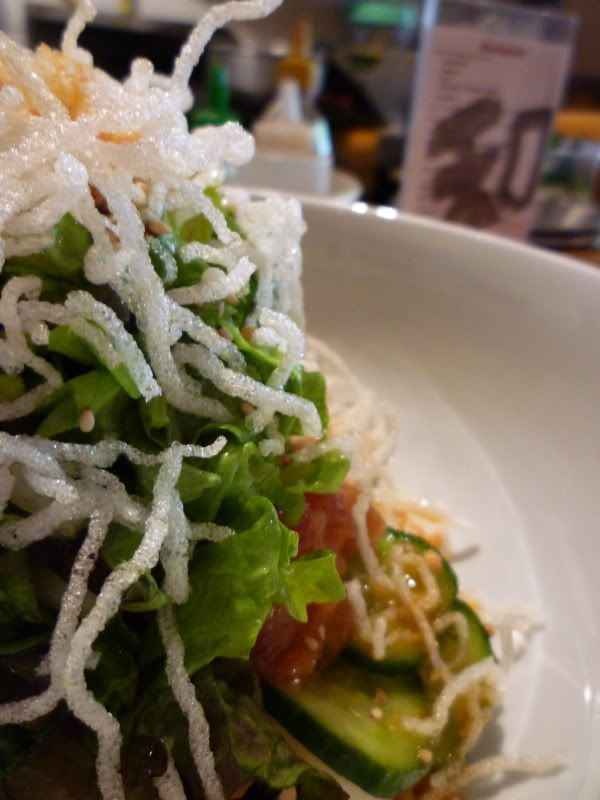 Incredibly fresh and perfect for a hot day. A unique take of chirashi-zushi (scattered-sushi/sushi bowl) with a twist. While sitting at the bar and watching this bowl being composed, I noticed the chef/owner dress it twice with two different sauces. Once on the rice and once on top of the salad. I appreciate this kind of attention to detail, to season two parts of the same dish, then having those two difference sauces work together is quite impressive.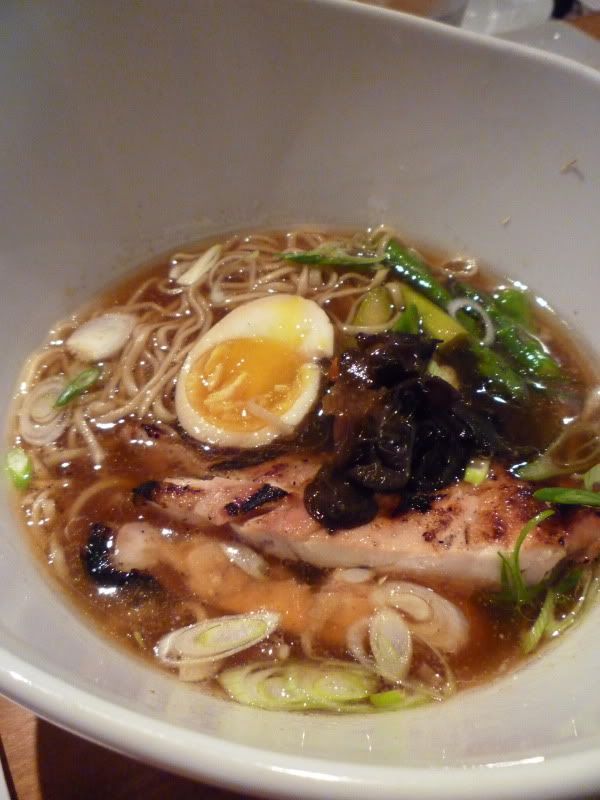 My friend ordered the ramen. Obviously she isn't as easily agitated as I am with eating hot when it's already 621 degrees. When we asked about the ramen, the waitress proudly explained that it's "the best ramen in Montreal", this immediately sold me – even though I wasn't the one eating it. Served with grilled barbecued chicken the homemade noodles are perfectly chewy and the soup was fragrant and flavorful. DO.NOT.MISS.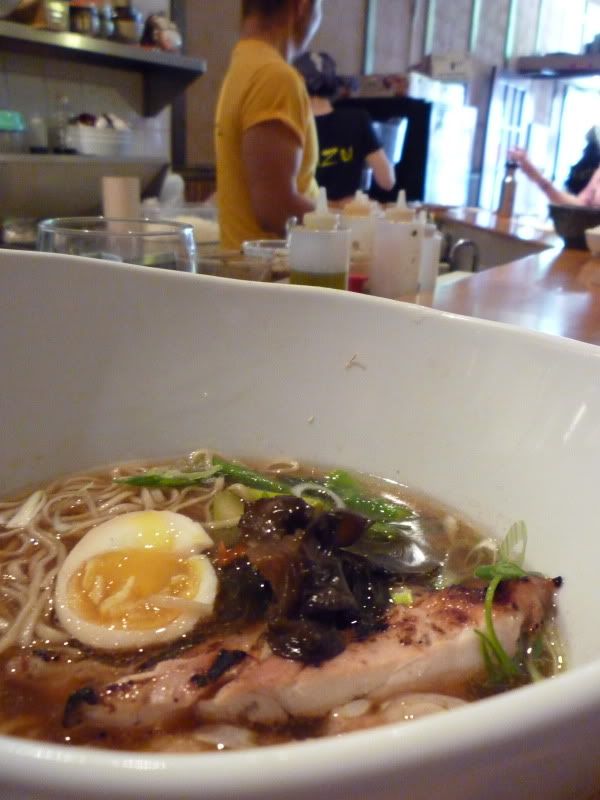 We were told that the lunch menu changes frequently, but the tuna and salmon bowl, as well as the ramen are usually on there. They have a completely and more exciting dinner menu, which I am making plans to try as soon as I can. On this particular day there was "gigantic meatball" (made of chicken) on the menu. It made me laugh, because the guy sitting next to me ordered it, and when the dish was place in front of him, atop a pile a rice sat a literal, 'GIGANTIC MEANTBALL".
With an ever changing lunch menu and a completely separate dinner time menu, it's safe to say I'm not done visiting Kazu. I told the chef/owner that it's refreshing to eat at a Japanese restaurant that isn't only synonymous with sushi, he is definitely doing something right by thinking outside of the box creating unique Japanese inspired cuisine. So if you're up for chowing down, go here!
Kazu Izakaya
1862 Sainte Catherine Ouest
514.937.2333
***CASH ONLY***