Quick, when I say "Japanese" what's the first thing you think of? Fat guys in diapers? Funny game shows? Weirdo gadgets? Sushi? You're reading this blog, so obviously you know I'm going to mention something food related. I've noticed recently that Montreal craves the wonders of Japanese cuisine that isn't sushi. More and more "izakayas" have been the trend – a sort of Japanese tapas bar.
A friend and I hit up Furusato formally known as Osaka on Bleury. It's tough to have Japanese, especially together as we've both been and spent time in Japan. So even though we know that it's "not Japan", in the back of our minds we can't help but to compare with what we've had overseas. So the natural thing to do was to order a bunch of appetizers.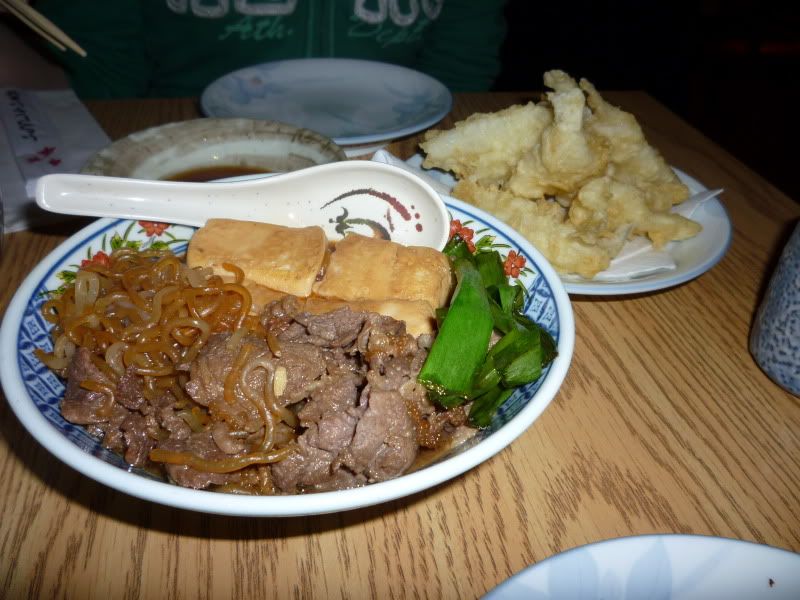 We started with what was called a "Petite Sukiyaki". Opposed to having a hot pot simmering at the table, the small bowl was already prepared and was served steaming hot. Warm broth with thinly slice beef, soft tofu, noodles and green onions. I know part of the charm of sukiyai is having a volatile open hot pot gas burner in your face for you to cook your own food… but this was merely an appetizer, what do you want? We also ordered tempura Kisu, tempura white fish (smelt), fish was nice and warm and batter crispy.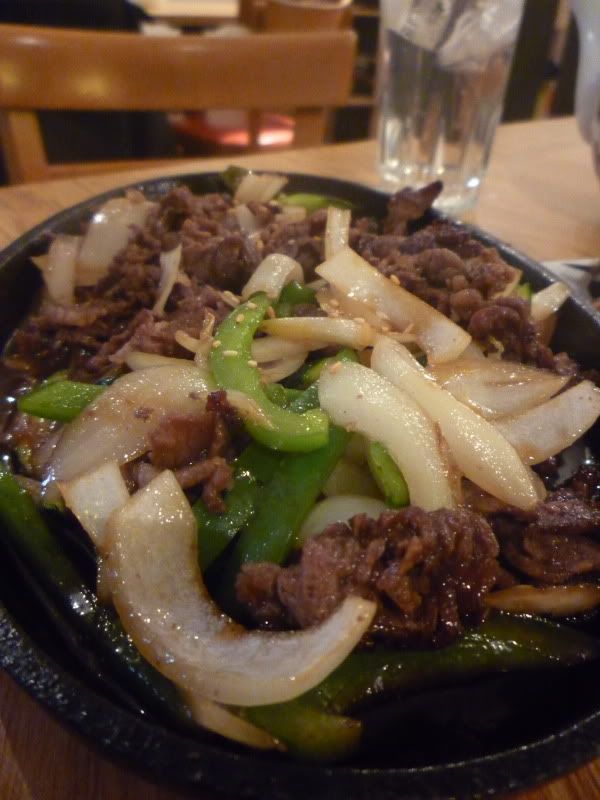 Followed by a sizzling plate of beef yakuniku – a sweet soy marinated beef sauteed with onions and peppers. Although tasty, it wasn't really one of my favorite dishes, we ordered it because my friend wanted to compare it to her own and to see if hers was "authentic" enough. It's not that much of a stretch when it's just a quick marinade and stir fry… but this is coming from the friend who's triumph in meal making is not dirtying the control panel of the microwave. But not to discredit the dish, some of the most delicious dishes are the simplest to make.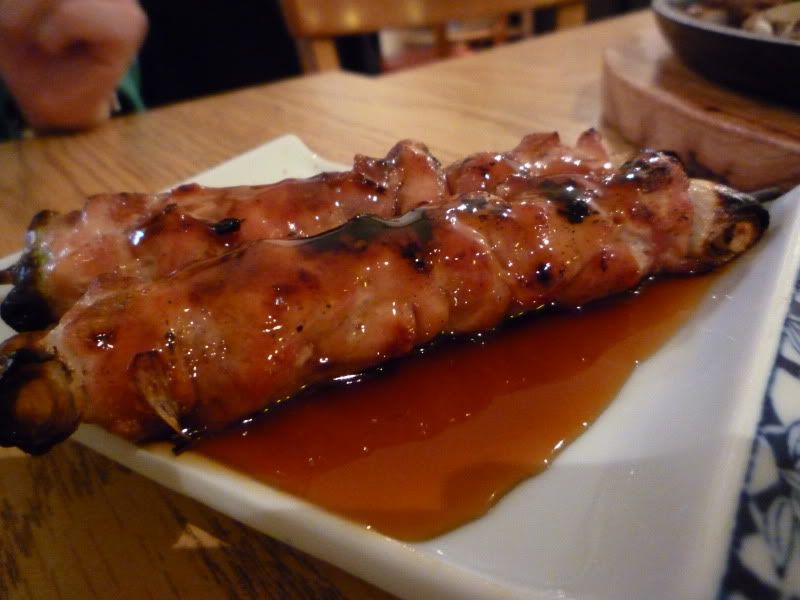 Next was the tori yaki – marinated chicken skewers grilled and drizzled with a sweet soy sauce. This is what brought me back to the small casse-croutes of Japan, sipping on Asahi and munching on these was as perfect as when Chandler got stuck in an ATM vestibule with Jill Goodacre (a prize to anyone who gets this reference!)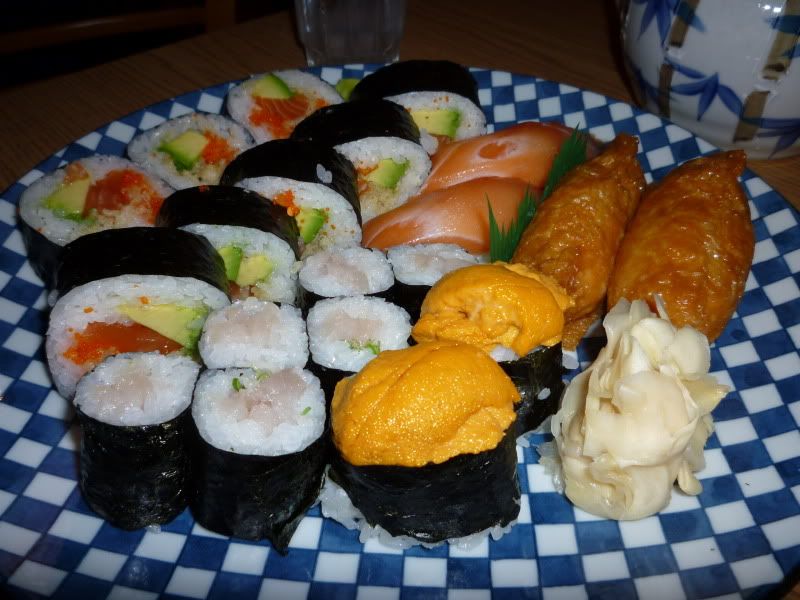 We also ordered from the sushi list. Pretty much your run of the mill vanilla sushi, really fresh, and they had a few of my favorites. Hamachi and Uni… trust me. The prices on their sushi list are amazing, you'd think they caught their own fish for the prices they serve them at.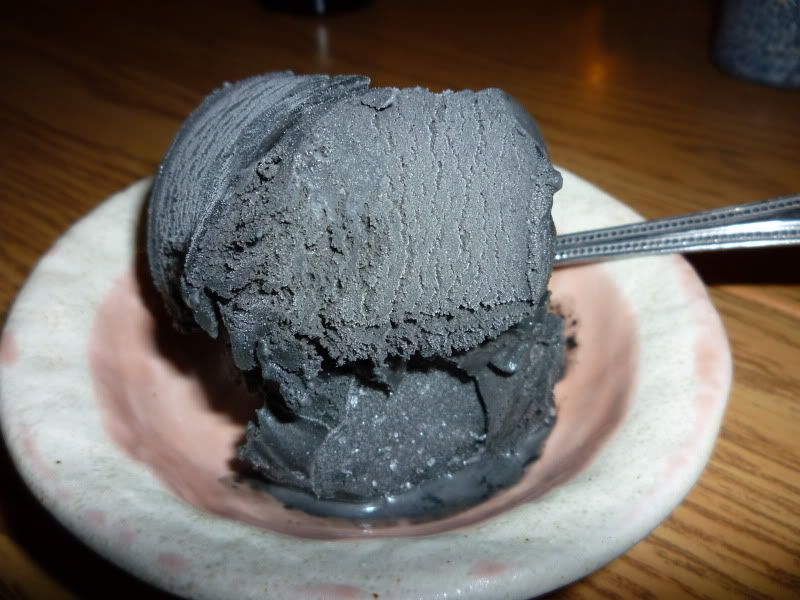 This is the best black sesame ice cream I have ever had. THE.BEST. Made or bought, I'm not sure; I was preparing myself for a regular scoop of ice cream that resembled Oreo ice cream with a hint of smokeyness and sesame taste. My friend and I were both surprised when the waitress set down our bowls and we both said to each other in unison, "IT'S BLACK!". I don't know where it's from, but I'm on a mission to find out, the absolute best I've ever had.
This place is run by a fun young group of Japanese kats who know what they're doing. Great prices and wallert friendly, it's nice to go for Japanese and not have to eat before hand. Be adventurous and try something new, you won't know you like it unless you try.
Make sure to leave a comment!
Bistro Japonais Furusato.
2137 rue De Bleury
514.849.3438