A bunch of us were sitting around talking about what we hadn't eaten in a while. Dim sum, dragon fruit, cotton candy, abalone and shepherd's pie were some of the things that were mentioned, none of which were feasible for a late night meal. In the midst of my trying to explain and justify why I can't eat pho at night time, someone mentioned the one dish that was powerful enough to shut everyone up… Peking duck.
The simple mention of it rendered everyone silent in quiet contemplation, remembering their own personal experiences with the dish. "Peking duck" was so compelling we don't even remember who said it, not even the person who suggested it. We agreed and made plans to hit up Peking Garden on Queen Mary.
If you're unfamiliar with Peking duck, it's quiet the production. You order the duck whole, it's oven roasted to crispy skin perfection. I know I refer to things as "perfect" often… but this time I really mean it. Traditionally this dish is served in multiple courses, which include the wrap, a stir-fry with noodles and a soup.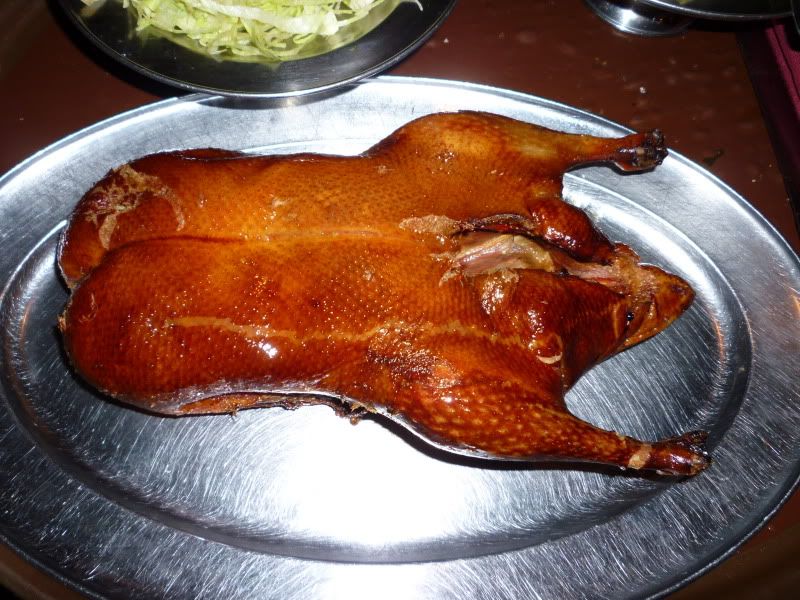 The waiter carves the duck table side at an incredible speed, credit goes to him as this place is known for their Peking duck and to say they go through this process a few times a night would probably be an understatement. The meat was juicy and not gristly, also quite flavorful and sweet, this is attributed to the pre-roasting preparation.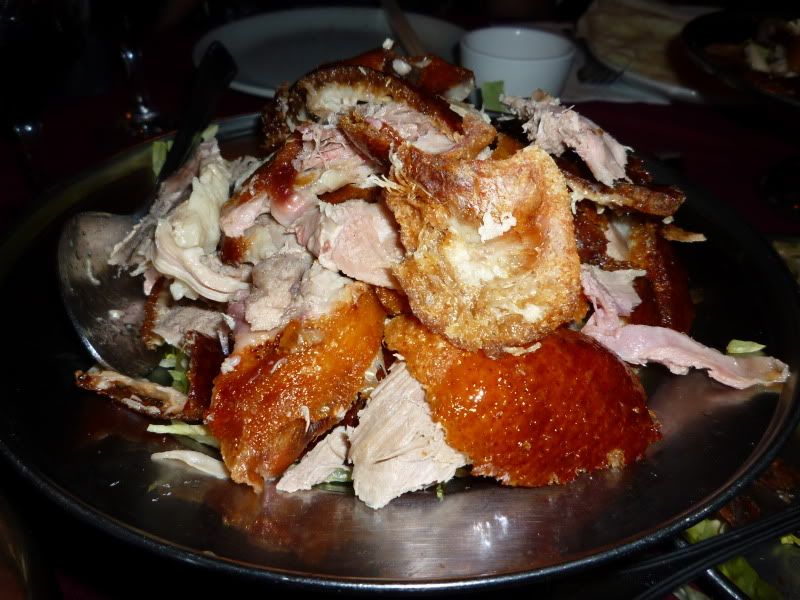 There are two schools of thought in Peking duck carving as well as course options. Some places will carve the skin off for you and prepare a second course using the meat in a stir-fry and then make a soup with the bones. Peking Garden subscribes to keeping the meat with the skin, reason being, it gives you something more to eat when you wrap it up in the pancake – as I was told by the waiter. This being said, the procedure is as follows.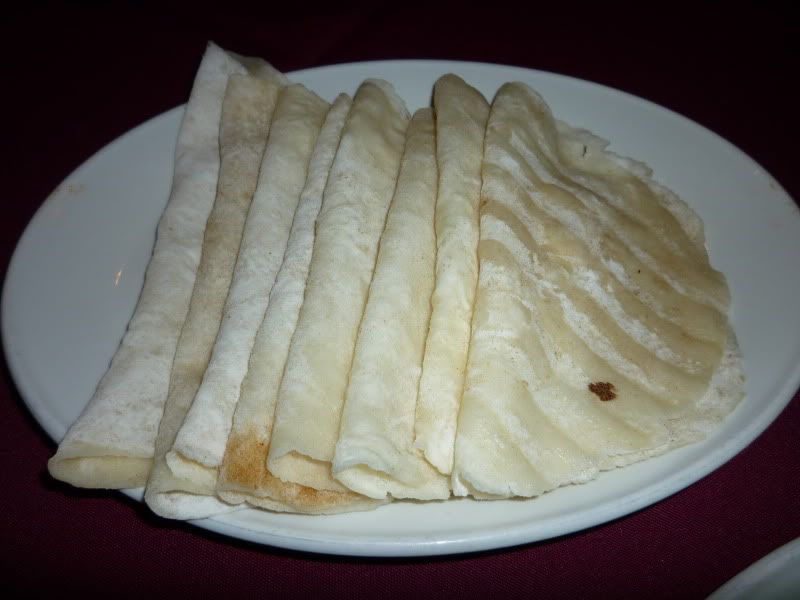 "Pancakes" (homemade, I should add) are steaming hot and is the vessel of choice to aid in the face stuffing of duck.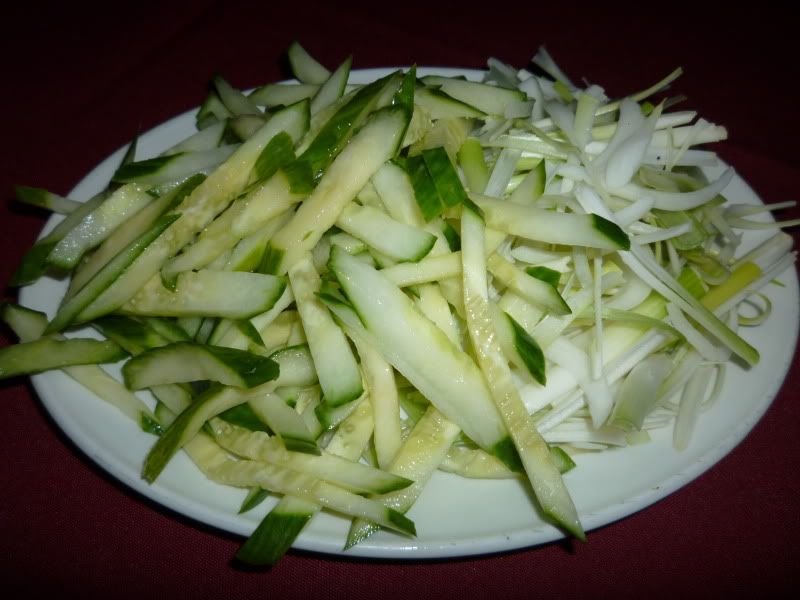 Accoutrements, julienned cucumber, spring and white onions; to be wrapped up in the pancake with the duck with a drizzle of hoisin sauce (homemade).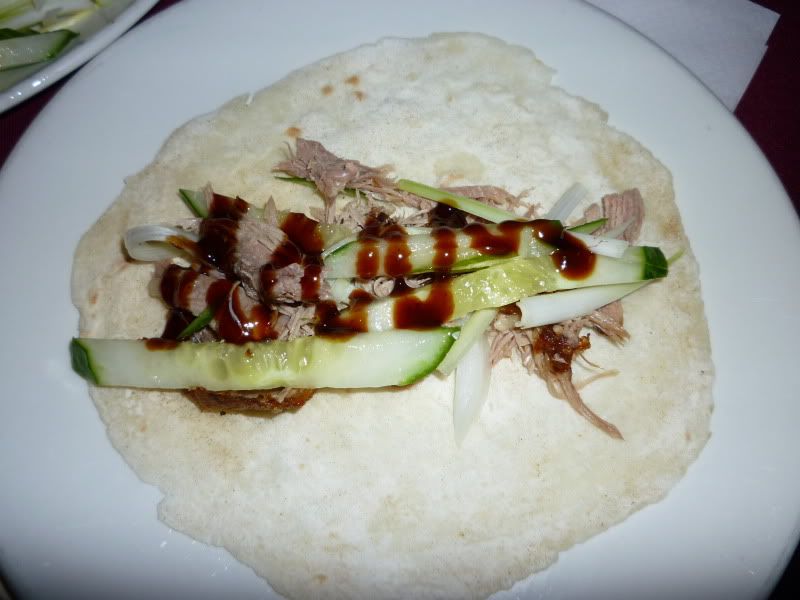 … like so. You then proceed to roll 'er up and and enjoy the wonders of roasted duck and all the happiness that it brings. The bite of the crispy skin and the tender meat of the duck, contrasted by the cool cucumber and sting of onions with the sweet overtone of the hoisin sauce; you will not know any happiness other than this, unless you're Peter's mom from that coffee commercial being woken up by the smell of Folgers on Christmas morning.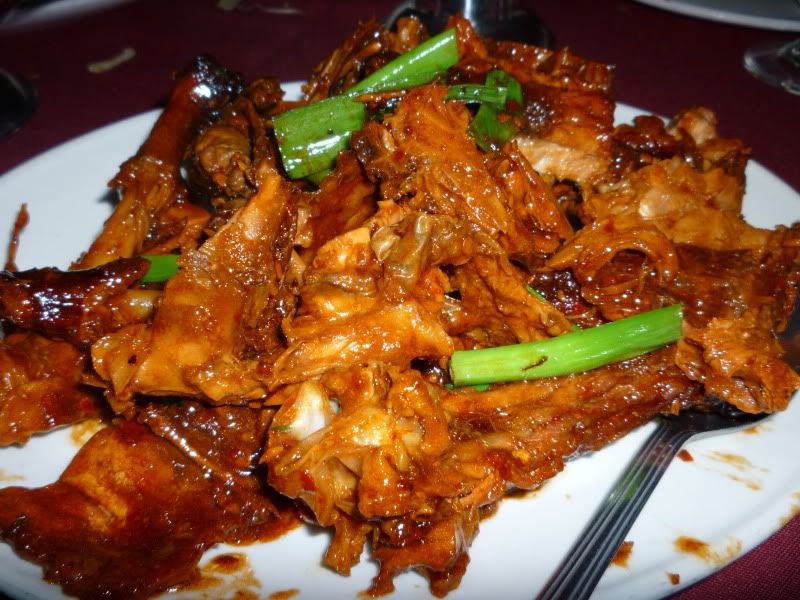 Peking garden's second duck course is an option of having the bones sauced and stir-fried or soup, as we had two ducks, we had both options. The bones were fried up in a sweet and spicy sauce with onions. Most of the meat was shaved off for the pancake course, but there is still some left on the bones. Utilizing every part of the bird is typical in the Peking Duck experience. Nibbling meat off the bone isn't for everyone, however, for those who enjoy the mild fowl taste of duck will truly appreciate it.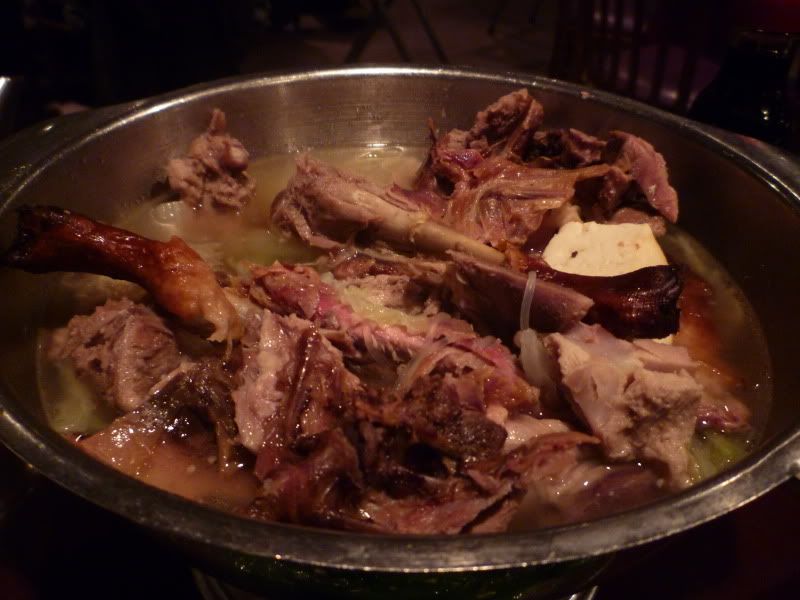 Second is the soup. The bones are used to make a soup that consists of Nappa cabbage, tofu and cellophane noodles. Really fragrant, the soup is rich in deep ducky flavor.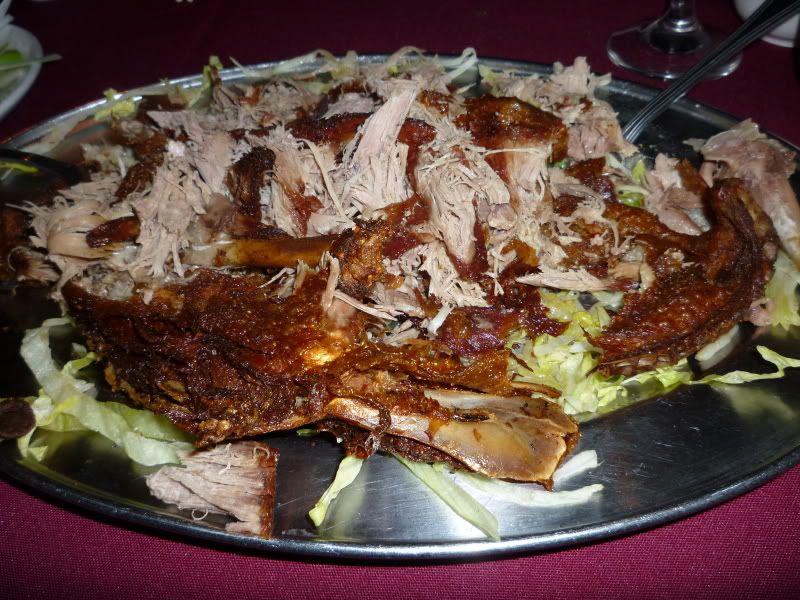 As if two ducks weren't already enough for the few of us, we ordered half an Imperial duck. Not that it's British or something, but I think it's because this was the preparation of choice of the Emperor. It is deep fried and pulled off the bone, and served the same way as the Peking. Brace yourself for the crunch. A crunch so intense, the resonance of it would discombobulate the liquid in your ear causing you to fall to the ground in a dizzy heap of duck skin crackling trance.

If that wasn't enough food, we also ordered the Kung Pao shrimp. It was extremely flavorful, the sauce was sweet, and spicy. If you've ever wondered what the "pow" is in Kung Pao shrimp, it's… GARLIC. The battered shrimp were crispy and held to the sauce without turning into a soggy pile of something that would taste like sweater wearing crustaceans after a workout… well, not really, you know what I mean.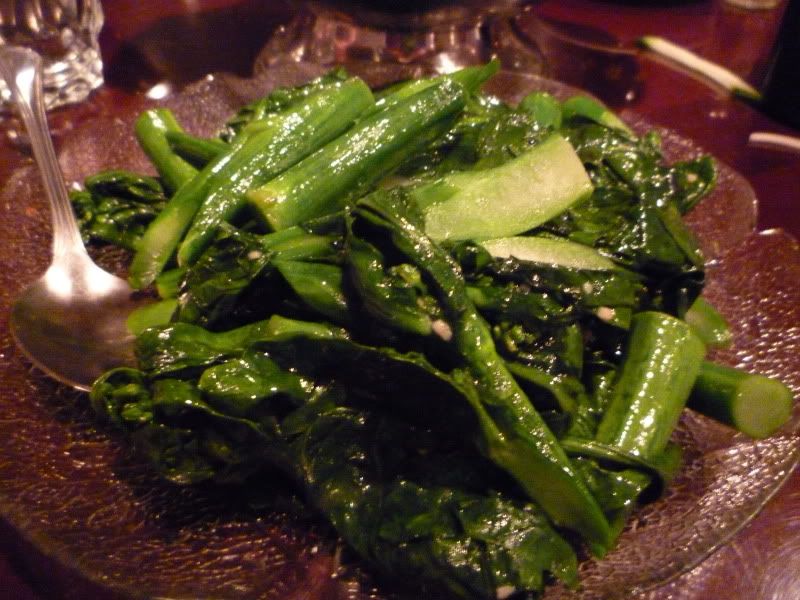 And for formality and to round off the meal… Vegetables, just in case any of our parents are watching. Chinese broccoli stir-fried with garlic. The best thing about this particular vegetable is that when you order it, its preparation is usually undercooked, and if you've ever ordered it, you'll know why.
If you've never had the Peking duck experience or even if you don't have a particular interest for horticulture Jardin Pekin is a place that you need to check out. Aside from the duck, I've been told that their shrimp toast as well as their dumplings are something to behold as well and is something I'm planning on ordering the next time around. Jardin Pekin is old school; you go there for the no-frills honest Chinese grub with soul.
Jardin Pekin
5339 Queen-Mary
514-484-9139
http://www.jardindepekin.com/
***Bring your own wine