If you've been following food news in the past little while, you'll know everything that needs to be known about Maison Publique, so to save you the backstory doctoral dissertation about Derek Dammann and Jamie Oliver bro-hugging it out to conceptualize this awesome joint, I'm going to focus on a completely different page of their menu. This British inspired gastro-pub epitomizing non-fussy suppers that would please any hard working east-ender that features hearty sliced cold roasts, boudin and eggs, or quail and liver roast, however, Maison Publique does an equally charming weekend brunch.
We sat at the bar and were handed the brunch menu; and by brunch menu, I mean a hand written flowchart diagram on receipt paper. With choices like a full English breakfast for two, which was explained to be heavy on the meat side that included black sausage, eggs, bacon and roasted marrow bone to Maison Publique's version of a breakfast sandwich, we looked passed the Bubble and Squeak and placed our orders.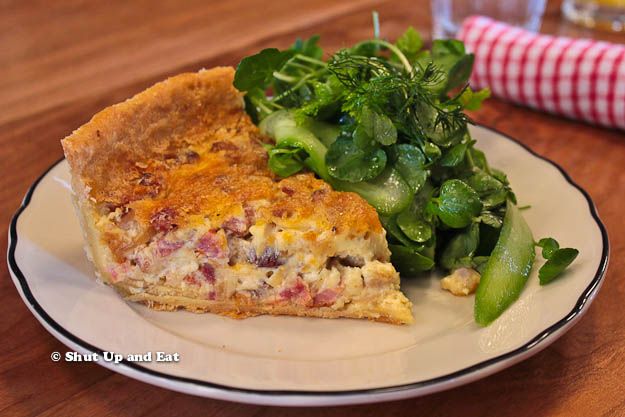 My lady ordered the very pretty quiche Loraine. At first we thought maybe we would split our dishes between the two of us, unfortunately, I wasn't wearing my dress that Sunday morning to be able to legitimately eat something called "quiche" and feel like a man about it. Although, I did manage to bum a few bites though; manly bites… while growing chest hair, changing a flat tire and storing a pack of cigarettes in a stab wound.

The quiche was filled with bacon and floating clouds of cheese that deflated at each bite in the creamy eggs that were next to custard. All bound together with a buttery crust whose flakes found the corners of our mouthes as little reminders of pastry pleasantries for later consumption… OMG, the quiche effect is taking its toll on my writing. HOCKEY, JACKHAMMERS and CHAINSAWS. The omelette pie was sided with a lightly dressed toss of watercress, parsley, shaved cucumbers and dill whose pepper notes cut through the richness.

I had the pancakes. These griddle pillows, plump and supple were piled three high with alternating slices of salty bacon. Topped with a dollop of whipped pear butter – that shimmied its way down the side – and red chili garnished the stack.

The slivers of tongue prickling red chili was a genius touch to offset the overtly sweet maple sizzurp that bathed the entire dish. Sitting at the bar has its advantages and disadvantages. Pro: you have a great view of the kitchen, Con: you have a great view of the kitchen. I noticed something that although didn't change my opinion on the pancakes, I wish I didn't see… they were pre-made and heated to order. I'm not going to make excuses or assumptions of why, but it's what I saw and is what it is NOT pre-made – as per clarification by Derek Damman in the comments section. The pancakes are indeed made fresh to order and delicious – Classic case of the mistaken identity of potato scones.
Although the server behind the counter was exceptionally friendly and courteous, it was just enough to outweight the air of contemptuousness by his colleagues who showed no interest in anyone unless they knew you by name – which I find is a characteristic that is more and more apparent in establishments whose image is treated like a commodity just as much as its food is. Did this make my meal taste any different because of snooty chicks in wingtip shoes, and pants pulled up under their boobs? No. But did it add to the experience? Yes, just not in the way one would have imagined.
Maison Publique
4720 Rue Marquette
(514) 507-0555