If you're a Montrealer and a Montreal who likes to eat, then it's obvious that you have cherished "go-to" places for certain meals or dishes; whether it be the juiciest gyro with awesome vampire repelling tzatziki sauce, the most decadent slice of chocolate cake, the richest espresso to keep you awake, or the ripest cup of fermented yak's milk that any Inner-Mongolian would swear is authentic. Now think of your favourite spot for smoked meat… no, not that place, the other one.
I recently hit up this deli that's been around satiating Montrealer's appetites for smoked meat for years. Located in Outromont, Lester's Deli has been around for over 60 years and is well known to the community. A family run business – whose owners bare the actual name "Lester" – boasts that they are the only joint in town to still make their smoked meat the old fashioned way using the same family recipe since the beginning.

There's a few ways you can have and enjoy smoked meat – in a sandwich is usually the way to go. My dad likes the smoked meat "plate" – which is essentially a plate (duh) of smoked meat sided with a stack (about half a loaf) of rye bread – leaving you to make your own sandwich… or five. I ordered the meat medium which means it's sliced from the middle section of the brisket where you get the perfect slices of beef that are both lean and fat. The meat is moist and the fat is not intrusive. We have it programmed in our heads to stay from fat like… it was fat or something. But in this case you need it; the fat stays soft and doesn't eat like hardened gelatinous snot. But even if it was, it'd be the most delicious kind. The fat is where the flavour is and that is where it's at.

The Lester's "Super Deluxe" special comes with fries, a dill pickle and drank. The fries were fries; hand-cut and fried until golden.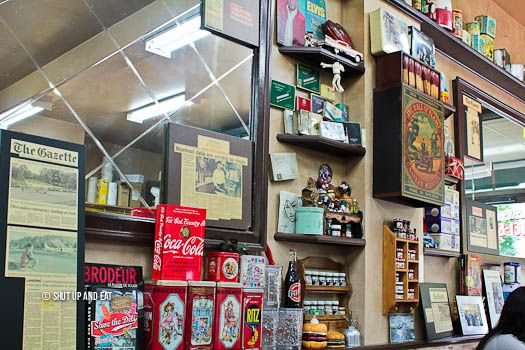 Lester's first opened their doors in 1951, but the interior looks like it opened yesterday. Kitschy artifacts line the walls as well as an old school hand-painted menu board in the back that cover up the beige walls that may or may not have been white at one point. Hokey to some, I consider it a testament to the past; if it ain't broke then don't fix it. Like the recipe; tried and true and has been the same since the beginning.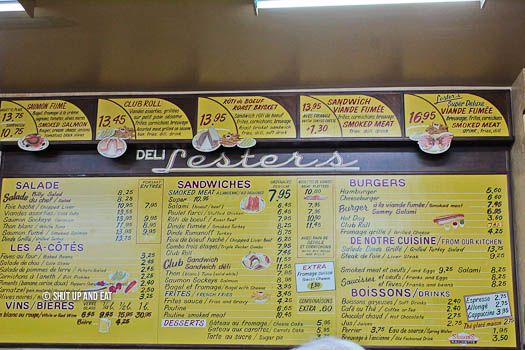 In a city where alliances are strong and demarcation lines are fortified with karnatzel, unless you're not originally from here, your loyalty is born unto you. But that does not mean in any way you shouldn't get out there and discover something new. We are fortunate to live in Montreal where diversity comes in all shapes and sizes, tastes and flavours. I have a friend who was so loyal to his favourite spot that he refused to eat smoked meat from anywhere else. Until I had my smoked meat throw down a few years back and his favourite smoked meat from blind tasting turned out to be the President's Choice brand. The look on his face was priceless, it was like he just found out he was adopted.
Lester's Deli
1057 Ave Bernard
(514) 276-6095
http://www.lestersdeli.com