Maintaining this temple of a body takes hard work. Recently I've been trying to be more conscious of what I eat and begun to take credit for working out, when in reality, the "consciousness" I'm keeping is in fact trying to stay awake after my meal and my pre-meal work out entails walking back towards the car so that I can double beep the remote to make sure my doors are locked.
Kidding aside, I found myself saving my imminent caloric intake and banking my appetite to visit this spot considered a "neighbourhood steakhouse". I hit up Restaurant Gus – located on Beaubien at the foot of Little Italy with a bunch of friends. The menus are written on the walls and we took a quick look and made our choices after some detailed explanation of each dish by our very friendly waitress. She also shed light on the little mason jars of different sauces that sat atop our table – homemade barbecue and hot sauces, each curiously unique and flavoured by different chilies and spices.
We started with the seafood nachos. Monday nights at Gus are known as "Caliente Mondays" where the chef – in addition to the regular menu – cooks up some of his personal favorite foods, casual gub with a Gus-sy twist. Off their Monday menu, the homemade tortilla chips were topped with a mélange of fresh arctic shrimp, home smoked mussels, homemade gravlax, topped with avocado, fresh crema, cheese, and homemade salsa. I wouldn't be surprised if they grew their own cilantro, milled their own corn flour and kiln-fired their own plates. Really fresh and bright, each mouthful craved the next. This order was easily split amongst four people, but I could have killed it myself.
Our ladies had the fish tacos from the Caliente Monday menu. Large filets of mackerel grilled and topped with cilantro, greens, fresh crema, salsa, pickled onions, and avocado on grilled corn tortillas. The firm and juicy filets of fish were bright with zesty salsa and balanced with the peppery greens. Three to an order, the generous sized tacos were large and made a substantial meal.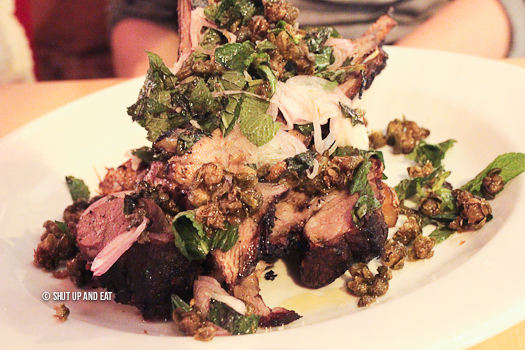 My buddy had the lamb shoulder chops served with roasted potatoes; a generous portion of chops, it was intense in flavour – peppery in heat and bright in lemon and pickled onions. The subtle underlying tartness of citrus brought out the smokiness of the grill-kissed meat and Worcestershire marinade. Topped with mint and fried capers, the garnish not only accented the dish but also highlighted the main component (lamb) and elevated it. Snaps of briny, cleverly fried capers that crunched in each bite, complimented the floral and sweet mint that emphasized the robust lamb – each element working harmoniously with one other.
I had the double cut buttermilk marinated pork chop. Impossibly tender and grilled to perfection, it was served over the creamiest mashed potatoes topped with tomatillo jus with a generous dollop of Gus' homemade poblano pepper mustard. The delicately sweet jus caramelized the chops and managed to weaken my knees like that video of Kate Upton doing the Cat Daddy. The subtle heat of the homemade mustard was a great addition and was not as intrusive as one would think a pablano mustard would be; it had just enough of an edge to pierce the richness of the pork.
Considered a "neighbourhood steakhouse", it's hard to deny the tantalizing bone-in ribeye for two, or veal chop and in our cases, pork chop and lamb shoulder; the place also fully represents the culinary direction of Chef-owner David Ferguson. His menu at Gus directly reflects his personality; charismatic and charming (talking over the bar about everything from hockey to politics, no-shows and blacklists) all the while being prepared with a deft classically trained hand in French technique incorporating whimsical flourishes in every dish. With items like foie gras nachos and shrimps in a homemade Jack Daniels BBQ sauce, it's apparent that Chef Ferguson is serving food that he likes to eat; hearty food, elevated and refined with a nod to tex-mex and his experience in the south-west.
Restaurant Gus
38 Rue Beaubien Est
(514) 722-2175