Finally, an izakaya in the Plateau that does it right – a spot focused on drinks and awesome next level pub grub. I hit up Ichigo Ichie in the Plateau for some authentic Japanese tapas. I was aware that the team behind Ichigo Ichie is the same group that's responsible for the wildly popular Imadake, so I had a pretty good idea of what I was in for. If it were anything like Imadake – a party atmosphere on any given evening – I was prepared to "sake-bomb" the night away, but I was wrong.
Completely nondescript, you would miss Ichigo Ichie if it weren't for the red lantern hanging over the front door. Practically a speakeasy of sorts, the door opens into a stairwell; go right and you're transported back into time to a traditional looking ramenhouse Yokato Yokabai, boisterous with random choruses of "irrashaimase" welcoming patrons. Go left and you're standing in a rustic bar with wooden accents. Follow the host through another doorway and you're welcomed into a cavernous space overlooking an open concept kitchen who's staff will stop and look up form their work stations, turn around to wave and welcome you to Inchigo Ichie.
The menu consisted of hot and cold appetizers to hot and cold dishes. Izakaya style food – for those who are unaccustomed to it – are small tapas like dishes meant to accompany drinks and shared amongst the table. But if you're a non-drinker, order enough of them and they become an actual meal.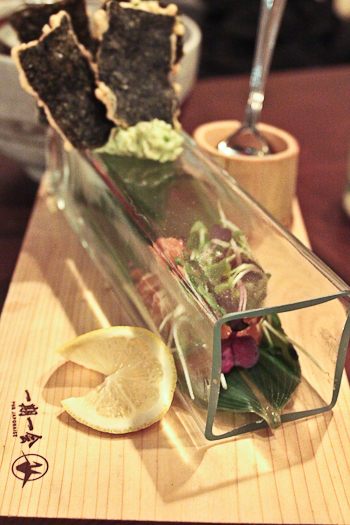 The salmon tartare with avocado dip served with tempura nori chips.

The large cubes of marinated salmon was bright in citrus that was balanced by the savoury and salty tempura nori chips. The avocado dip was gently spiked with wasabi that gave each bite a little kick but mellowed out by the creaminess of the avocado.

Any izakaya (or most informal Japanese restaurants) will have this dish – chicken karaage. Golden fried, impossibly crunchy clods of chicken served with yuzu mayo. This stuff should be served by the pound.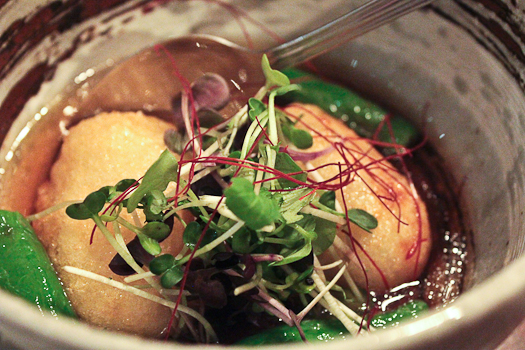 Ichigo Ichie's Age Nikujaga is their take on a classic Japanese dish. Nikujaga is a potato and beef stew, but in this version, it's turned into a croquette with the stewed beef wrapped in potato, deep fried and served in a light broth. Hot supple pillows of puréed potato with a texture that can only be described as mochi-like hugging the savoury braised beef; this dish is hearty but light to the bite.

Marinaded tuna served with yuzu sauce. Pretty straight forward, chilled slices of tuna with a bright citrus sauce with sesame and pink peppercorn. Refreshing.

Buta no kakuni – braised pork belly. The most unctuous and succulent braised pork belly rich in sweet soy and subtle aroma of ginger. Served in the most luscious sauce with spinach and a soft boil egg, I craved a bowl of rice to sop it all up with.

This was the most dramatic of all the dishes presentation wise. The glass was filled with smoke and was revealed by the waiter table-side.

Wafts of smoke filled the air and revealed the "simmered duck" served with yuzu chili. Generously sliced duck breast slathered with a savoury pan sauce garnished with spring onions. The bright citrusy yuzu cut through the richness of the duck and the chili added a subtle staccato of heat. Definitely one of my favourite dishes of the night. Pageantry aside, the duck – especially the skin – was so tender.

Sweet miso pizza. Pita with a homemade sweet miso sauce topped with mushrooms, onions, mozzarella and sliced shiso leaves. This wasn't a big hit amongst the table, but I loved it. Shiso can be a bit overbearing for some people, it's very aromatic and fragrant. The toppings are earthy in flavour and I found that the shiso was piercing.

We couldn't decide on which skewers to order, so we ordered the party pack of chicken, beef, bacon wrapped asparagus, pork belly, shishito peppers, and chicken gizzards, all lightly dusted with togarashi. How you can go wrong with yakitori (or kushiyaki)? If you can't appreciate skewered meats cooked on the grill, you've got to hate life in some dark way… or you're vegan… or both.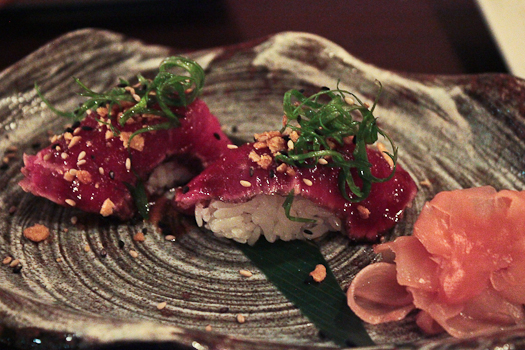 Beef tataki nigiri with homemade soy sauce, garnished with scallion, sesame and fried shallots. One of my favourites. The beef was chill to the bite and had such a clean taste to it. We all agreed that proper sushi rice is so underrated and under appreciated – the rice holding the beef was seasoned surprisingly well and perfectly cooked.

Green tea tiramisu.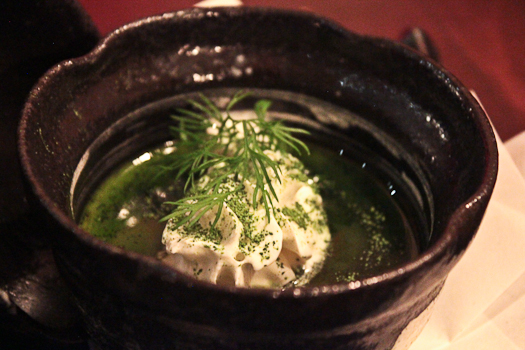 Green tea panna cotta.

Green tea ice cream, mochi, whipped cream served in a waffle shell. The desserts were a great way to end the meal. The tiramisu was light and subtle and the panna cotta, rich and creamy.

Sake sorbet is the truth. Order this.

We went relatively early and by the time we left the place was pretty much full. The food charmed us. The atmosphere was romantic. It is refreshing to see an izakaya with a menu that encompasses so much of Japanese cuisine treated in a casual but refined manner. There's something here… you need to experience it for yourself, it will captivate you on so many levels.
Ichigo Ichie
360 Rue Rachel E
(514) 282-0009