In case you've been sleeping, Montreal is currently in the thick of Restaurant week aka TasteMTL, where the city is seeing over 100 restaurants offering table d'hôte menus at three extremely friendly prices. Recently voted as one of North America's Best Food Festivals by Foder's Travel, this second edition of this eleven day restaurant extravaganza has big shoes… I mean stomachs… I mean plates to fill.
I recently visited Milos to try out their TasteMTL menu, a spot in the Mile-End that's been a pillar of the neighbourhood for over 30 years and counting. A spot where if you concentrated hard enough, you could feel the disapproving thoughts about your outfit from yia yias all over the city driving you into gutter of self-consciousness. Their TasteMTL menu listed a choice between two appetizers, two mains and two desserts, and seeing how I went with a date, the only logical choice was to get one of each.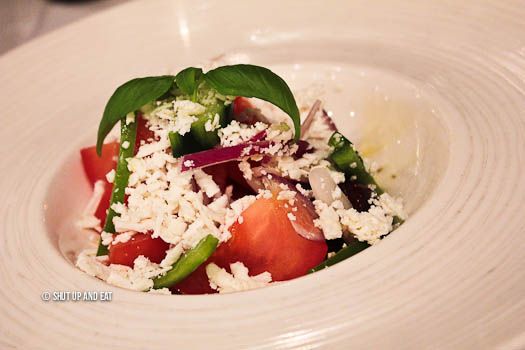 The Milos greek salad – a modest serving of vine ripened tomatoes, sliced green peppers, onions, dressed with Milos' own olive oil and lemon juice topped with shaved feta. The tomatoes were sweet, the one olive was lonely and the feta was grated on like the chef was making it rain in the kitchen. It was salad.

The second appetizer was the Milos special – impossibly thin fried zucchini and eggplant slices, served with lightly fried saganaki cheese and cucumber tzaziki. Being an aficionado of potato chips, I've promised myself to never be fooled with anything "chips" that doesn't come in a noisy crinkly bag… especially things that try to trick me by being vegetables. The Milos special is light and crispy; after eating an entire order of these, it doesn't leave you feeling heavy and saturated in oil. The cool and tangy tzaziki is a great accompaniment.

One of the two mains was the filet mignon which we ordered to medium-rare. The beef had great flavour and was perfectly cooked. The charcoal kiss on the meat really brought out the earthy aroma of the light drizzle of olive oil. This dish was served with vegetables and a side of fries which were more reminiscent of classic Greek roasted potatoes – seasoned with oregano and lemon juice.

The grilled lobster was the other main served on the TasteMTL table d'hôte menu. Simply prepared, this pound and a half lobster was split and grilled, and lightly dressed with olive oil, peppered with parsley and served with a wedge of lemon.

Incredibly fresh, the lobster was toothsome and was not overcooked and was sweet in flavour. The tomalley was warm and was decadent when eaten on the toasted sesame bread.

Dinner ended off on a sweet note with Milos' homemade loukoumades doused in maple syrup – as per this year's TasteMTL theme of including maple syrup on all signature menu. These soft and doughy pillow "honey balls" (maple syrup balls) were chewy and sweet. Dusted with chopped walnuts; instead of honey, this classic version of loukoumades is instead, doused with maple syrup or should I say in this case, "tree honey".

The other dessert was aptly named the Maple Yogurt Martini, obviously because it looks like a lasagna. A dollop of rich greek yogurt covered in Quebec's finest maple syrup.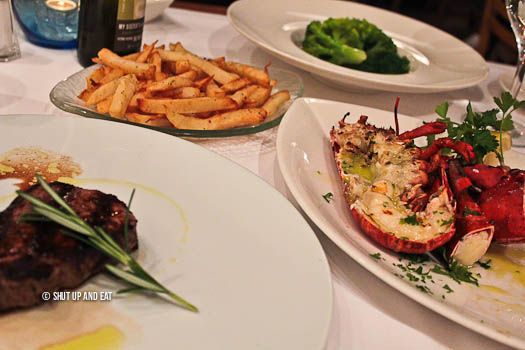 This white linen restaurant isn't somewhere that I frequent on a regular basis – I've been to Milos once before. This great initiative by Tourism Montreal with the second edition of TasteMTL has given me the excuse to revisit and rediscover this spot in the Mile-End whose unparalleled devotion to the freshest seafood and uncompromising quality is matched by none.
Milos
5357 Ave Du Parc
(514) 272-3522