I'm not even going to pretend that I'm not glad the snow is melting and the weather is getting nicer, but what I'm not excited about is the unthawing of the mounds and piles of dog shit my neighbour leaves on our front lawn. Born and raised in Montreal, you'd think that either I've gotten used to this or at least tolerate it. I do tolerate the snow, just not the regression of humanity when it starts snowing during rush hour and idiot drivers kiss each others ass and crawl through red lights in solidarity with the car in front of them. I took the opportunity on a rare sunny and warm March day to go out and breath in the ranky air and take advantage of the sun.
I took my stunningly gorgeous date to Leméac for a kinda sorta romantic lunch… (d'awww shut up.) We were seated at the bar with the rest of the unprepared who didn't have reservations; the place is happening at lunch time, and even at that, I'm surprised we were able to snag seats at the bar. We looked over the menu and there were a few things that particularly caught my eye, besides the fact that they offer a really nice lunch time table d'hôte that changes daily.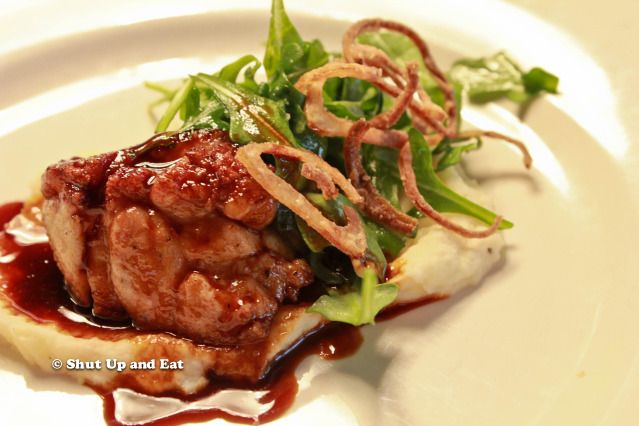 M started with the seared sweetbreads. Served au jus on a top of celery root puree, it was served with a salad of roquette topped with fried shallots. It wasn't her first time having sweetbreads, but it was her first time having it known as sweetbreads – she initially thought it was some sort of pastry. Some girls might have been squeamish and would have ordered something else, but after explaining to her what they were, she was a gangster and killed the entire plate. The unctuousness of the sweetbread went well with the grittiness of the puree and the arugula added a nice peppery note to the bite – its awesomeness level upped a few notches when I schmeared it over bread.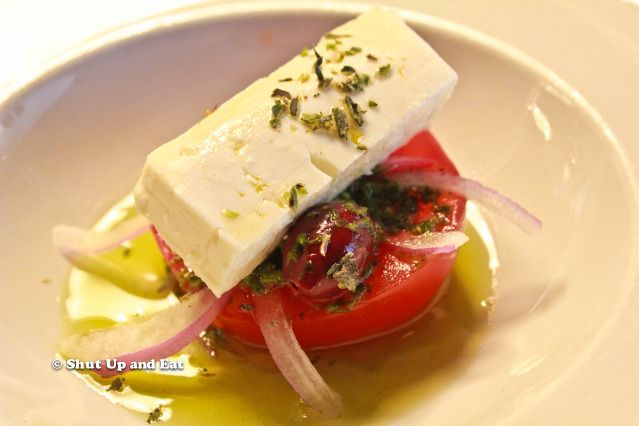 I had the girly tomato salad. *BACON* A ripe fresh halved tomato, feta, onion, kalamata olive and a dusting of dried basil. *HOCKEY* The salad was drizzled with a very nice olive oil that provided a fruity aftertaste to each bite. When done right, fresh produce shouldn't be suffocated and when given the chance to speak for itself, *TRANSMISSION FLUID*, not much should be done to it to fully enjoy the purity in its flavour and composition of the dish.*BAND-SAW*. I never knew so much could be written about half a tomato with cheese covered in oil, so I've inserted key "manly" words subliminally into the description of this dish to keep me sane as I romanticized this salad.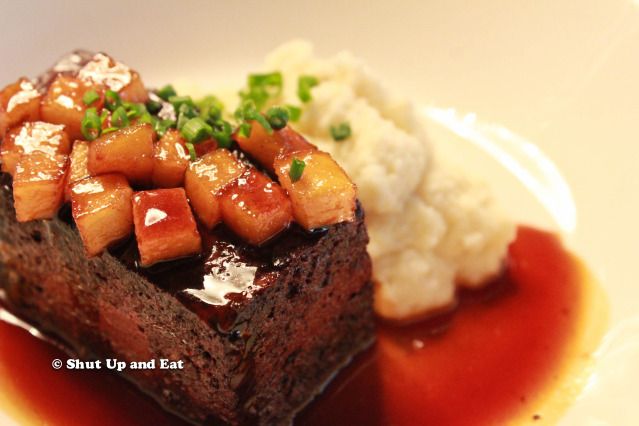 M and I split the homemade black pudding which was served with celery root puree, caramelized apples in a cider sauce. I was told that the pudding itself baked – contrary to the classic sausage preparation of this dish. The blood pudding itself was light and didn't feel like it weighed you down, but the flavour was profound and multileveled, paralleling the multitude of herbs and spices comprised in this dish. The sweet caramelized apples added a nice sweetness and crunch to the dish and contrasted the slight bitterness of the sauce.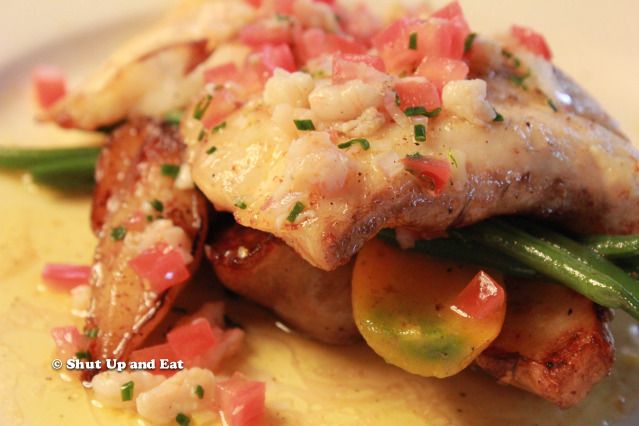 She had the catch of the day (from the lunch table d'hôte.) Pan seared turbot in a brown butter sauce over roasted root vegetables. The pan seared fish was light and flakey, topped with chopped tomatoes, parsley and chive and a splash of citrus, the dish was not heavy in any way. The root vegetables were nicely caramelized and warm ad fluffy on the inside – this day was sunchokes, potatoes, haricot-vert, and carrots.

For myself, when I think "lunch", fish is hardly ever on the list of options that I'm down for unless it rhymes with "McBillet o'dish". Reason being, I've always equated fish with being a nighttime meal – strange, I know, for the same reason I can't eat a sandwich for dinner.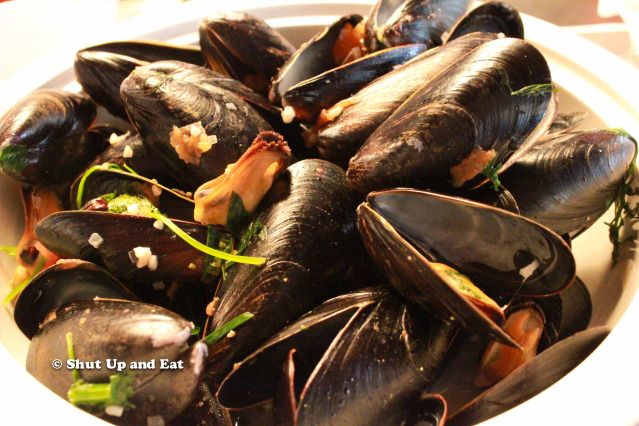 I had the moules-frites. A HUGE bowl of perfectly steamed mussels sitting in a bath of white wine, sautéed garlic, onions, parsley, lemon and some other je ne sais quoi that rendered the soup deserving of me lining them up along the bar and doing shots until I get drunk off mussel juice, or until people spoke to me from outside of a five-foot radius.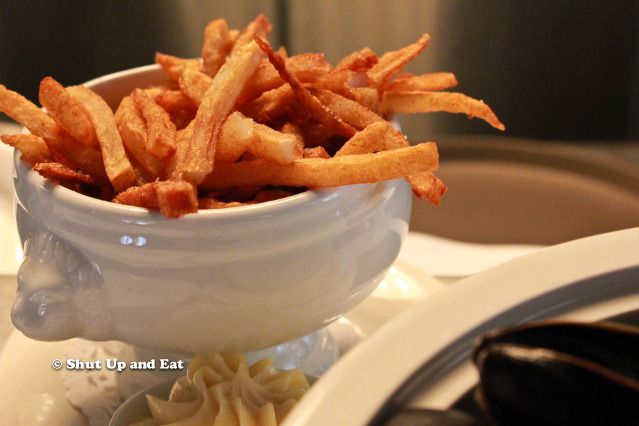 The fries are something to behold; matchstick, crispy on the outside and warm and fluffy on the inside, fried in sex and served with homemade mayo. Being presented with this bowl of frites is like watching The Parent Trap with Lindsay Lohan now. Looks harmless and innocent, but before you even start, you know where the story is going to end up. The fries are cute and welcoming but before you know it, you're sweating, asking yourself how you ended up at the bottom of the bowl, the last five minutes are a blur and your pants are off.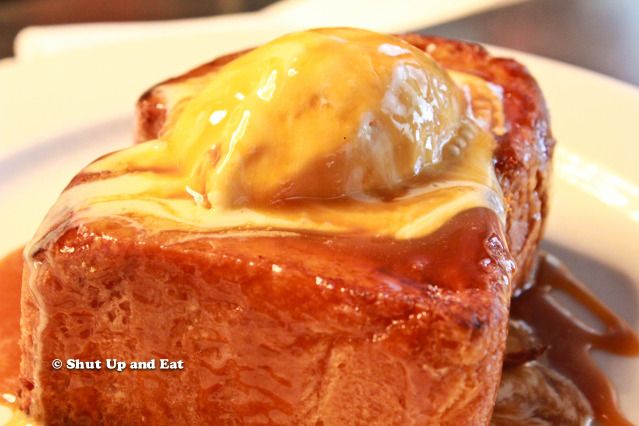 For dessert, our awesome waiter suggested one of the house and French specialties, "pain perdu" – French toast. A literal BRICK of French brioche, soaked in eggs and vanilla then baked, topped with homemade caramel sauce and a cannel of homemade vanilla ice cream, on a home made plate and hand crafted bar that the owner built with his own two hands… well not really that last part. This dessert is no joke and is as serious as a Katniss, Peeta and Gale love triangle. Fluffy brioche with nice crispy edges dripping with a melange royale of sweet caramel and cold creamy ice cream money shot. Make sure you SAVE ROOM for this bad boy, and I highly suggest you split it.
I'm not going to compare Leméac to other French restaurants in the city. In a city as eclectic as Montreal where French roots are evident and serve a predominant role in the culinary landscape, it's hard to avoid getting muddled and folded into the rest of the group, however, this is exactly how the better joints will stand out. When you have many places doing the same thing, it's the chef's responsibility to ensure that his or her cuisine and menu choices stand out – only on an even playing field where everyone is doing the same thing, will you find who is truly doing it better. With Leméac's given history, they are certainly keeping the bar set high and standards even higher.
Leméac
514-270-0999
1045 Ave Laurier W
restaurantlemeac.com


Terrasse in the summer
Late night Table D'hote menu
Reservations recommended.