Ah spring break. My fondest memories of spring break consist of locations that usually included a beach, a lot of fighting between my sisters and I, hitting, scratching, yelling, crying, spitting and threats from our father of it being our last family vacation ever. I pity those who now celebrate "spring break" which their learning institutions are calling "study break" by which they are loaded up with projects and assignments and promises of exams upon their return. As a graduate myself, I feel the responsibility to help those who are reading these words I'm writing – in distraction to the monotonous studying or trying to memorize equations that look like your fist had angry sex with your keyboard.
Let's play a word association game. I'm going to give you a word and you're going to list the first things that pop into your head. Read? Ok Go! WESTMOUNT! Did you list leathery orange ladies wearing Lululemon? Or how about badly parked luxury cars? More importantly did "local organic market food restaurant using japanese and Korean techniques" make the list? No? Then obviously you weren't playing the game right or you haven't been enlightened or made aware to one of the more interesting and dangerously eclectic eating joints in the area. M and I hit up Restaurant Park – a new spot in Westmount.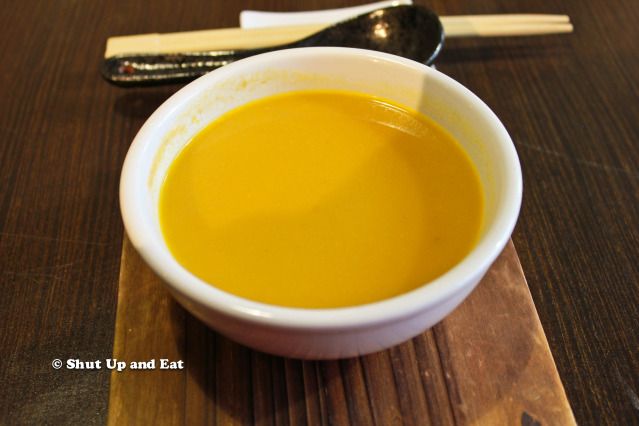 Both of our meals started with a soup… soup. GAH. SOUP. You know how I feel about soup. I'm starting to think that the powers that be are sending me some sort of signal that I need to incorporate more pureed vegetables into my diet. Ok, so students, I don't even like soup, so please tell me how I managed to find the bottom of my bowl of soup of the day sweet potato and squash soup?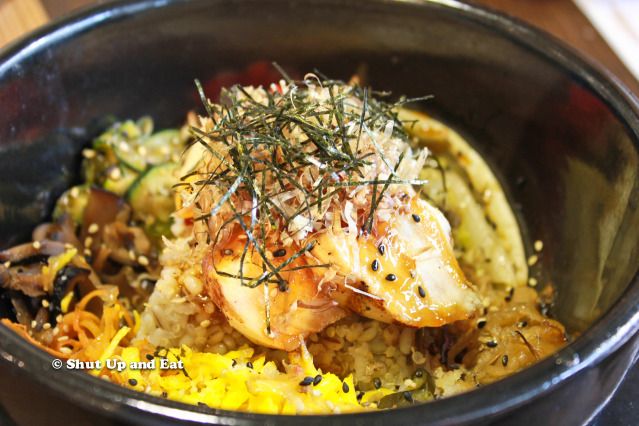 M had the Bi Bim Bap. Traditional Korean mixed rice bowl (also experienced here and here and kinda here.) served in a finger scorching stone bowl. Served with mushroom, pickled cucumber, daikon, carrots, bean sprouts, onions and shredded eggs on top of a seasoned multigrain rice.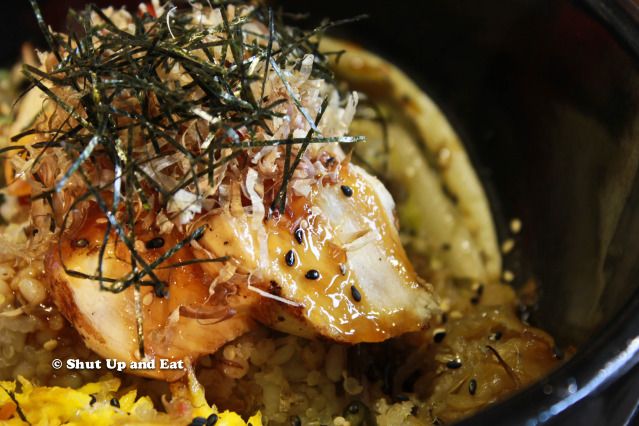 She had the added chicken option; grilled and dressed in a teriyaki sauce. The rice was what stood out for me. I haven't had this dish with anything other than regular white rice – which yields a nice crunchy crust along the bottom of the bowl. Being served with a seasoned multigrain rice which included wheat, barely and quinoa, not much stuck to the side of the bowl. But major points for being different. I don't know why I take it upon myself to test exactly how hot "hot things" are. So gauging by the fact that I yanked my finger back and nearly knocked over my glass of water, I can assure you, you're not going to want to tip this bad boy against your lips to scoop out whatever is left.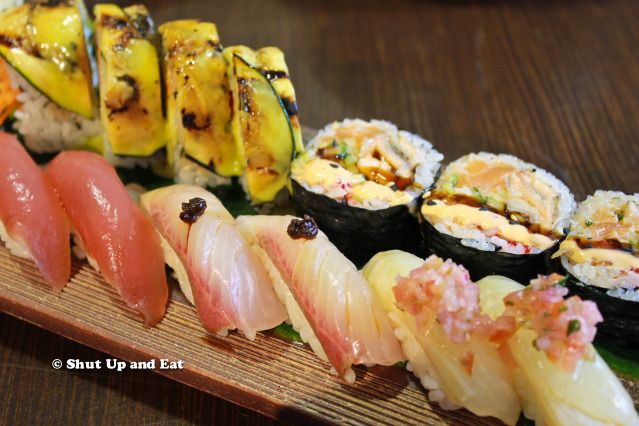 I had the "Chef's choice" option on the lunch menu. Today they were serving up burger and french fries, and by burger and fries, I really mean sushi. I'll be straight up with you. I have a thing for sushi, and by "thing" I mean, I'm a big whore for it. This 16 piece chef's special came to me as sushi and maki. One roll was an unagi and salmon roll, peppered with tobiko and drizzled with unagi sauce and yogurt sauce.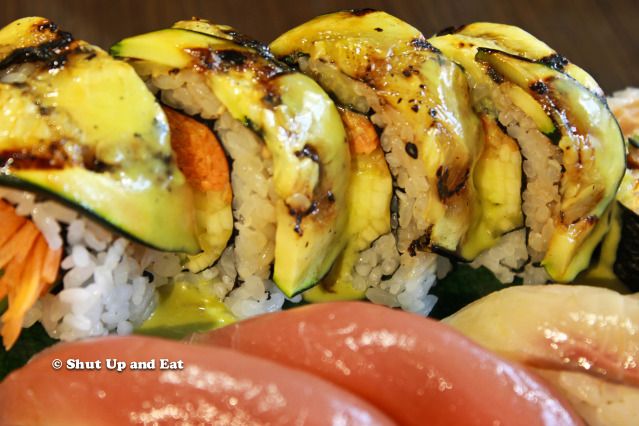 Next to that was what I assumed is a vegetarian roll – not much assumption considering everything that made up this roll didn't have a face on it before it found itself rolled up in rice and nori. Grilled zucchini wrapped around a roll of carrots, cucumber and avocado. I'm not a big fan of "vegetarian sushi", as that defeats the purpose of having sushi to begin with. Filler sushi is aiiight, but not my thing. The grilled zucchini was a nice touch though, the smokiness from the char sexed up this relatively mundane roll.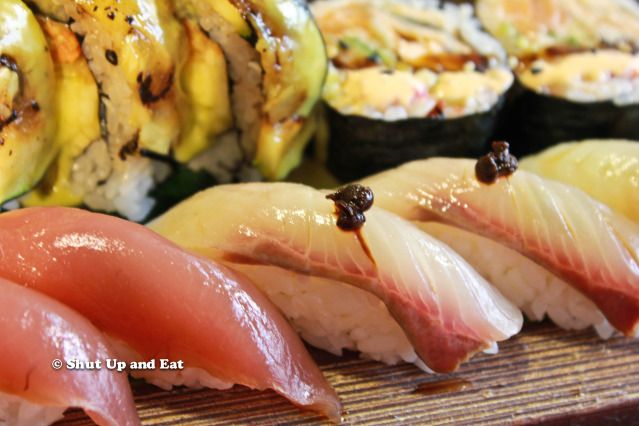 Had two pieces of each kind of fish. First was the Aka maguro, big eye tuna from Hawaii Simply prepared sitting atop of rice, not much is needed to show off the sweetness of the fish. Next to that was Kanpachi, amberjack top side from Nagasaki with "arima sansho, Japanese caper peppers aged for 2 years"; a slight tartness from the pickle added a nice touch to the normally subtle tasting fish. Unlike a lot of other places that like to drown their sushi or sashimi is random "sauces", I've always appreciated a place that can show off the freshness of their fish without having to cover it up in some sugar or sesame laden sauce.

Next was two pieces of Hirame, flounder from Fukuoka with "yuzu chimichurri" on top I KNOW RIGHT? Friggin genius move on Chef Park's side. The mix of shallot and tomato lightened up this very rich and buttery fish and made it really refreshing. Never did I think I would be having a tomato mix with fish in an Asian context, unless it was some bastardized version from an all inclusive somewhere hot where white-chicks roam beaches in corn-rows.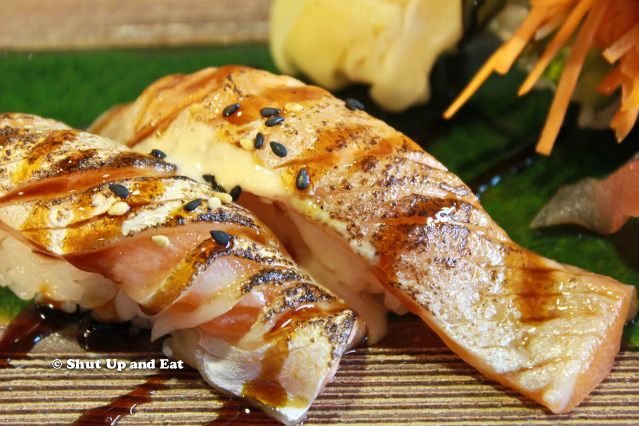 I saved the best piece for last. Torched salmon belly – Irish organic salmon toro, maple syrup top torched, with kabayaki sauce. If you've never had salmon belly before, then I highly encourage you shave the soul patch off your chin unfriend Pauly Shore on Facebook and join us in 2012. Arguably the best cut of fish, the belly is unctuous, fatty, delicious and parallels the sweet warmth of a loving bosom of your significant other who's in debated to you for one reason or another and owes you a favour. Prepared by singeing the top with a torch, a caramelized crust is formed and some of the fat melts, leaving each bite close to a religious experience.
We looked over the very concise lunchtime menu and noticed that all lunch items were relatively light and more importantly, healthy. Not "healthy" in the sense of wheatgerm, quinoa, poppy pedals or or stuff that sound like celebrity baby names, but wholesome and complete 'meals'; maybe this has something to do with the adjacent gym/spa. The nighttime menu is a little bit more broad which also includes a chef's tasting menu at $65 per person. I would like to praise Chef Park and his courage to bring on the Asian flavours and represent us in this part of town.
Restaurant Park
514.750-7534
378 Ave Victoria

***Clarifications after speaking with the chef in BOLD.