Sometimes I eat vegetables. There I said it. Jokes aside, I enjoy eating healthy. Not only out of necessity (science stipulates certain affects pounding down cheeseburgers and poutines has on the body), but out of choice. As much as I love BBQ, burritos, pizza as the next person, I can't help but crave something lighter when it's 40 degrees plus humidity in the butt-crack of summer. It's common that when the mercury rises, your appetite dwindles. So if you're looking for a place for a light but substantial meal, here is a list of vegetarian and vegan restaurants to get you through the summer (and beyond)!
Photo: ©Panthère Vert


Mandy's – Multiple locations
The sister duo behind the simple and effective salad bar concept has carved out of niche in the public's craving for salad. Mandy's is popular for their signature salads (over 20 options) or their "build your own" formula. Pick from a list of different kinds of lettuce, grains, vegetables, fruits, proteins and cheese, then top it off with one of their 15 homemade dressings. Look out for the monthly seasonal specials.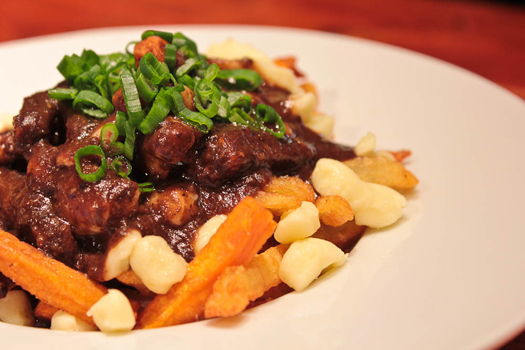 Lola Rosa – 4581 Avenue du Parc
Lola Rosa's slogan is "the vegetarian restaurant preferred by non-vegetarians." Not going to lie, I fell in like with their vegetarian poutine once upon a time during poutine week. Sweet potato fries mixes with Yukon Gold potato fries, cheese curds, scallions and homemade vegetarian black bean gravy. Their nachos are pretty awesome too. Sizeable and generous, perfect to share amongst a couple of people or just one Jason.

Copper Branch – Multiple Locaitons
Copper Branch boasts a 100% plant based menu rich in power foods. Their philosophy is to provide a fast food dining option that nourishes the body and the mind. While feeding your mind with foods that are organic, low in sugar and saturated fats, have it completely blown by their Aztec bowl – organic rice or quinoa topped with fresh veggies, sprouts, legumes and a choice of soy based protein.
ChuChai
– 4088 Saint-Denis
Tantalize and confuse (in a good way) all your senses all at once at ChuChai. This restaurant specializing in vegetarian cuisine puts a creative spin traditional Thai dishes that would normally include meat. Check out their famous "duck" – Kang Deng Ped or Miam Kram.
Invitation V
– 254 Bernard Street West
Invitation V's concept is simple. They want to shake the bad rap vegan cuisine has of being boring, bland and tasteless. The menu is eclectic and inspired by Chef Kevin's travels around the globe. Vegan food can definitely be flavourful and delicious with options like their vermicelli rice noodle with creamy coconut milk curry, mixed vegetables, sprouts, coriander and crispy noodles.
Cafe I-Ching
– 4242 Decarie Boulevard
Discover the vegetarian side of Chinese cuisine at Cafe I-Ching located in NDG, steps from the Villa Maria metro station. Serving up classics like map tofu, spicy general tao, and kung pao with a vegetarian twist.
La Pathère Vert
– Multiple locations
This home grown chain of vegetarian and vegan restaurants started in the Mile-End that now sees five stores stretched across the city. Their famous falafel pita has satiated my hunger pangs and eased my conscience on many occasions – cabbage, carrots, pickles, sauekraut, sprouts, and tahini.
Where do you like to go to get your vegetarian fix? Let me know!