My girl and I were looking for a place to eat on a quite Tuesday night. So we started walking around downtown to find a new place to eat or revisit one of our numerous favourite restaurants in Montreal. As with most people these days, what started off as a walk, slowly became a Pokemon Go mission to "catch 'em all" in the neighbourhood. Long story short, one thing led to another and we ended up at Centropolis Laval. I'm not often in Laval, so I had no idea of where to eat. Fortunately, I've heard nothing but great things about Souvlaki Bar, so we decided to check it out.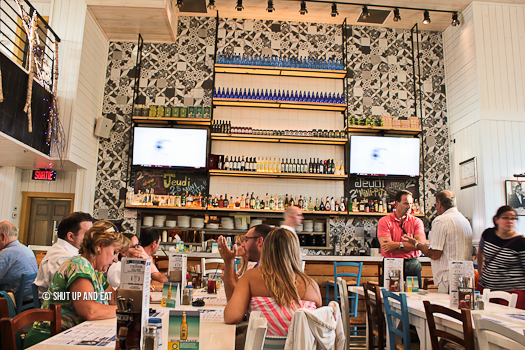 The space is vast; two storeys with a loft space overlooking the main dining room and the night we went, a makeshift stage where some musicians were setting up. Unfortunately, we had already left before the bouzouki band lit up the place. Souvlaki Bar features a gigantic focal-wall behind the bar highlighting bottled Greek products, buttressed by two flatscreens airing a pleasant (and ever so appropriate) feed of dinnertime mixed martial arts highlights.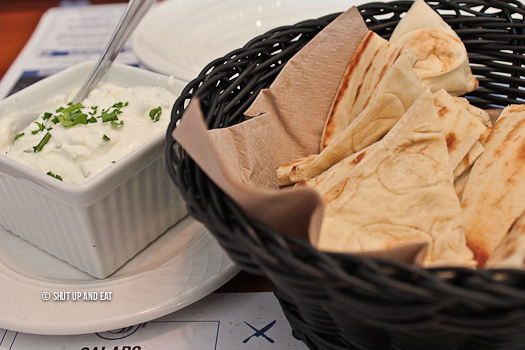 The menu is sizeable and a bit hard to read. Appetizers, different styles of potato, specialty dishes and "Chef's Plates". Our helpful waiter guided us through the menu and made some sound recommendations. Started with rich and garlicky tzatziki served with delightfully grilled pita.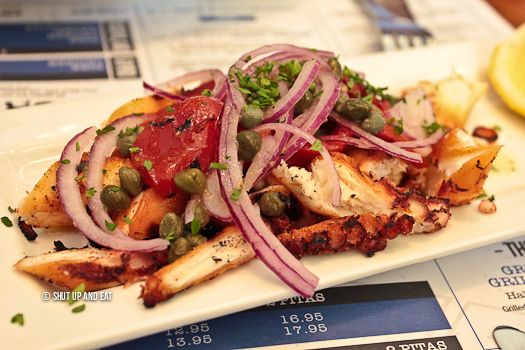 Grilled octopus, red onions, marinated roasted red peppers and capers dressed with lemon, olive oil and oregano. Tasty inherent flavour of the octopus accentuated by a smokey kiss from the grill. Albeit a bit dry, the meat was flavourful and took to the dressing perfectly. Great acid from the capers and onions balanced by the sweetness of the peppers. This dish was definitely I would eat by the shovelful, or at least get an order to go to keep next to my bed as I slept just to know it's there.

We split an order of 1/2 pound pork gyro. This dish is served with salad and a choice of potatoes, we ordered half roasted potatoes and half fries. Succulent pieces of seasoned pork shaved to order. The vertical rotisseries are visible through the window at the pass behind the bar. The meat was juicy, perfectly cooked and incredible. A nice balance of lean and fat to ensure a moist product during and at the end of the cooking process.

The salad was a typical house salad with a signature dressing; lettuce, tomatoes, cucumbers, peppers, kalamatta olives, onions and slices of feta. Classic Greek style roasted potatoes spiked with lemon and oregano, the fries were thick-cut and crispy.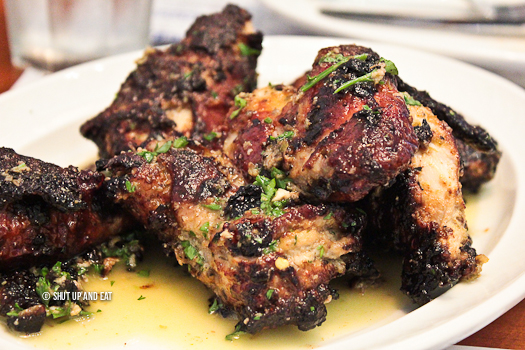 We also ordered the Souvlaki Bar's "Greek Style Grilled Chicken". We were advised that it would at at least 20 minutes to cook. The dishes were coming out in a steady pace that the wait was barely noticeable. The half chicken was doused in lemon, extra virgin olive oil, and oregano. The chicken was juicy and tender and each bite was bright and flavourful. Definitely worth the wait.
The food was delicious and was one of the better meals I've had in a while. This home-grown chain is making waves by providing a refreshing update on classic Greek cuisine. Only regret don't order the meat shovel. WTF is that? Exactly what it sounds like, a literal shovel piled high with meat for two or four people. I'll admit the name of the dish doesn't sound appealing, but when you're served pounds upon pounds of grilled meats bordering on a gout attack, it's kind of fitting. Service was warm and courteous, characteristically Greek.
Souvlaki Bar
190 promenade de Centropolis Laval
450-934-1631
PS, we didn't really walk from downtown to Laval in the name of Pokemon Go.