There used to be a time when if you wanted tacos, there were only a few Mexican joints in town to get your fix. The type of places that treat you to a watered down margarita and sombrero on your birthday. Places that featured hokey pseudo pueblo murals painted on the walls. Fortunately for us, Montreal has experienced a literal taco boom in recent years. The best part is that these palces are located right across the city representing each neighbourhood as though in preparation for some delicious taco Hunger Game… which coincidentally is every Tuesday when I see that damn #tacotuesday hashtag on Instagram. I recently checked out one of the newest taquerias in town, Socialito in the Mile-End.

This happening taco shop located on St-Viateur in the Mile-end is a funky spot that features graffiti murals with Asian motifs, a taco and non-taco menu with Asian influences and cocktail list. Seven choices of tacos with vegetarian options priced north of modest. The tacos are served on 4-inch corn tortilla. This steak taco is described on the menu as "steak strips with fried onions". It was also topped with a fragrant, mildly spicy chimichurri. The texture was a bit off putting (as you can tell, the "strips" seem to have disintegrated.) Don't get me wrong, the smokey aroma was pleasant. Even though the meat was seasoned as though for a hypertension patient, the drab beef was still juicy and took to the chimichurri nicely.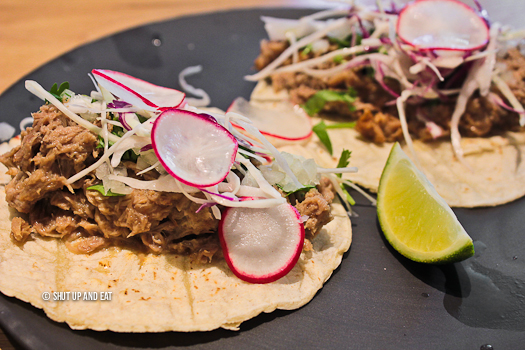 The carnitas tacos. Pulled pork, topped with shaved cabbage, sliced radish and cilantro. The pork was seasoned nicely and was juicy, a far cry from the unfortunate steak tacos. The garnish provided and refreshing crunch and added texture to the monotony of rendered pork.

The "ceviche mixte" was a 12 cubes of both salmon and white fish mixed with citrus, topped with cancha, taro chips and cilantro. The flavours were bright and refreshing. The smokiness of the fried corn kernels added a great aroma to the dish.

From the authentic, to Mission style to Tex-Mex, we've got them all. Montreal now have a great roster of taco shops. Socialito has something going on. The space is nice, the vibe is happening, I just wished they would have hit the hat trick with better consistency concerning the execution of the menu… at least the tacos.
Socialito
75 Saint-Viateur East.
Facebook