It's that time of year again! That time you visit your friendly neighbourhood cardiologist and top up your blood pressure medication because you're about to go YOLO and down burgers for an entire week by the pound… again! 2016 marks the fifth edition of the wildly popular Le Burger Week and here is everything you need to know!

Le Burger Week happens from September 1st to 7th, where the city celebrates the burger. Over 30 restaurants in Montreal will be serving up a specialty burgers that reflects the restaurant's cuisine while showcasing their creativity in trying to conceptualize the city's most unique burger. These burgers will be offered at a discounted "burger price" to entice burger lovers to try as many as they can during the week and to challenge the early onset of gout.
Budweiser (partner of Le Burger Week) presents a new feature this year "Bud and Burgers". Wash down your burger with a tall cold one all at a special price at select restaurants. Another feature this year is Just Eat's "Bring le Burger Week Home Day". On September 4th, Just-Eat.ca will be offering a 20% off discount on select participating burger week restaurants!
Are you hungry yet? Here are some burgers you can look forward to!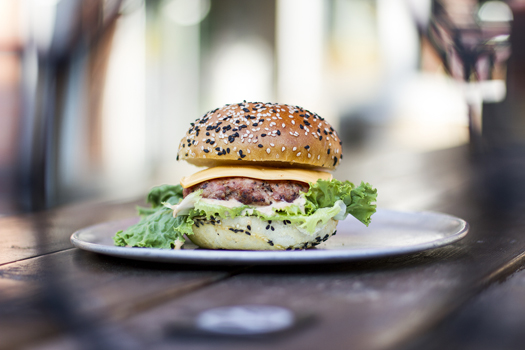 Blackstrap BBQ – "The Pig Mac"
Smoked pork patty, lettuce, American cheese, pickles, onions and our not-so-secret sauce

Brasserie Saint-Denis – "Le P'tit Gros"
Elk burger stuffed with duck confit, 2- year old aged smoked bacon applewood cheddar from PEI, onion confit, apple cider- infused radicchio and roquette, BBQ and beer mayonnaise, accompanied with a P'TIT burger puffed pastry stuffed with duck and foie gras mousse, garnished with radish sprouts.

Bulldog Beer House – "Bulldog Burger"
Angus AAA+ beef sirloin tip marinated for eight days with secret spices, a 100% Angus AAA+ beef patty, mix of cantonnier and mozzarella cheese, fried jalapeños, fried onions, sauerkraut, tomatoes, pickles, mustard, homemade bun.

Chez Chose – "Cheese Bagel Burger"
A turlo farmed pork meatball stuffed with l'Ile aux grue cheddar cheese topped with a fresh homemade bagel with relish and smoked mayonnaise.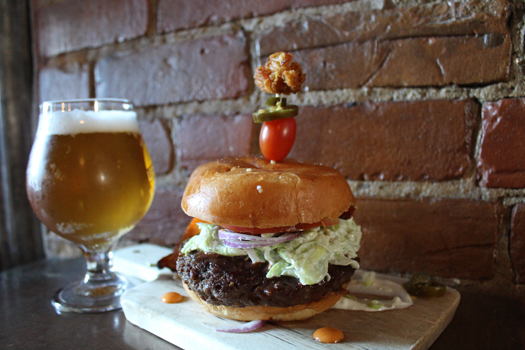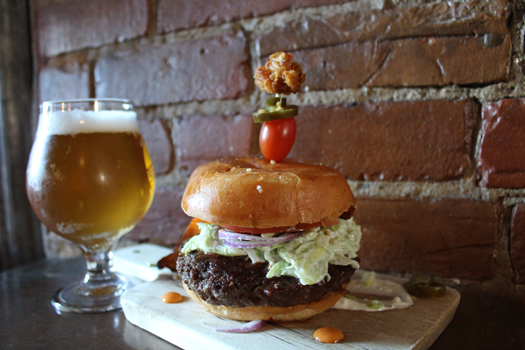 Griffintown Café – "Espresso Burger"
Griffintown burger (1/2 beef, 1⁄4 lamb, 1⁄4 duck), complete with an espresso and dark chocolate glaze, with blue cheese and maple syrup bacon.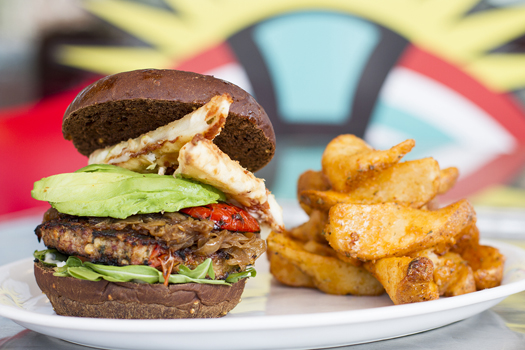 Jukebox Burgers – "The Georgia Burger"
AAA minced beef and herbed chorizo blended 1/2 lb. patty served on a bed of fresh baby arugula with homemade garlic yogurt spread. Topped with avocado, caramelized onions, roasted bell pepper and fried and flambéed Mediterranean table cheese all between a freshly baked pumpernickel bun.

Le Gourmet Burger – "The PK Burger"
Crispy, cheesy, savoury pancakes sandwiching a charcoal grilled beef patty topped with maple onion confit and cheddar cheese.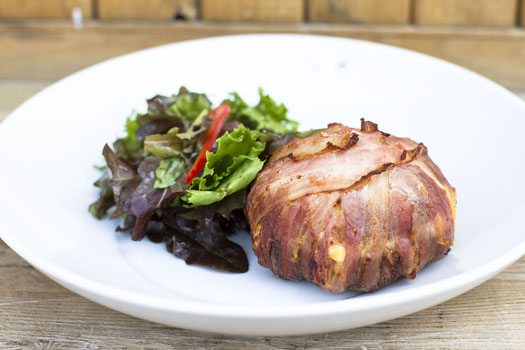 Le Gras Dur – "Bacon-wrapped Cheeseburger"
Certified Angus Beef burger patty, cheddar, mayonnaise, mustard, ketchup, Bretzel bread – all wrapped in bacon.

Mâche – "Mâche Burger"
Seasoned Canadian beef, jalapeño Havarti cheese, caramelized onions, bacon, spring mix, tomatoes, ketchup, sesame mayonnaise

McKibbins – "Mckibbin's Spicy Peach Fest Burger"
8oz. fire-grilled burger topped with fresh Niagara peaches, melted mozzarella, hot banana peppers, bacon, red onions and mayo on a toasted bun.

Mister Steer – "The Hero Burger"
Half-a-pound classic Steer burger with caramelized onions, crispy bacon, cheddar cheese, spicy mayonnaise and our curly Susie Q fries.

Baton Rouge Decarie – The Smoky Ranch Burger
Half-pound of premium Angus beef, smoky pulled pork, sautéed onions & red peppers, shredded lettuce, Swiss cheese, signature homemade BBQ sauce, and topped with garlic ranch dressing.
***UPDATE***


Bar Brutus – "Brutus Burger Dog"
A hamburger in the form of a hot dog made with minced beef sausage wrapped in bacon and served on a sesame bun. Garnished with cheddar cheese, lettuce, red onions and tomatoes.

Bishop & Bagg – "McDirtyBird All-Star Deluxe"
Grilled beef patty with mushrooms and melted cheddar on top, stacked with bacon, BBQ pulled pork, fried chicken, dill pickles, poblano mayonnaise, served on a butter-toasted bun with a side of aioli potatoes.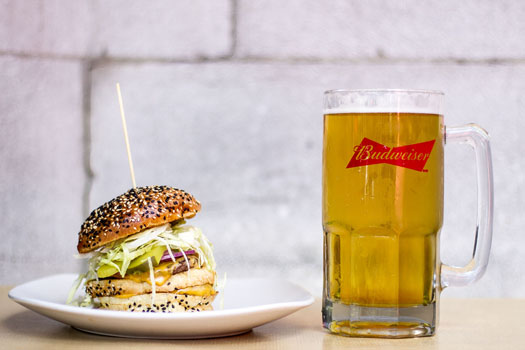 Burger Bar – "Le MacDaddy"
Two AAA beef patties topped with a double portion of melted American cheese, Russian dressing, slightly caramelized onions, kosher pickles, lettuce on a sesame seed bun and served with hand cut French fries.

Burger Royale – "Legends of the Fall"
6oz beef patty (in house grind, all natural pasture raised beef from Nordest farms), with smoked Havarti cheese, homemade foie gras aioli, house pickled onions, baby arugula and mushroom duxelles.

Burgundy Lion "The Fish Burger"
Fried cod, brioche bun, classic tartare sauce, lettuce, tomato and American Cheese.

Bar Terrasse La Cabane du Portugal – "Tour de Balem Burger"
Angus beef and chorizo patty. Garnished with bacon, a fried egg, our piri-piri mayo, dill pickles, lettuce and tomatoes.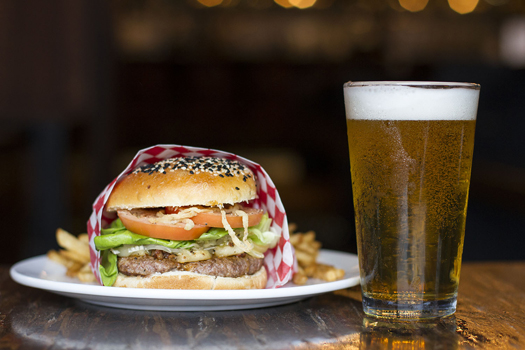 Das Bier – "Le Hambourg"
Beef and pork patty, potatoes roasted in bacon, sauerkraut, brie cheese, lettuce, tomato, fried onions, horseradish dijon.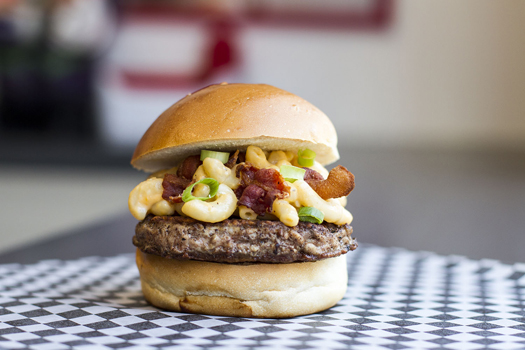 Dirty Dogs – "Mac Attack"
1/3lb Angus beef patty, topped with our famous homemade 4-cheese mac & cheese, smoked crispy bacon and green onions served on our signature bun.

Bistro Laurentien La Coupole – "Burger La Coupole"
ACE Bakery bun, onion chutney, lettuce, tomatoes, with fries or salad.

La Trèfle – "Le Trèfle Burger
Pork and lamb burger, harissa-and-mint cream cheese, caraway seed bread, served with fries.

Les Enfants terribles – "L'enfant Sauvage"
AAA+ beef, chimichurri with herbs from the bottom of the river, Comtomme cheese from Fromagerie La Station, lobster mushrooms, butter brioche.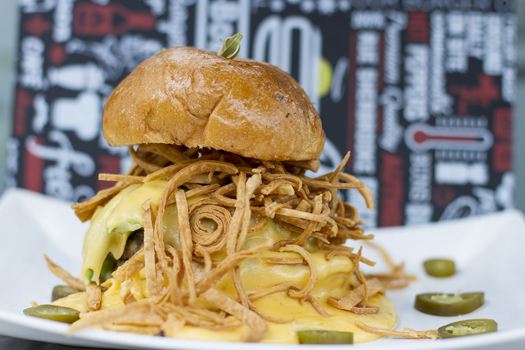 Notre-Boeuf-de-Grâce – "Nachyo Average Burger"
6oz patty of fresh ground beef cooked daily on-site, house cheese sauce, pico de gallo, crispy tortilla strips, jalapeño, and avocado.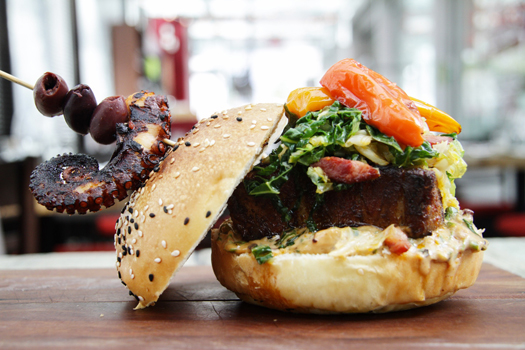 Tavern F – "The Porctopus"
Braised pork, lobster and octopus mayo, kale, and roasted peppers on a brioche bun.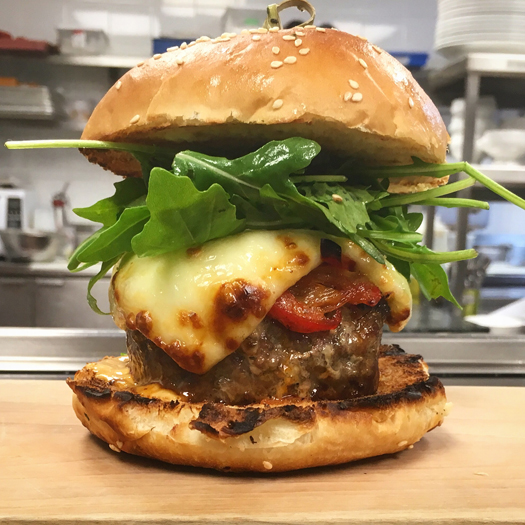 Thursday's Montreal – "Thursday's Burger"
Lamb burger, Halloumi cheese, peppers, mint, onions, and watercress.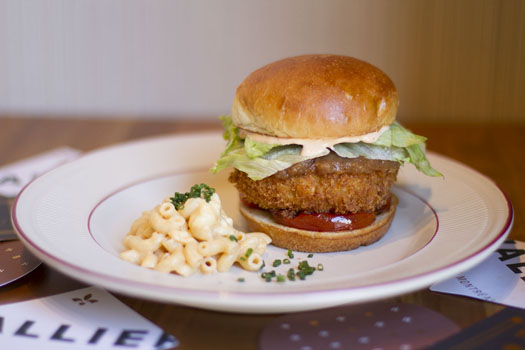 Vallier Bistro – "The Mac & Crab Burger"
Crab mac & cheese patty, accompanied with slices of bacon, tomato confit, with spicy homemade mayonnaise.

Vices & Versa Bistro du terroir – "Burger Vices & Versa"
Eggplant and smoked tomato burger with goat cheese.
ART:Brgr – "F…me Burger"
Home made mousse de foie gras au Porto. Home made AAA patty, mushrooms in white wine and truffle oil, caramelized onions in red wine, bacon, brie cheese, tomato, green leaves, fresh basil.
Frite Alors! – "Le Burger Biquette
Beef patty, balsamic-marinated Portobello mushroom, goat cheese mixed with cracked black pepper, homemade pesto and mesclun.
Ôzeu et O'Boeuf – "Wagyu Burger"
Wagyu beef, bone marrow sauce, gruyere cheese, caramelized onions, sea salt, fried shitake mushrooms with garlic confit on brioche bread.
Pataterie Chez Philippe – "Le Zeke"
Grilled cheese at the bottom, meat, mayonnaise, onions and lettuce in the middle, topped off with another grilled cheese.
Jerry Ferrer – Casse-croûte du terroir par Europea – "Le Picsou Royal"
Duck confit, traditional foie gras, Angus beef patty, served in our homemade bun with stewed onions and a lemon confit mayonnaise.
Chez Tousignant – "The Tousi Patty Melt"
Two beef patties, two slices of cheese, Tousignant sauce, iceberg lettuce and two slices of Chez Tousignant's homemade Pullman loaf bread with a hint of Tousignant spice.
Monsieur Restaurant + Bar – "Spicy Wafberg au poulet"
Bacon waffle bun, Birdbar local fried chicken, spicy mayo, bbq-bourbon maple drizzle, more bacon, fresh jalapeños, iceberg lettuce, fresh coriander & chives!
Bâton Rouge (rue des Jockeys location) – "Smokey Ranch Burger"
Half-pound of premium Angus beef, smoky pulled pork, sautéed onions & red peppers, shredded lettuce, Swiss cheese, signature homemade BBQ sauce, and topped with garlic ranch dressing.
Pub Brewsky – "The Big Underground"
1/2lbs beef patty topped with jerky bacon, aged orange cheddar, thick cut beer-battered onion ring, charred romaine, homemade mayo, BreWskey-ratcha, pickled tomato and a pickle!
Restaurant Renoir – "Ca Fesse en Cochon"
Minced pork burger in smoked-vanilla BBQ sauce, smoked onions, smoked Gouda, fresh mushrooms and red cabbage, all inside a special bun created for Le Burger Week!
Copper Branch (Bishop Street Location) – "Grand Sumac"
100% Plant-Powered Burger made with beet, carrot, Sumac slaw, coconut bacon, tomato, lettuce, alfalfa sprouts and pesto mayo served on organic kamut, gluten-free, or collard wrap. This burger is clean, made with wholesome, plant-based ingredients, and supports a healthy, active lifestyle. Get energized.
Fabergé – "Market Burger"
Boulangerie Guillaume bread, local organic beef patty, blackburn cheese, farmed heirloom tomato, greens, onion rings, free range egg, special sauce. Served with garden salad or French fries from MKT.
Mayfair Cocktail Bar – "The Royals"
2 sliders included. The first slider is a vegetarian slider – mushrooms duxelles, pepper mayonnaise, Alexis de Portneuf Brie cheese, and roquette. The second slider is a salmon slider – fried salmon patty, fresh coriander and homemade sauce. The two sliders are served with hand-cut fries and honey-curry mayonnaise.
Macbar et Fromage – "The Big Fat Greek Burger"
Perfectly seasoned ground beef, Seared hot Saganaki cheese, topped with lettuce, fresh tomato, red onions and our home made tzatziki sauce. Served on an olive oil and oregano bun.
Brasseur de Montréal – "Le Tonka"
Pulled smoked beef, enoki mushrooms marinated in Black Watch beer, l'Ile aux grues cheddar cheese on a potato bun.
Deville Dinerbar – "Deville Burger"
Description: N/A
Reuben's Deli & Steakhouse – "Reuben's burger"
Description: N/A
Restaurant Les Belles Soeurs – "Les Belle Soeurs"
Description: N/A
Z Tapas Lounge – "Z Burger"
Description: N/A
Visit: www.leburgerweek.com for more info
Where do you plan to go?
—
All photos courtesy of Le Burger Week