As you can tell by now, I love Asian food. I love all aspects of Asian cuisine; cooking it, eating it, I'm content with just looking at photos of it. The harmonious blends of complimenting and contrasting flavours is what stands out the most. Regardless of what country any particular dish is from, all areas of your palate is explored. A perfect balance of sweet and savoury, mixed with subtle bitter notes and bright tart highlights is exemplified in Asian cuisine. However, there is often a stigma attached to Asian food that it's mostly fried and fully of oil in preparation; which in all honesty is partly true. I thought there was no way around it until I was recently introduced to the Philips AirFryer that would change the way I cook Asian Food.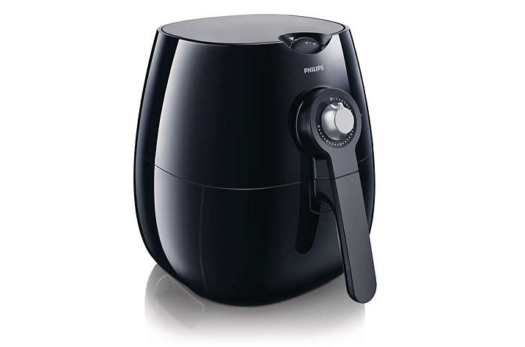 The Philips AirFryer uses proprietary "Rapid Air Technology" to fry, bake, roast and grill with little to no oil. Ok, look, this product isn't going to revolutionize or reinvent the way we cook food, but can provide someone like me who commonly prepares food via high-heat frying a healthier alternative. I was sent the Philips Air Fry to test and had the opportunity to try out Gordon Ramsay's recipe, Tiger Shrimp and Glass Noodle Salad.

The recipe called for a great mix of bright vegetables, cucumbers, peppers, carrots, scallions, and green papaya. You can usually find pre-shaved green papaya at your local Asian grocery store. But if you can't find the prepared version, just get a green papaya and do it yourself. Use a vegetable peeler to shave off the skin and use a handheld coconut grater to grate long thin shavings off the fruit. Alternatively, you can cut thin slices off the papaya then julienne them.

To be honest, I was skeptical of Ramsay's recipe at first. I looked over the ingredient list and the first thing I saw was the inclusion of a French pepper powder – piment d'Espelette. Really? I was prepared to substitute it with something more Asian, but fought the urge to. I gave it the benefit of the doubt, kept my comments to myself and believed in the Ramsay.

A marinade of olive oil, piment d'Espelette, lemon and lime zest tossed with large butterflied tiger shrimp. The recipe says to cook for 4 minutes.

The Philips AirFryer with Rapid Air technology was impressive. It provided a healthy frying alternative that yielded crisp and even results in minutes. Literally minutes.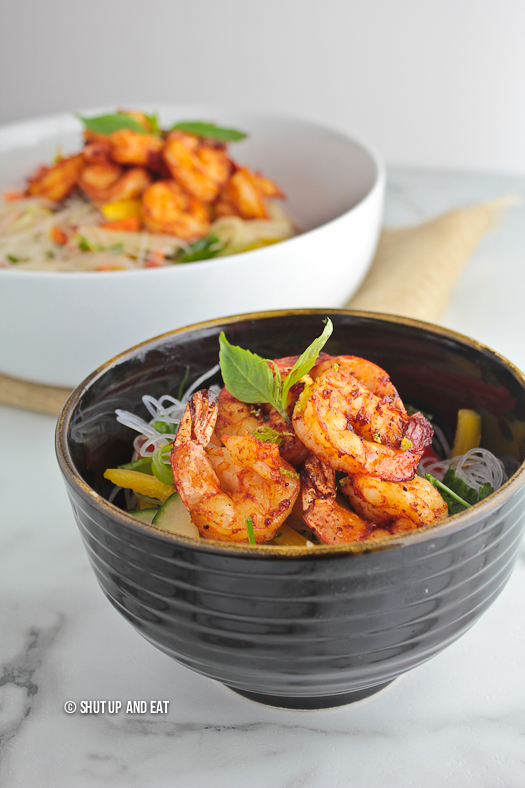 The recipe didn't include instructions on how to preheat the unit, but figured I would add an extra two minutes onto the timer to compensate for this. There's nothing worse than an overcooked shrimp. The shrimps came out plump, juicy and perfectly tender. They had a nice smokey aroma to them that complimented the fresh vegetables and incredibly bright and zesty dressing. The glass noodles are a great choice for this salad as it keeps the dish light.

I was pretty excited to try out this product by Philips. I was equally as excited to test out this recipe by The Ramsay. The Airfryer was ridiculously easy to use and cleanup was simple.
Tiger Shrimp and Glass Noodle Salad
In this recipe from Gordon Ramsay, made using a Philips Airfryer to cook tiger shrimp, a mixture of vegetables and fresh herbs adds bright color and fresh flavor to a main course salad. It's worth seeking out piment d'Espelette for its complex flavor and subtle heat, but hot paprika can be substituted if you like. You can also substitute rice noodles for the glass noodles (also called cellophane noodles), which are available at most Asian markets.
2 Tbs. piment d'Espelette
1/4 cup (2 fl. oz./60 ml) plus 2 Tbs. extra-virgin olive oil
18 large tiger shrimp, deveined and butterflied, tails intact
Grated zest of 1 lemon
Grated zest of 1 lime
Salt and freshly ground pepper
1/2 lb. (250 g) glass noodles, prepared according to the package instructions, drained and chilled
1 English cucumber, peeled, seeded and sliced on the diagonal
4 baby yellow bell peppers, seeded and thinly sliced
4 baby red bell peppers, seeded and thinly sliced
1 carrot, peeled and julienned
2 green onions, white and light green portions, thinly sliced on the diagonal
2 cups peeled, seeded and julienned green papaya (about 1 small papaya)
1/2 cup (1/2 oz./15 g) fresh mint leaves
1/2 cup (1/2 oz./15 g) fresh cilantro leaves, plus chopped fresh cilantro for garnish 1/4 cup (1 1/2 oz./45 g) roasted peanuts, chopped
2 Tbs. julienned fresh basil leaves
For the dressing:
Juice of 2 lemons
1/2 cup (8 fl. oz./250 ml) soy sauce
2 Tbs. plus 2 tsp. honey
2-inch (5-cm) piece of fresh ginger, peeled and finely grated 4 green onions, white and light green portions, thinly sliced 1 Tbs. sweet chili sauce
1 cup (8 fl. oz./250 ml) grapeseed oil
Preheat a Philips Airfryer to 390°F (200°C).
In a small bowl, stir together the piment d'Espelette and the 2 Tbs. olive oil. Arrange the shrimp on a baking sheet and brush with the piment d'Espelette mixture. Sprinkle the shrimp with the lemon and lime zests and season with salt and pepper.
Place 6 shrimp in the fry basket, cut side down, and insert into the air fryer. Cook for 4 minutes. Transfer to a baking sheet to cool. Repeat with the remaining shrimp.
While the shrimp is cooking, make the dressing. In a bowl, whisk together the lemon juice, soy sauce, honey, ginger, green onion and chili sauce. Slowly whisk in the oil until emulsified.
To assemble the salad, in a large bowl, toss the glass noodles, cucumber, bell peppers, carrot, green onions, papaya, mint and cilantro to combine. Add the vinaigrette to taste and toss to combine. Taste and adjust the seasoning if necessary.
Divide the salad among 6 plates. Place 3 shrimp on top of each serving. Garnish with the peanuts and basil and serve immediately. Serves 6.
Recipe courtesy of Gordon Ramsay for Philips Airfryer
The Philips Airfryer is available at most major retailers including: Hudson's Bay, Williams Sonoma, Canadian Tire, Amazon.ca, Best Buy, Costco.ca, Home Hardware, Linen Chest, Home Outfitters, and The Shopping Channel. There are a bunch of accessories available as well, like a fry grill pan, baking pan and variety basket to make cooking with the Air Fryer super simple. A Booklet of over 20 original recipes included with the AirFryer to get you going as well as a downloadable app with over 200 recipes available in different languages.
—
This is a sponsored post. I was compensated monetarily to feature the Philips AirFyer . All thoughts and opinions are my own.