I'm not going to beat around the bush and give you some sarcastic recount of a recent brunch experience I had. I went here: Fixe Cafe Bistro for brunch and here is all the information you need: 5985 Saint-Hubert street, 514-270-6667. Stop reading and make your reservations now. I'll wait. You'll thank me later.
Done?
Ok good. Are you ready for brunch? Guess what, you don't have to wait for the weekend. I visited this spot in Rosemont/Petite Patrie that not only serves up a great, GREAT brunch menu that gives you more reasons to look forward to the weekend, but they serve it during the week as well. YES.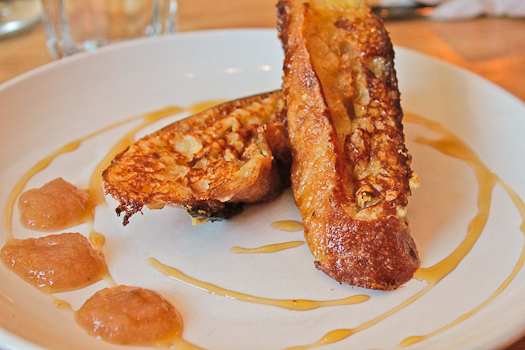 Cafe Fixe subscribes to the current popular multi-course prix-fixe brunch formula. A choice between six starters and eight incredibly inspired mains. French toast with maple syrup and fruit compote. The bread used was baguette. I was scared that it would be hard or uncooked in the centre and was skeptical about it when it was served. I've had bad experiences with baguette French toast in the past. Surprisingly this one was cooked through, and warm.

We also had the baguette with creton, served with homemade mustard. I prefer savoury dishes for breakfast/brunch. Never has something this simple been so satisfying to start your day with. My only complaint was that the three rounds of toasted bread wasn't enough to stretch out my creton portions, especially since the holey baguette allowed most of it to fall through back onto my plate.

My girl had the classic brunch dish of roasted potatoes, bacon and fried eggs. The potatoes were simply roasted with a pepper, rosemary and a heavy-handed sprinkling of salt. It was everything you wanted in roasted breakfast potatoes. A generous serving of caramelized onions added sweetness to each bite. The bacon was crispy and served exactly the way God intended bacon to be served. Team #Softbacon, please, GTFO.

I had the potato and parsnip pancake topped with braised lamb, poached eggs and hollandaise. You know when you eat something that you've never had before and it surprises you how delicious it is that you slip out an audible, "Mmm!"? Me, every damn bite to this dish.

The potato and parsnip pancake was smokey and was an awesome base. I was swooning after each mouthful of the savoury braised lamb and luscious yolk from the poached egg that was topped with hollandaise. The crispy fried shallots and fresh scallions provided sharp acidity to break up the richness of each bite. This dish was as much sex as early 2000s Lenny Kravitz when he brought back the bell-bottoms.

The desserts weren't much to look at but were delicious. The creme brûlée was rich and creamy and what you expect a proper creme brûlée to taste like.

The earl grey cake served with caramel was out of this world. The cake itself was moist and supple and inherently fragrant with the aroma of tea and was not overly sweet. It was only a few bites worth, just enough to make you want more, but not too much that you'd hate yourself for negating your morning workout.

This quaint cafe-bistro is the kind of place that every neighbourhood should have. Not only a place to meet with friends for coffee and lunch, but a familiar place where you eventually become friends with the staff. Not only a great brunch experience, but an awesome dining experience in general. With other options like, gravlax with poached eggs on bagels and beets, or Toulouse sausages confession white wine with cream, gratiné de grelots and fried eggs, I'm coming back. Often.
Fixe Cafe Bistro
5985 St-Hubert Street
(514) 270-6667
Website