The holidays are almost here and that can only mean one thing, FOOD! And lots of it! One of the things that I look forward to the most during the holidays is the food. Yeah sure, the people I spend time with are cool too, I guess. If you like to entertain during the holidays (or any other time of year) keep certain go-to recipes in your back pocket for those impromptu gatherings or times when you need to whip up something quickly. One of my favourite recipes can be made in literally less than a minute – restaurant salsa!

For this recipe, I used the Philips ProMix hand blender. This recipe is called the 30-second salsa because it literally takes more time to reheat your holiday leftovers than it does to make this awesome restaurant style salsa. It also helps that the hand blender features a powerful 300W motor to get the job done at a touch of the finger. I normally make this recipe in a food processor so I was excited to see how it turns out using an immersion blender.

30-Second Salsa
Makes 3 cups
Ingredients:
– 2 cups of cherry tomatoes
– 1/4 cup red onion
– 2 cloves garlic
– 1 tablespoon or 1/2 a jalapeno (optional)
– 1/3 cup cilantro
– 1 tablespoon vegetable oil
– Juice of 1 lime
– Salt and Pepper to taste
Directions:
1. Combine all ingredients in a container and pulse for 30 seconds with the hand blender until you achieve the consistency that you like.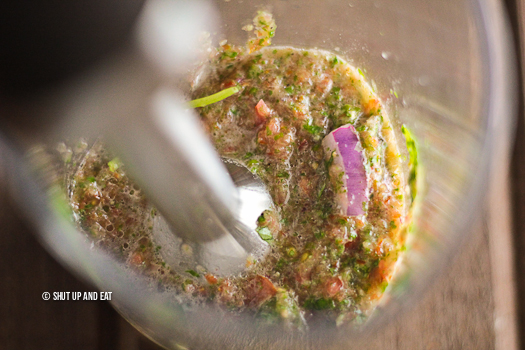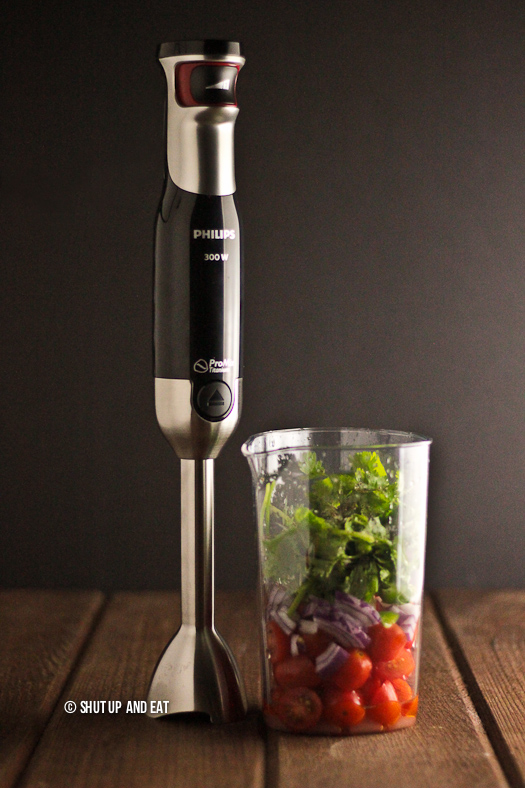 The Philips ProMix hand blender comes with a multi-functional and versatile 1200ml beaker (that is dishwasher safe) for blending, whisking and mixing which makes this recipe for salsa that much easier!
This salsa is so incredibly simple and flexible. Not only is it a great dip for your favourite tortilla chips but works amazingly over fish and chicken as well. The jalapeño is completely optional but I suggest using a small amount (leave out the seeds) – the flavour makes a difference. This recipe is a base and is absolutely adjustable to your own taste. The Philips ProMix and blender is available at Hudson's Bay, The Shopping Channel, Best Buy, Amazon and Canadian Tire.
GIVEAWAY!
Just in time for the holidays, My partnership with Philips is giving me the opportunity give away one of their awesome products! Last month I had to chance to review and test out their AirFryer (MSRP $249.99.) The Philips AirFryer uses proprietary "Rapid Air Technology" to fry, bake, roast and grill with little to no oil! I made the Gordon Ramsay Tiger Shrimp and Glass Noodle Salad as well as my original recipe for General Tao Chicken Wings.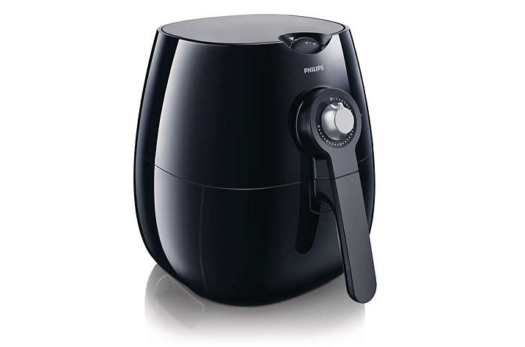 Now I want to give YOU one! All you have to do is register through the contest app AND leave a message in the comment section below answering the question,
"What is your favourite fried food?"
Remember you MUST register through the app above for your entry to count.
-The grand prize consists of a Philips AirFryer (MSRP $249.99)
-Apron and cutting board from Indigo
Contest closes December 5th! Good luck to all!
–
This is a sponsored post. I was compensated monetarily to feature the Philips Hand Blender. All thoughts and opinions are my own.