When a restaurant describes themselves as "simply the best Syrian/Armenian food you could ever find in Montreal", you investigate. Yes, it's common for restaurants to make grandiose claims for serving the best whatever or being the most authentic such and such, or like when that barbecue place in Laval declared to be the best Southern Barbecue restaurant in Montreal. A lot of these claims are unfounded. I checked out Restaurant Zenobia in Ville Saint-Laurent and prepared myself for the Syrian/Armenian food that would surely blow my socks off.
You can imagine how skeptical I was when I read that restaurant description; "simply the best Syrian/Armenian food you could ever find in Montreal." That's subjective, but I wanted to know what the best was and for it to completely obliterate the competition.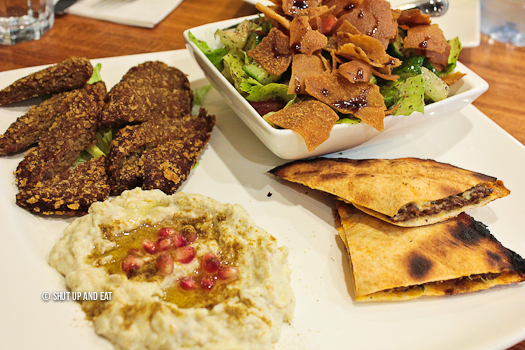 The menu was cryptic to anyone who isn't versed in the fine Syrian/Armenian cuisine, as all the items are listed in French and Arabic by name without a description. The appetizers consisted of 13 cold starters and well as 13 hot starters. We ordered the four hot and cold starter plate – we got to pick our dishes. Not knowing what to order, we took the waitresses recommendations.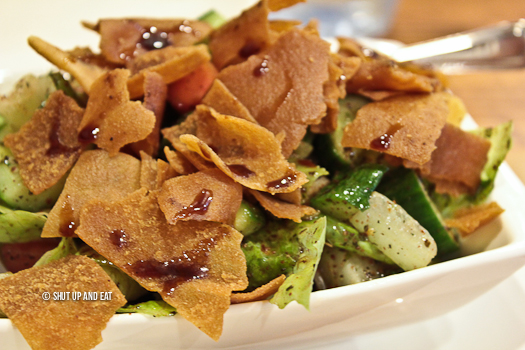 The Syrian fattoush salad. Cold crisp chunks of cucumber, tomatoes, iceberg lettuce peppered with a mix of aromatic herbs and spices topped with fried pita. The dressing was a lot more tart than I'm used to. Refreshing.

The habret samak – spiced beef patties, rolled in bread crumbs and fried. It was explained by the waitress that the spice are used traditionally for preparing fish dishes. I've never had Syrian/Armenian fish dishes before so I couldn't really compare, but I did recognize, cumin, garlic and coriander. The patties were a bit overcooked and dry, but very fragrant.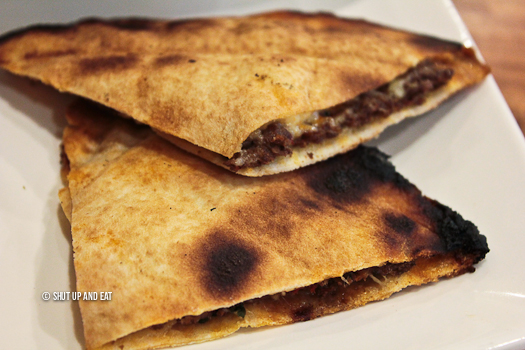 Tochka, a grilled pita sandwich filled with flattened sujuk sausage and cheese. I love sujuk and often order it when I hit up some of the Middle-Eastern sandwich shops in the area. The sausage is deep in aromatic spices like smokey cumin and fenugreek. The cheese added a nice chew to each bite. The mutabal (eggplant dip) was creamy and subtle in flavour. Laced with nutty tahini and topped with cumin and pomegranate, it was both sweet and savoury.

When asked of suggestions, the waitress sold us on the shish taouk. Against my better judgement we ordered it. I've had shish taouk before and it's… shish taouk. Marinated chicken, grilled and served with garlic sauce. I ordered it thinking maybe there would be a Syrian/Armenian twist to it. Sadly no. The chicken was incredibly tender and juicy, but its sad presentation was disappointing. The frozen Costco fries were great, but let's face it, Costco fries are always great.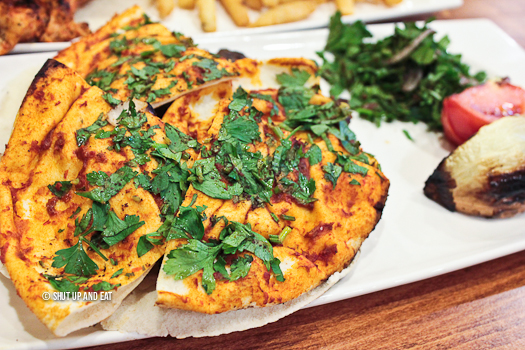 The kabab d'alep plate was four skewers of minced beef kebab, sandwiched between oil-brushed pita, caked with parsley and a side of chopped parsley and mint, grilled onions and grilled tomatoes.

The meat was juicy and flavourful. But like the chicken, the presentation could use some work. Ok, I understand this place isn't the Ritz Carlton, but skewers of meat tube is inherently unappealing to the eye, it begs for some sort of creativity when it comes to plating.
When we placed our order, the waitress asked if we wanted anything to drink, I said water was fine. She came back to the table and opened two bottles of water – that's strange, we never asked for bottled water, nor did she ask if we wanted tap or bottled. A $5.00 charge was added to the bill for water. I didn't bother mentioning it because the service was already so lacklustre. Waitresses were more interested in chit chatting and checking their phones behind the cash than to wait on the five tables that were dining in that night.
Named after "Septimia Zenobia" a third-century queen of the Syria-based Palmyrene Empire, it evokes a sense of refinement where food and service is fit for royalty. In the end, the food at Restaurant Zenobia was decent however clumsy and lacked finesse, like the hospitality. Perhaps the name is just a name and I'm the one interpreting it wrong…?
So to go back to the "simply the best Syrian/Armenian food you could ever find in Montreal" proclamation, walking the walk is never as easy as talking the talk. I've had better.
Zenobia Restaurant
1814 boul de la Cote-Vertu
(514) 502-6664
https://www.facebook.com/QueenZenobiaRestaurant/
From the look of Zenobia's Facebook page, they often host pretty awesome parties featuring live music and dancers. Something to look out for if you're planning for an exciting evening!