Yes, you read that correctly! Icehouse! The Plateau's beacon for the Montreal's best Tex-Mex just added best brunch to their menu. The go to spot for buckets (literally) of some of the city's best fried chicken and sticky ribs now serves that elusive meal that inspires people to get out on a Sunday morning early for the gram. I know what you're thinking, "Wait, Icehouse has had brunches before, Old man Jason is off his damn rocker." Yes and no. Yes, They've had seasonal brunch pop-ups in the past, and no, I'm not that old. So what is Icehouse serving you ask? Great question, you'll need to sit for this.

The "Biscuits and gravy". A Jimmy Dean style pork neck sausage, yellow cheese, slathered with gravy, topped with a fried egg, sandwiched in the middle of a Texan sized biscuit. Stop everything you're doing and just look at this thing. It's as if Dinette Triple Crown's "Big Nasty" woke up on a Sunday morning – both equally as delicious. The buttery and incredibly fluffy biscuit was the perfect sopping vehicle to soak up all gravy and runny egg. DAT GRAVY THO – thick and velvety, it spread over everything – kinda like me on a Sunday morning. The sausage was out of this world.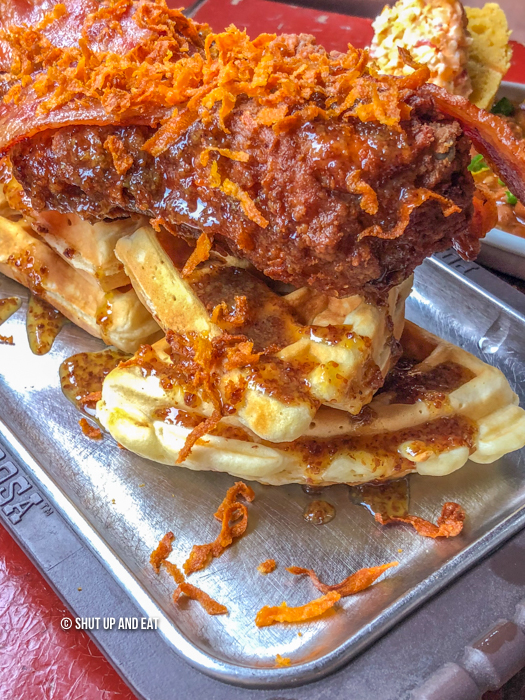 Ok, so you've had chicken and waffles before. I'm sad to tell you that no, no you haven't had chicken and waffles before, until you've had Icehouse's chicken and waffles. Waffles topped with two pieces of Icehouse's famous fried chicken straddled by two thick slices of bacon, garnished with a generous pile of fried shredded sweet potatoes, a few dashes of hot sauce and then covered in sweet sweet syrup. Eating this dish was a defining moment in my brunching career. Everything I thought I knew about friend chicken and waffles flew right out the window like my humility and self respect when I took my shirt off to eat this as I dug face first into this dish. Sticky fingers, hot sauce in my eye and shredded sweet potato in my beard, worth it.

Not to be outdone by the mains, the brunch sides are killer as well. Cowboy beans with smoked brisket burnt ends with corn bread and a heaping spoonful of pimento cheese. That drizzle of yellow mustard is the move. Tart mustard to cut through the richness of the beans is key. The small cornbread and pimento cheese was the perfect amount to share. It's too heavy to eat the entire thing alone, but just enough when split between two people.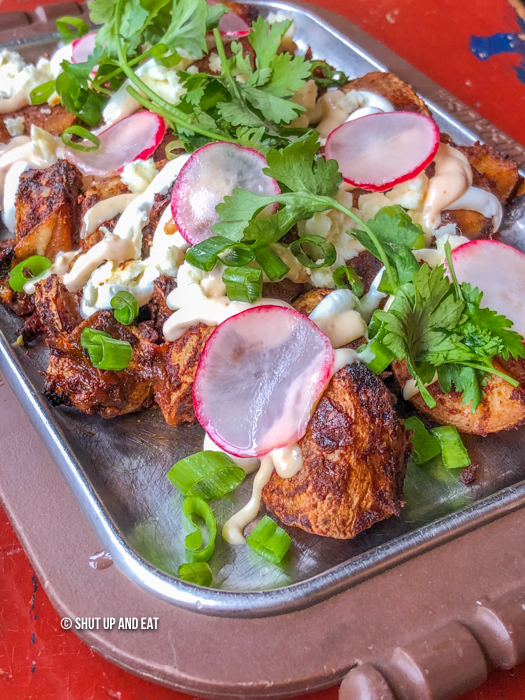 Bravas potatoes and rajas, panela, coriander and radishes. Picante barbecue spiced rubbed potatoes topped with tender poblano peppers (who's head was tamed by cool crema) was deep in flavour and a great refreshing take and alternative to typical breakfast potatoes. Bang on.

Straight up, I haven't been this excited about food since my favourite ice cream shop announced that they're open until 10pm on weekends and a new Korean fried chicken place opened up near me. Icehouse's offering a bunch of traditional Tex-Mex dishes that have a brunchy spin; chilaquiles, breakfast tacos and burrito, huevos rancheros, a fried fish sandwich and jalapeño poppers to start your day off right. Stop by on Saturdays when chef/owner Nick Hodge sets up a stand to sell fresh produce from his farm – Sugaree Farms in Sutton.
No reservations. Get there early and go hungry. Bring insulin.
Icehouse
51 Rue Roy E
(514) 439-6691
Facebook