I've been on the fence about mentioning this place for quite some time now. Why? Because I'm selfish. But luckily for you, I also love sharing great discoveries especially when it comes to food. I've been coming to this quaint Italian Bistro in N.D.G. for a while now. I'm confident in saying that it's probably one of my favourite places for casual home cooked Italian food in the entire city. What was once The Italian Pantry – one of the N.D.G's Italian specialty shops for fine imported goods, is now Bistro Amerigo, your new favourite neighbourhood spot for Italian with soul like nonna used to make.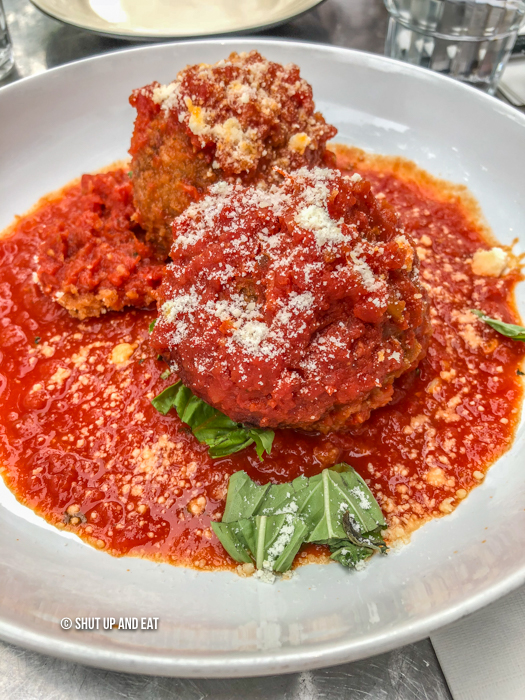 The menu is divided into four sections with a handful of items to choose from. Snacks, classic pastas with a choice of four different sauces, meats and seafood as well as signature dishes. We started with the polpette. The most plump and juicy braised veal meatballs you can ever want. They were served in tomato sauce topped with a generous shaving of pecorino romano. Fun fact: my doctor nicknamed me "Meatball" when I was a kid.

Stop what you're doing and get focused immediately. Grilled octopus, Sardinian fregola, tomatoes, capers, red onions and cucumbers. The octopus dish is consistently out of this world; smokey, supple and tender – which coincidentally is my boy band's new name. The crisp cucumbers and tomatoes add a level of freshness to the octopus who's brininess is complimented by tart vinaigrette and pops of capers in each mouthful. Amerigo's octopus salad is ridiculous and is something I order every time without question. EVERY.DAMN.TIME.

Heirloom beets, on sliced oranges, toasted breadcrumbs, pine nuts and shaved mozzarella. A savoury salad that was a great way to freshen up the palate.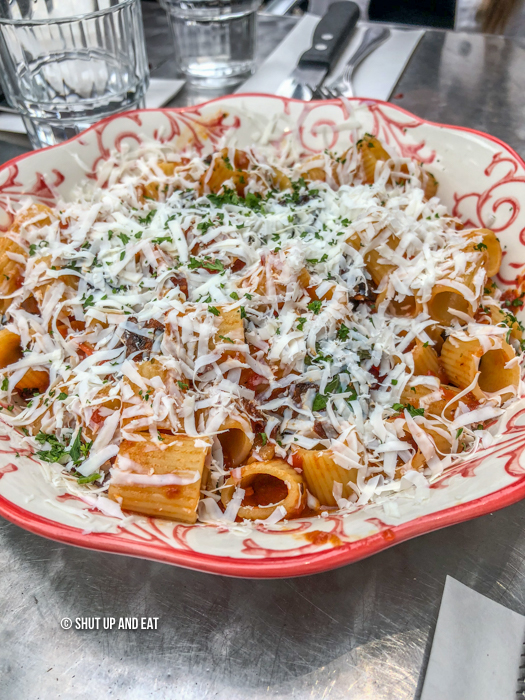 The rigatoni alla norma – roasted eggplants, tomato sauce, topped with shaved salted ricotta. Each bite was the perfect combination of expertly cooked pasta bathed in a silky smooth sauce, with smokey hits from the eggplant and saltiness from the cheese. This dish literally has four ingredients. You can try to make this dish at home a thousand times and it'll never taste like this.

Gnocchi with truffle, wild mushrooms and butter. This dish gave me life, it has literally been my summer-of-2018 energy. I'll be the first to say that I've never been a big fan of gnocchi. But this stupid dish has changed me. Soft dumplings slathered with butter infused with the distinct aroma of black truffles. A dish that's featured as a daily special (maybe you can order by request?) boarders on a religious experience. Like how parishioners at some churches stand with their arms in the air praising a higher power, I stood swaying in the doorway of the kitchen crying having made my pilgrimage from the dining room to the place where this dish was born.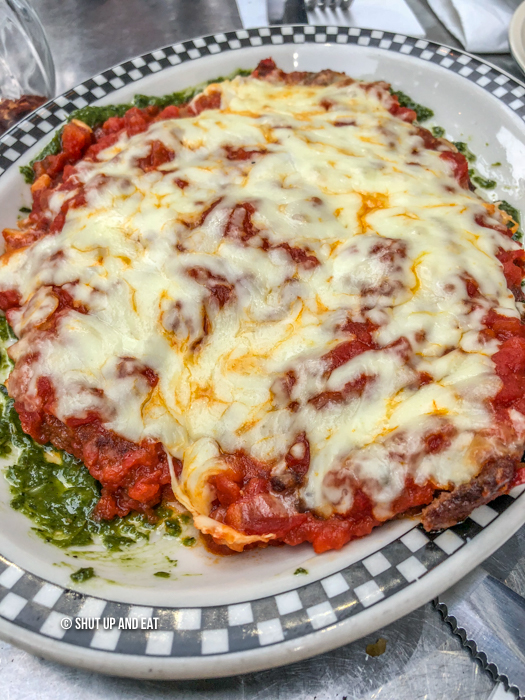 A classic chicken parmesan. Breaded and fried chicken breast covered in tomato sauce, melted mozzarella on top of fresh pesto. The chicken was moist and the crispy exterior remained crunchy right up until the end even after having been slathered with that amazing tomato sauce. Pesto added great depth to each bite.

The dessert of the moment was a fresh panna cotta with homemade raspberry sorbet, drizzled with olive oil and topped with toasted pine nuts. The cream was just set when we had it. It was silky and delicate and a delight to the sense. Their homemade Mae West is also killer, reserve one at the beginning of your meal.
Over the past few visits, I think I've eaten my way through 90% of their menu. The mozzarella di bufala served with truffled dwarf peaches, caper leaves and olive oil, Cioppino (seafood stew with muscles, shrimps, calamari and snow crab) as well as the abbacchio (confit lamb shank served with fregola salad) are all heavy hitters. Heavy hitters in the sense that you will need a nap afterwards because they will knock you the fuck out.
Bistro Amerigo
6127 Monkland
514.507.6121
https://www.bistroamerigo.com