What food can you eat every day and not get sick of? Let it be known, I love pho. So much so that I'm on a perpetual quest to find Montreal's best bowl of pho (Montreal's Best Pho). I've eaten over 50 bowls from 50 different restaurants, it's a claim that I'm both proud of and a bit scared of, as I'm sure I've eaten my weight in fatty tendon, tripe and M.S.G. But my sacrifice is for the greater good, to find the city's best bowl of pho – the "dac biet" more specifically. My journey takes me newly opened Pho Mymy in The Plateau.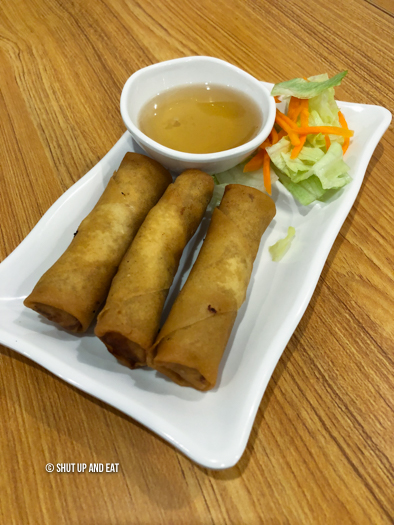 Pho Mymy has three locations across the city and one in Laval. Typical Vietnamese restaurant menu, appetizers, a collection of noodles soups (that are basically variations of each other), and rice and vermicelli plates with grilled meats. The imperial rolls were nice and hot. Dipping sauces was a bit sweeter than I'm used to.

The grilled pork and chicken with rice and salad. I love fragrant jasmine rice. It compliments the smokey grilled meats nicely – which were aromatic and savoury. The garnish of salty scallion and oil was a nice touch and balanced each mouthful.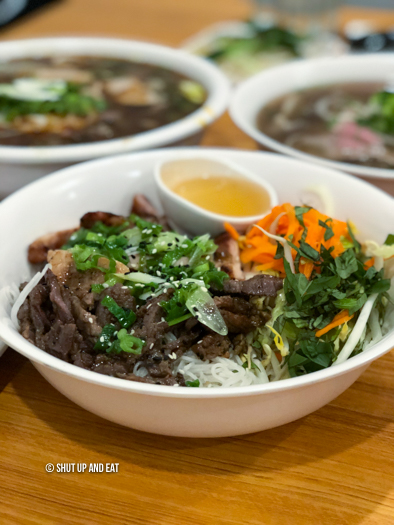 Grilled beef and chicken with rice vermicelli and salad. Served with shredded lettuce, bean sprouts, pickled daikon and carrots, chopped herbs, the meat was topped with the same scallion oil and the bowl was served with the same sweet nuoc cham sauce. One of my favourite dishes anywhere, when all ingredients are tossed together, it's one of the best noodle salads you can ever eat.

A dish that's often only found on Vietnamese restaurant menus as a weekend specialty, Pho Mymy serves Bun Bo Hue on the daily. This spicy beef noodle dish consists of thick slices of beef shank, oxtail, pork knuckles, and pork loaf. When topped with shredded cabbage, shredded banana blossom and coriander, this aromatic dish is robust and hearty, definitely something you'd crush on the coldest Montreal winter day, but not in the right smack dab in the middle of a heat wave. As intimidating as this may seem, Pho Mymy's spicy beef noodle was tamer than a bubble-wrapped puppy in a pillow factory. No spice, not nice.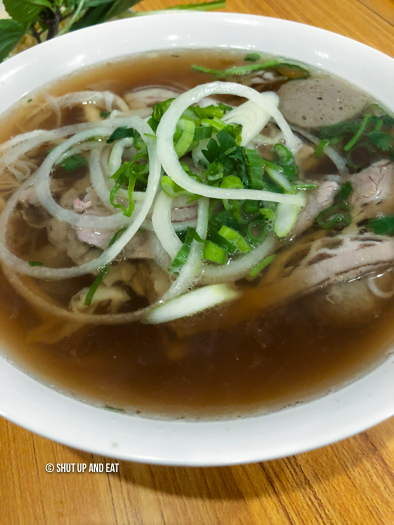 Down to business, Pho Mymy's Pho dac biet, "the special". This is my phoever-pho and will always order this bowl. Rice noodles served with raw beef, fatty and lean brisket, flank, fatty tendon, tripe and beef balls. Much like the bun bo hue, the look of the soup was deceiving. You'd think that the dark color of the soup would yield a robust and profound flavour; wrong. Murky and flavourless, the only thing that stood out was the overpowering notes of anise and clove. Definitely tamed down from some of the more authentic spots I go to. Not to say that their pho isn't authentic, but it's down on a few notches on the flavour scale. Dull and disappointing.

We visited on a Friday night and the place was half full. Still relatively new, maybe they're trying to get a feel of the neighbourhood before they go full ethnic. A completely different experience than the one I had at the L'Acadie location. Pho Mymy has multiple locations and it's a bit concerning that the food at the two places I've been two are so different.
The quest goes on.
Pho Mymy
408 Gilford
514-840-5726
http://phomymy.com