Get. Focused. IMMEDIATELY. Your favourite restaurant now does BRUNCH! That's right, your go-to spot for Southern comfort food Dinette Triple Crown, now gives you another reason to brave the cold and line up for the sake of brunch. This has been one of my most favourite restaurants for years and it always on the list for my top recommendations in the city. Have you been? What are you waiting for? If the most authentic Kentucky fried chicken, biscuits, smoked brisket, collard greens and hush puppies aren't enough to convince you to go, imagine what they can do for brunch.

As easy as it may seem to think of Triple Crown's brunch service as their regular menu with eggs slapped everywhere, it's really not. Take a moment and dream, dream all the kinds of southern breakfast classics – Dinette Triple Crown's got you covered.

The brunch menu at Dinette Triple Crown consists of small plates and mains. From the small plates menu the pecan sticky bun was far from anything small. It's big enough to share. "SHARE", lol.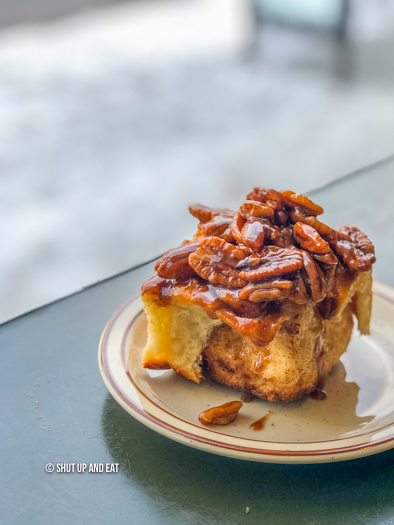 The bun itself was soft and chewy with perfect crust. The sticky pecan topping was everything you wanted it to be. The nuts were slightly smokey and the caramel was sweeeeet. This thing was so sticky, even Snoop Dogg would be proud of it.

Dinette Triple Crown's breakfast sandwich. Homemade breakfast sausage, fried egg, American cheese all stacked in between one of Chef Colin's famous warm buttermilk biscuits.

On their regular menu, Dinette Triple Crown has a fried chicken sandwich in a biscuit covered in gravy called "The Big Nasty" (coincidentally my stage name). Now imagine if The Big Nasty woke up before noon, this would be it. Since it's not drowning in glorious gravy, pick this sandwich up and eat it with your hands. Don't be that jerk who eats this with a knife and fork. This biscuit is so perfect. There are literally no words to describe it. It's buttery, fluffy and dense all at the same time – how is that even possible?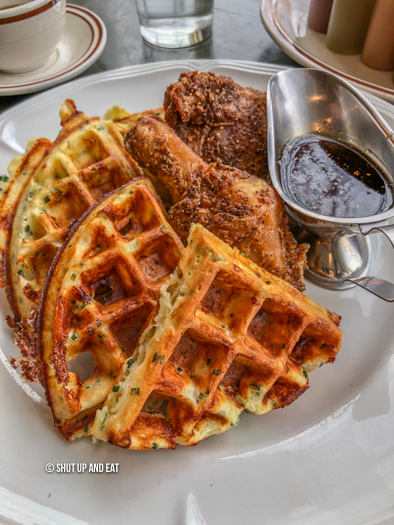 A southern breakfast isn't complete without the classic fried chicken and waffles. Dinette Triple Crown's famous buttermilk brined Kentucky fried chicken with cheddar and chive waffles served with a side of chili maple syrup is humble and delicious. Each bite of the crunchy waffle was flavourful. The spiked syrup slowly drenching each waffle pocket brought out the unmistakable aroma of cheese and chive. Amazing.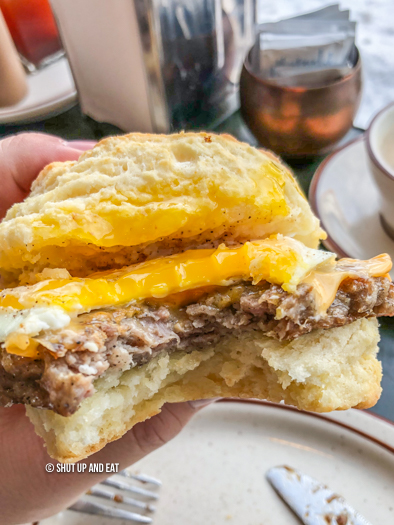 Triple Crown has a few brunch cocktails that will definitely help you cap the weekend off right – the "Paralyzer float" made with vodka, kahlua, ice cream and Coke (coca-cola!) will either wake you the fuck up, or put you back to sleep. Chances are, after your brunch, you're going straight to bed. The menu is said to change from week to week with a few mainstays like the classic shrimp and grits, and the fried chicken and waffles amongst others. There's definitely something for everyone. All the preserves are homemade as is everything else, short of the dishes and cutlery.
GO.NOW.
Brunch service only for the winter!
Follow their Facebook page and IG for menu updates!
Brunch service: Saturday + Sunday 11am-3pm. No reservations.
Dinette Triple Crown
6704 Rue Clark
514-272-2617