I'm in a relationship, a peculiar one. It's with a seductress, a tramp… and her name is brunch. I like brunch, who doesn't? This weird weekend ritual where you basically eat breakfast foods at lunch and where having booze with breakfast is ok, but if you do it on a weekday, they say, "Jason, you have a problem." I recently checked out the new brunch destination in Verdun. Have you ever been to Regine Cafe? The brunch mecca in Rosemount where is' common to see lineups around the corner on any given day? Well, my friends, Régine café ups the brunch game and goes all in with their Vedun branch, Janine Cafe

Verdun has been one of my favourite hoods to eat in. The best BBQ around at Blackstrap, awesome Chinese food at Hong Mere, one of the city's best fried chicken at Comon, sick Cambodian street food at Les Street Monkeys and swell breakfast at Restaurant Well. Everything you can want in a three block radius. Now Café Janine that joins the pack offering delectable dishes that are sure to tantalize, Verdun has it all.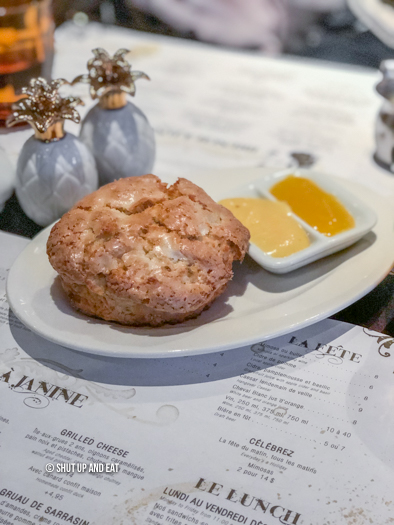 Start each brunch with something from the baked goods section of any menu. Always. If the spot offers homemade viennoiserie, crumpets, scones, etc. order them! Janine's fresh, homemade scone is delicious. Served with lemon curd and english cream, the scone was warm and rough on the outside, thick and buttery on the inside; kind of like me. But I'm served with a side of sarcasm and am a little bit bitter.

I'm a fan of sweet and savoury things; pancakes with bacon, maple syrup on ham… fried chicken and waffles. Corn meal waffles, cornflake crusted fried chicken, spicy harissa yogurt and mango jam, garnished with coriander. The waffle was not the best I've had, but decent. The chicken was 1) incredibly crunchy 2) moist and juicy, 3) perfectly seasoned. The mango jam added a great touch of sweetness and the aromatic spiciness of the sour yogurt cut through each bite.

When I thought the fried chicken and waffles was amazing, the "Doré" was equally, if not, more insane. Homemade brioche, mascarpone cream, banana caramel, fresh bananas, dates, pecans and caramel pop corn. LOOK AT IT. The generously thick-cut brioche was like cake. I love cake. So do you. The mascarpone cream was thick but airy. At first, I thought this dish was going to be too sweet. Bananas, caramel, dates, sweet brioche… yes this dish was sweet, but it was almost like there were different kinds of sweetness. All elements worked together harmoniously that did not render each bite cloyingly sweet. Maybe it's just me, but I crave something salty like bacon or like in Régine's "sucre salé", a slab of roasted pork, to compliment everything else that's going on on this plate.
If you've ever been to Régine, you'd recognize some of the features here at Janine, funky cozy decor, complementary shot of their smoothie of the day as you sit down, deliciously creative menu and the lineup around the corner. Go early and avoid the line. But if you find yourself braving the cold, just know that the wait is worth it. Congratulations and well done Verdun, another reason to be in you.
Café Janine
3900 rue Wellington
(514) 543-5372