You know that saying, if you love something, let it go. If it comes back, it's yours. If it doesn't, it was never meant to be. Does this ring true to you? It does to me… but about a sandwich. About 10 years ago, there was this small little lunch counter/wine bar in Little burgundy that I would go to for sandwiches. They had daily/weekly specials that I would get often and they always hit the spot. Life got in the way and I stopped going and kept telling myself I'll hit them up for a lunch soon, but never did. One day, I pulled up and they disappeared. The place was called McKiernan Luncheonette.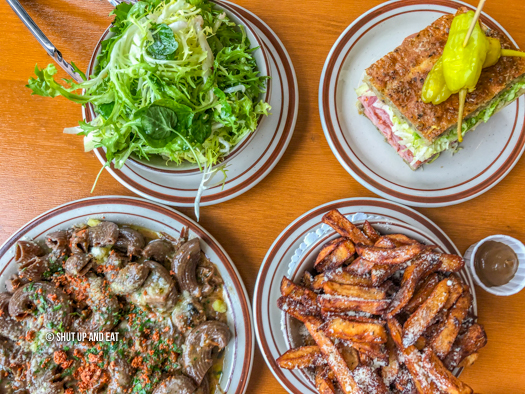 You can imagine my surprise when I heard that there was a place that was opening called McKiernan Luncheonette. COULD IT BE? I was weary. I had to go see for myself.

The menu at McKiernan is changing weekly featuring specials of he day. Mainstays are a local veg salad of some kind and rotisserie chicken. A special of the day was a muffaletta sandwich. Homemade meats stacked high between homemade focaccia. I love sandwiches. As I said, I ate my most favorite sandwich ever in the universe 10 years at ago at McKiernan.
The original McKiernan Luncheonette was located where Joe Beef is now before they expanded several years ago. I loved their sandwiches and my favorites were their meatloaf sandwich and a fucking ridiculous crab salad, smoked salmon and avocado with bacon sandwich – which I've tried to replicate for over 10 years and have still can't get it right.

A lot has changed – and so has photo technology.

So I was pretty pumped to have everything come full circle and have a sandwich (what ever it would be) at Mckiernan again. And it just so happened to be this hundred layer big dawg. Homemade mortadella, spicy soppressata, and ham, generously piled with cheese, shredded lettuce and a pickled vegetable spread. A three-bite sandwich – you need three tries to bite through it. Although this sandwich did not fill that 10 year old sandwich void in my soul, I felt comfort in knowing that there's a chance we will be reunited again.

The pasta of the day was a buckwheat pasta with oxtail ragout, garnished with parsley and shaved smoked carrots. This pasta was a stick-to-your-ribs, nap-inducing delicious plate. The perfectly al dente pasta soaked up the sauce and hid bits of meat and little treasures in its hollow shell.

The fries were fries, G.B.D. – Golden, Brown and Delicious, and the "ketchup" was made of mushrooms, tart and earthy. The green salad was frisée and micro greens dressed in a light vinaigrette. Refreshing and needed.

A great addition to the area which is pretty industrial and devoid of any decent dining options. Located in a commercial building, McKiernan's mandate is to serve the businesses in the immediate area and not necessarily to become a destination restaurant. But with an all star team of the Joe Beef crew and Maison Publique, it's hard to say that people won't make the effort to brave construction traffic to grub at McKiernan. Lunch service from 8 a.m. to 3 p.m. Monday through Friday, and from 5 p.m. to 10 p.m. on Thursday and Friday evenings.
McKiernan Luncheonette
5524 Saint Patrick
Wesbite