Countries in south east asia are relatively small share many common boarders, so it goes without saying that there's a lot of mingling and sharing of cuisines. Some countries may borrow or appropriate elements from a neighbouring country's cuisine and incorporate it in their own; unlike how my mother strangely develops a Jamaican accent when she comes home after talking to our new neighbours for a while. I mean subtle similarities, I'm not talking spring roll pho or crispy fried bbq pork noodle dumplings (but oh my God, how awesome would that be though?!).
There's this spot on Cote des Neiges that calls itself a Cambodian and Thai restaurant; I hit up Tuk Tuk. I think it should be noted that even though this place is called Tuk Tuk, it has no affiliation to the food truck "Le Tuk Tuk"; it just so happens to be two different things launching around the same time with similar names.
We looked through their concise menu, all the dishes are listed together and the general distinguishing derby line between the Cambodian and Thai food is kind of blurred kind of like the "ladies" that hit on me at a Bangkok nightclub that one time.

We started with the "Mee Srouy" which literally translates to "crispy noodles". Dainty strands of fried rice noodles are mixed with torn pieces of crispy iceberg lettuce and tossed with a fragrant dressing of lime, chili, sugar, garlic and fish sauce, topped with scallions and shredded carrots. This dish was light and was a clinic in the juxtaposition of flavours and textures – really enticed the tastebuds and will awake every sense; even your common one.

The chicken larb salad was solid. Minced chicken mixed with a very aromatic sauce of chili, lime, Thai basil, mint, with shallots and garlic mixed together with toasted rice. My first reaction to this was it would make such a kickass dumpling filling, unfortunately, these countries don't really share a boarder with a dumpling wrapping nation to have ever berth this culinary epiphany. Next project, NOTED.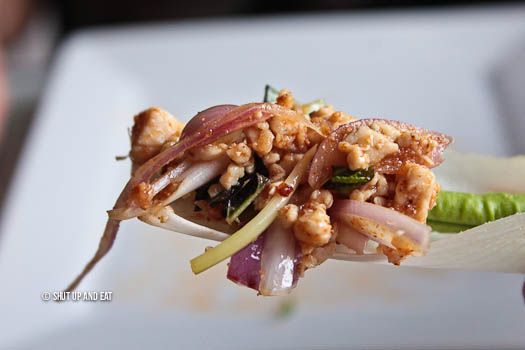 Served and eaten on a couple of leaves of endive. The bitterness of the greens went well with the fresh squeeze of lime on the larb as it brought out the inherent spiciness and sweetness of the dressing. When using fresh chillis in recipes, yes, the thing is spicy, but the natural sweetness of the pepper often goes unnoticed unless balanced and contrasted well.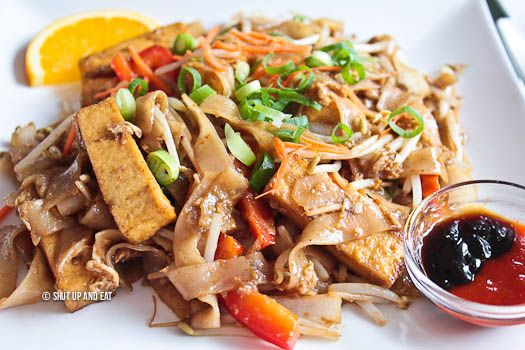 My friend had the Pad si'eve – large rice noodles fried with a soy mixture with vegetables. With a choice of beef, chicken, shrimp or tofu, my friend took the obvious choice of tofu.

Large and substantial pieces of fried tofu were firm and held up to the sautee of the noodles and took to the sweet sauce very well. The fresh bean sprouts added a refreshing crunch to each bite. A safe dish if you're not up for anything too exciting… from the friend whose stomach is more sensitive than like a Dawson Leary playing off the fact that his best friend gave his childhood love the big D and does her meal planning depending on where she'll be on a particular day and her general vicinity to an acceptable washroom.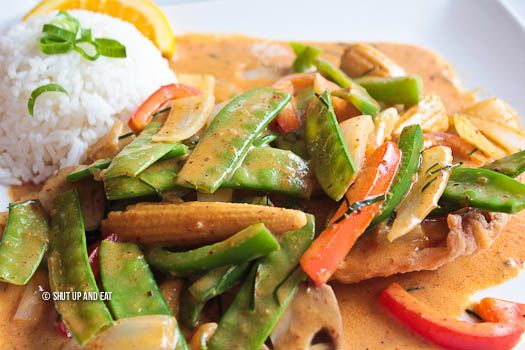 I had the fish amok. A Cambodian steamed seafood/fish dish that's traditionally prepared wrapped in banana leaves, Tuk Tuk's version sees it without the pageantry. With a choice of fish, chicken, tofu or shrimp, I kept it real and had the fish in desperate hopes of evoking memories from my travels in Southeast Asia, sans cold-showering memories of hot lady-boys. The curry was coconutty and savoury; rich in spices and tossed with fresh lime leaves, the fish was fried and had a nice crust that prevented the permeation of the sauce – had it not been, I'm sure the fish would have been tossed to mush (since the dish wasn't steamed as per traditional preparation). Full bodied and robust, the curry warranted a straw.

For dessert we split the borbor tnaot and borbor poat. This the tnaot, a coconut milk tapioca pudding with palm fruit.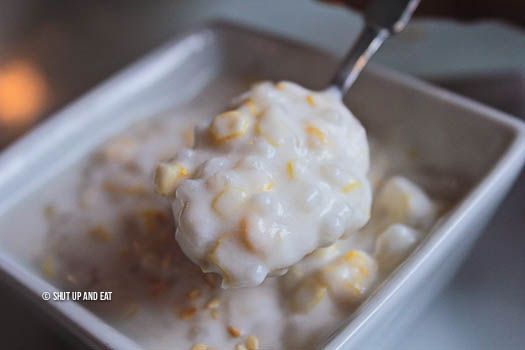 The borbor poat, the same as the previous coconut milk tapioca pudding but this one made with fresh corn. Both puddings were not overly sweet and incorporated slight variations of textures and flavours.
Like I mentioned before, restaurant Tuk Tuk has not affiliation with the food truck – as explained to us by our awesome waitress. This tiny spot in Cote des Neiges is adding to the ever growing repertoire of ethnic dining choices. I would have liked a family style dining option to get the full Asian dining experience… but for that they'd need to add an overbearing middle aged mother, a couple of kids playing on iPads and Nintendo Ds' and a bunch of takeout containers. But this serving choice is great for people who don't like to share… but not so good when you're a larger group and want to try different dishes on the menu – but it isn't something that would stop me from returning.
Restaurant Tuk Tuk
5619 Côte-des-Neiges
(514) 739-6132