Let's be honest here, one of the things that is most synonymous with summer is ice cream. I remember when I was young, my mom always hesitated buying ice cream for us because 1) it would melt before we got home from the grocery store, 2) not only are Asians amazing in ping-pong, badminton and in maths and sciences, but we also own the shit out of lactose intolerance. Lactaid didn't exist back then (or so we thought) and ice cream was a treat that included a long walk down to the local ice cream shop – long enough to rethink and really consider what we were going to have, being fully aware of the repercussions and consequences this after-dinner treat would entail. Little did we realize that the forced integration of dairy products into our diet was slowly grooming our lactose kung fu resulting in a tolerance that now rivals my patience with stupid people driving and my ability to abstain from road rage. Here are some of my favourite ice cream shops in Montreal
Le glacier Bilboquet
When you think artisanal ice cream in Montreal Le Bilboquet is probably on the top of your list. Serving Montreal for over 30 years, this spot has grown from their modest ice cream counter in Outremont to six locations in and around Montreal. Le Glacier Bilboquet prides themselves on supporting the local businesses by sourcing their products from around the area, dairy from the Saguenay region, chocolate from the Montéregie, and fruits from Eastern Quebec and Ontario.
Le glacier Bilboquet
Multiple locations:
http://www.bilboquet.ca/adresses.html
Opened Mondays and late on weekdays.
La Diperie
I love soft-serve ice cream dipped in chocolate; La Diperie takes it to the next level. What started off as a miniscule store front in the Plateau which often saw snaking lineups around the corner, they have relocated down the street to bigger digs this year. From decadent dipping options such as a Fleur de sel (dark chocolate with a salty twist) dip and BAILEYS, this favourite spot of mine is now serve twice the amount of customers in half the time! Must visit.
La Diperie
68 Avenue Des Pins East
Opened Mondays and late on weekdays.
Gastronomia Roberto
A piller in the gelato game, Gastronomia Robert or "Roberto's" is one the go-to spots for authentic Italian gelato in Rosemont – Petite-Patrie. Choose from over 20 different flavours or a combination of three at a time, Roberto's also has other great dessert options – homemade cakes, pies and other Italian confectionaries like… CANOLI.
Gastronomia Roberto
2227 Belanger
Opened Mondays and late on weekdays.

Crèmerie Bo-Bec
My current obsession. Bo-Bec is a trational "cremerie" serving artisanal ice creams, and sorbets including classic menu items like slush, banana splits, homemade ice cream sandwiches, and homemade popsicles! Nothing is more charming than a neighbourhood ice cream shop that's been run by the same owner that has had the same menu for over 25 years. This spot is one of those places that gives certain neighbourhoods their charm, a reason why people move into the area. Generous portions and great prices, you can tell that their business model is simple. Bo_bec is my life force.
Crèmerie Bo-Bec
1300 Laurier Est.
Opened Mondays and late on weekdays.
Monsieur Crémeux

What started off as a humble food truck, Mr. Crémeux now finally has an actual fixed storefront location. A vision of Martin Juneau and Louis-Philippe Breton, this ice cream shop is a neighbourhood favourite featuring homemade topping options like peanut and pretzel crumble (what?!) Their truck and even ice cream carts will be floating around this summer, so keep your eyes opened!
Monsieur Crémeux
43 Rue Beaubien E.
Pizzeria GEMA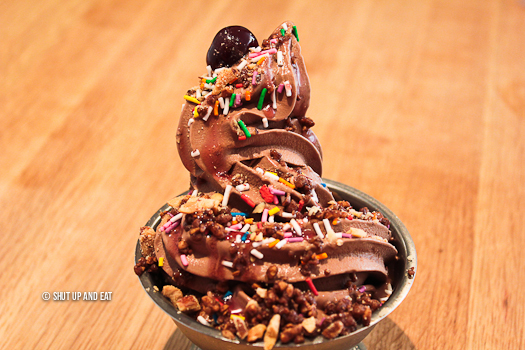 What's a pizzeria doing on an ice cream list? Let me explain. You're absolutely right, they don't serve ice cream at GEMA, but you can find some of Montreal's BEST pizzas here as well as frozen custard. You read that correctly. FROZEN 'effin CUSTARD. Their walk up window is where you're going to find this luscious frozen treat that's guaranteed to please. Chocolate or vanilla frozen custard, you can also choose from eight toppings as well, Bacci crumble and "rainbow vermicelli" are my favourite.
Pizzeria GEMA
6827 Rue Saint Dominique
Like the title suggest, stay tuned for part 2!