I haven't had a meal like this in a while, probably one of the best in a very long time. I don't say that lightly. I wholeheartedly mean it. "Enchanted", "in love", "food boner"… there aren't enough adjectives or ways to describe my experience at Le Red Tiger. I'm talking in every sense of the experience; from food, to service, to ambience and atmosphere. When I say "best", I don't mean it like, "Oh my God Felicia, my venti iced skinny hazelnut macchiato, sugar-free, extra shot, light ice, no Whip is the BEST thing after hot yoga." But this meal was going to be something I will remember for a long time, judge everyone else by for being peasant status and probably visit over and over again until they forcibly remove me from the premises via lawful intervention.
I stopped by this new spot in the village, Le Red Tiger. They bill themselves as a Vietnamese Pub specializing in Vietnamese street food. This place has garnered buzz as far back as the winter, way before it even opened. Owned and operated by the talented individuals behind Kaiji Sushi (review here), they wanted to connect with their roots and bring a style of cuisine that has little to no representation here in Montreal – Street food of Vietnam.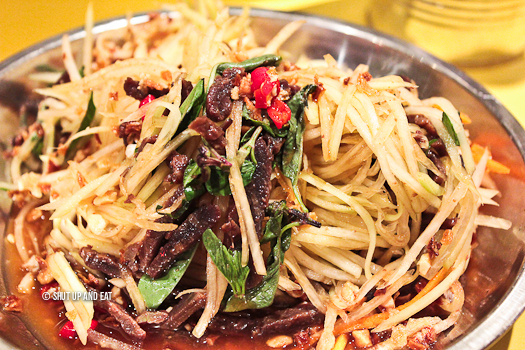 We started with the Papaya salad with vietnamese beef jerky. This particular style of papaya salad is from the south of Vietnam where the dressing is soy sauce based. We in the west are used to a pseudo-Thai version of papaya salads that are sweet and sour, this version is a lot more savoury. Thinly julienned shreds of green papaya, tossed with carrots, peanuts, fried shallots, thai basil and dressed with a soy and fish sauce vinaigrette. Large strips of homemade Vietnamese style beef jerky are intertwined into the salad. This dish (as with most Southeast Asian cuisines) is a clinic in texture and flavour contrasts. I don't know what your spicy tolerance is, but I HIGHLY suggest you eat this salad with the sliced thai chilis that accompany this dish (or ask them for it). I ate the salad with out the chili peppers and found it to be perfect, but then I garnished each chopstickful with a small slice of chili and bite was PERFECTER. The heat brought everything together and the flavours were radiating; brought each mouthful to the next level. The flavours popped and it was almost a different dish. Man up and do it. Eat the straight chili peppers. You have to. No bitchassness. For real. You'll thank me later.

Traditional fried chicken wings with fish sauce, topped with fried shallots and thai basil. The wings were crispy and packed full of nuoc mam flavour and tons of garlic. Delicious, but a bit dry – I blame the skinny wings for that. A bit of a warning for this dish: it comes straight from the fryer and it's fucking hot. But if you're like me and like to burn the roof of your mouth to leave that little hanging bit of skin as a trophy of your manliness, then go for it.

Mini Vietnamese crêpes with pork and shrimp, garnished with a drizzle of coconut milk and scallions. These crêpes are made with rice flour and coconut milk with a touch of turmeric for color. I love how these little sweet and savoury cups of spongey dough cradle the little morsels of salty goodness. Served with fish sauce for dipping, I found myself spooning the sauce into the cups themselves and doing little banh khot shooters.

The five-spice braised pork ribs was a knock out of the park. Sweet and sticky, the ribs had an amazing deep molasses flavour that was brought out by the smokey char from being finished off on the grill. The salty fish sauce is a great accompaniment to each bite. Ask for a second or third or fourth dish of fish sauce, you'll be double and triple-dipping.

One of my favourite Vietnamese dishes, Bánh bột chiên à la Red Tiger. Rice cakes made with taro fried with egg, served with a sweet and tangy vinegar dipping sauce. There aren't that many places that serve this dish, one of the only few places that I would go to specifically order this dish is Pho Lien. Red Tiger is mixing it up by making the version with taro, something that's more time consuming to make, but this extra effort is recognized and appreciated.

Red Tiger's menu features a special of the week. No matter where you go, it's always worth ordering (or at least inquiring about) what's the special. This week was poached conch (sea snail/whelk) in lemongrass and lime leaves, served with fried shallots, coriander and roasted peanuts. This dish was ridiculous. Tender sliced of conch poached to perfection. Each slice was silky and tender and had the texture of abalone.
I hate to say Le Red Tiger "elevated" street food because that would go against what they're trying to do here. I think they've successfully represented the essence of what "street food" really is; simple and honest to God delicious food. They've brought a side of this cuisine to the forefront of people's gastronomic psyche and created the awareness of this exuberant flavour palate and made it accessible and approachable to the people of Montreal.
Bravo.
Le Red Tiger
1201 Maisonneuve Est
(514) 439-7006
http://www.leredtiger.com