I have to confess something to you. I've done it again. In the attempt to bring you the hidden gems around the city, I've found myself hoarding my favourite spots. I will not ask for forgiveness because this week's review will have you thanking me for finding your new favourite spot. I've been writing for a very long time now and every so often I find places that not only impresses but excites me. There's a space in the city for local culinary talent, but what's also eye-opening is when talent starts to migrate to all four corners of the city. So when I tell you that I had to sit on this one before I divulge, you'll understand. Let me preface this with, yes, I know it's a bit far for those who live in the city… but it's well worth the trip to St. Anne to hit up Le Bienheureux.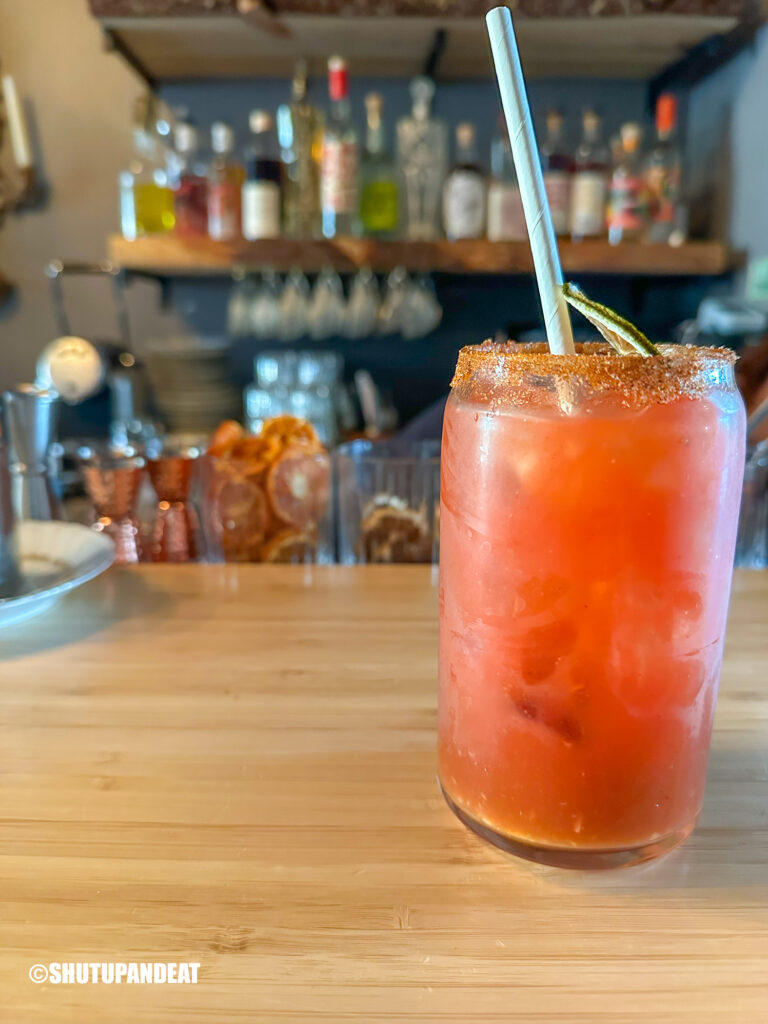 Located in the St. Anne village, the first time I visited Le Bienheureux was in the early spring. Long before they announced the opening of their terrasse. This spot had eight seats at the bar with one lonely booth that could accommodate four- a restaurant with a max capacity of 12. Quaint and cozy. They are of the "local and seasonal" school of fooderie. A testament to this was the fact that some of the dishes I was told about were not on the menu because certain ingredients were literally unavailable in the market. This review is a combination of two different visits.
Starters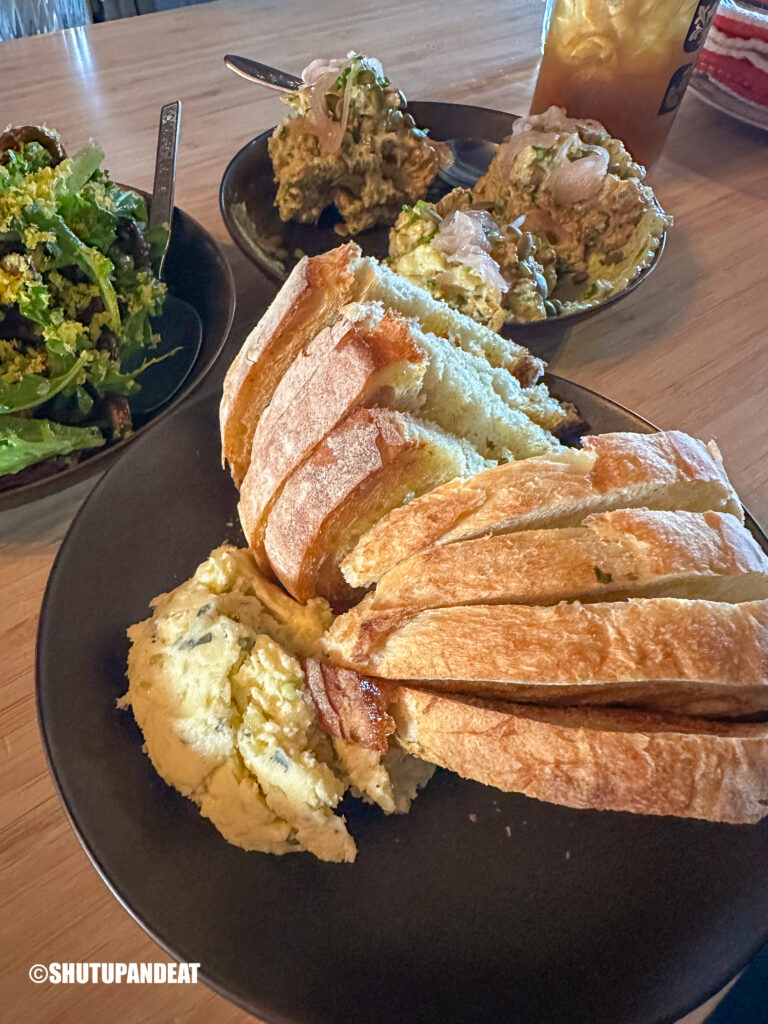 The starters are veg heavy – which I don't mind. A salad of king oyster mushrooms, romaine lettuce, micro greens, vinaigrette topped with shaved salted egg yolk. Roasted cauliflower dusted a smokey spice blend, aioli, pumpkin seeds and pickled onions that made you crave the next bite. All great options to pique the palate.
Mains
The previous time I went we ordered the tuna tataki served with tonnato sauce and pickles. The iIncredibly generous portion of thick-cut, lightly seared tuna was ridiculous. Buttery slabs of fish that literally melted as you ate it. We also had the roasted whole sardines with cherry tomatoes with fresh lemon and olive oil. Safe to say my omegas were sky-high by the end of the night.
Bread
I love bread. I love carbs. I'm basically a carborator. The bread at Le Bienheureux is locally sourced. I asked the waiter if it was wild and seasonal – he didn't get it. I laughed… alone. Drizzled in olive oil, it was served with a tomato vinaigrette. Nice.
The bread at Le Bienheureux is locally sourced. I asked the waiter if it was wild and seasonal – he didn't get it. I laughed… alone.
Burrata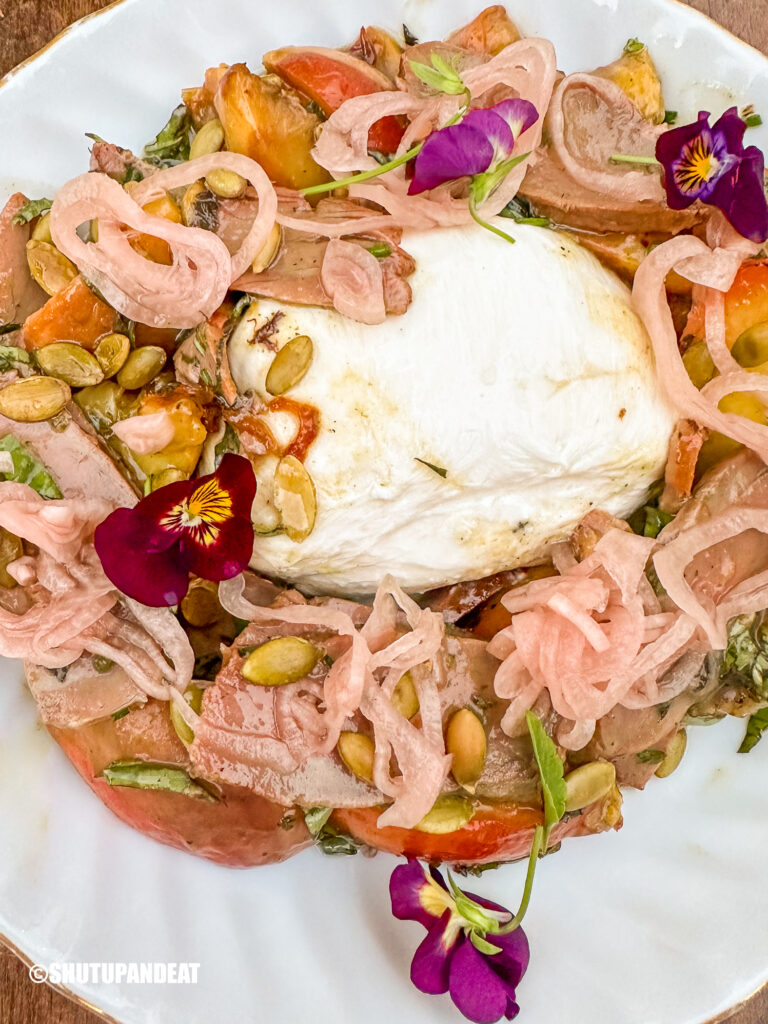 The burrata was amazing. Fresh, milky and less cheesy than my locally-sourced bread dad-joke. Served with sweet grilled peaches and slices of home-smoked duck breast, garnished with pickled onions and pumpkin seeds. Every bite was perfectly balanced, safe for a touch of finishing salt I would have appreciated. I drizzled some of the tomato vinaigrette on some bites and it was delectable. This dish was just as gorgeous to look at as it was delicious to eat.
The burrata was amazing. Fresh, milky and less cheesy than my locally-sourced bread dad-joke.
Shrimp Rolls
Matane shrimps tossed in a lemon and parsley aioli, green onions dusted with salt-cured smoked egg yolk nestled in a soft toasted buttered roll. I'm not sure if they made the rolls themselves or wild-caught, but they were great. Toothsome bites of shrimp was summer in every bite.
Short Rib
The roasted short rib with hollandaise, white wine and shallots was really good. The unctuous bites of short rib was laced with rendered beef tallow that was cut with the fruitiness of the white wine and tartness of hollandaise. Simple and delicious, it was definitely a treat to eat beef like this. As much as I am a purist, I love having my eyes opened to different preparations of dishes I've had before. Thanks chef!
It's worth mentioning that the preparation of the food is not overly complicated. Refined. Concise. Purposeful. Every ingredient was at the height of its freshness complimenting every element, from the star to garnish. 10/10. The menu is thoughtful and highlights the best locally sourced ingredients (including the bread!) that Quebec has to offer. The menu changes often with some mainstays that you can look forward to.
Before you start with me, I know Sainte-Anne is a schlep for some people. But when you're sitting by the water on a beautiful summer Montreal evening, what can make the venture more worth it than one of the best meals you'll eat all year. Take that to the bank, because I'll cash it.
Le Bienheureux offers a dining experience that leaves your stomach and heart full. Delicious food, amazing service I can't wait to go back. Reservations are HIGHLY recommended.
Restaurant Le Bienheureux
142 Sainte Anne St, Sainte-Anne-de-Bellevue, Quebec
https://www.lebienheureux.com/
RESERVATIONS BY PHONE: 438-493-4788