Hi friends. I took some time off for myself during the summer and hope you had the chance to as well! I know you've probably missed me as much as your last gout attack, but I'm back and ready to hit you with another restaurant review. I had the opportunity to check many of the 187 food festivals around the city in the past few months. The best part bout these food festivals (besides the food obviously) is discovering new local food vendors, caterers and up and coming restaurants – and even not so new ones that you just didn't know existed. This week's restaurant is a spot that made their way through the food festival circuit this summer. They lured me with their chicken wings and I checked out their brick and mortar for more; Golden Lotus.
Golden Platter
Their menu is straight forward and includes all the Vietnamese greatest hits. We started with the Golden Platter – a mixed plate of their signature appetizers which included, spring rolls, imperial rolls, fried wontons, papaya salad and their famous chicken wings that I fell in love with over the summer at the food festivals.
You've had spring rolls and imperial rolls before; very ordinary as were the fried wontons which seemed to be more wrapper than actual shrimp or filling. The papaya salad was nice. It was a lot more spicy and savoury that other ones out there. It included with shredded carrots, cabbage, topped with fried shallots and peanuts; a great mix of flavours and textures. The wings are the champs of this platter. Crispy, sticky, sweet and savoury. I craved more after each bite. They should sell these by the pound.
Bun Bo Hue
Golden Lotus has pho (as most Vietnamese restaurants do). They also had a few other dishes that are hard to come by on the regular. Bun Bo Hue is one of them. So is Bo Kho (beef stew noodle soup) which they have on the menu but apparently did not have on the day that I went. Bun Bo Hue is often only served on weekends at a lot of Vietnamese restaurants, but as of recently, more and more spots are offering it daily.
We tried the Bun Bo Hue. The portion was very generous! The slices of beef, beef shank and cha (pork loaf) seemed to be endless. The soup was spicy and deep in flavour. Also sweet. It wasn't served with the traditional accoutrements – shredded cabbage, banana flower, bean sprouts or sate (chili sauce). Like a most Asian dishes, regionality has a lot to do with how they're prepared or served. Whether or not this is a conscious omission or reflection of their relative "authenticity", the soup was tasty.
Grilled Chicken and Pork Rice with Fried Egg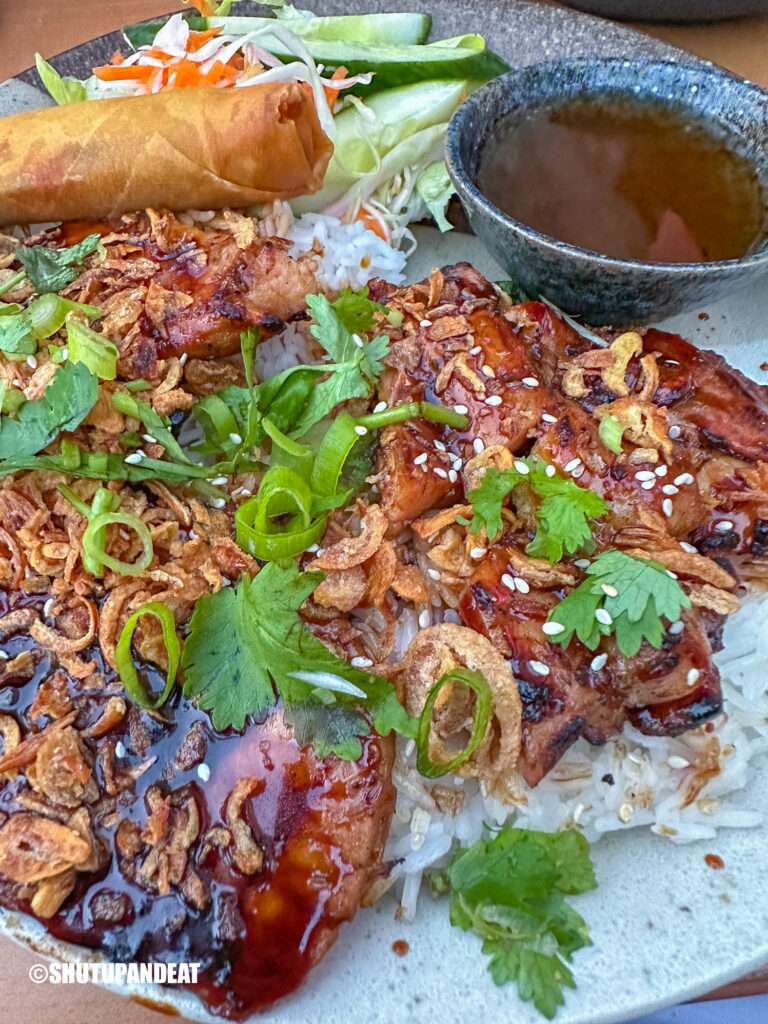 I know what you're thinking – there's no fried egg. Apparently they ran out of eggs the night I went. The grilled chicken thigh and pounded pork chop was incredibly tender and flavourful. I could drink the sweet soy glaze by the glass if they'd let me. Fragrant jasmine rice with pickles and dipping fish sauce was perfect.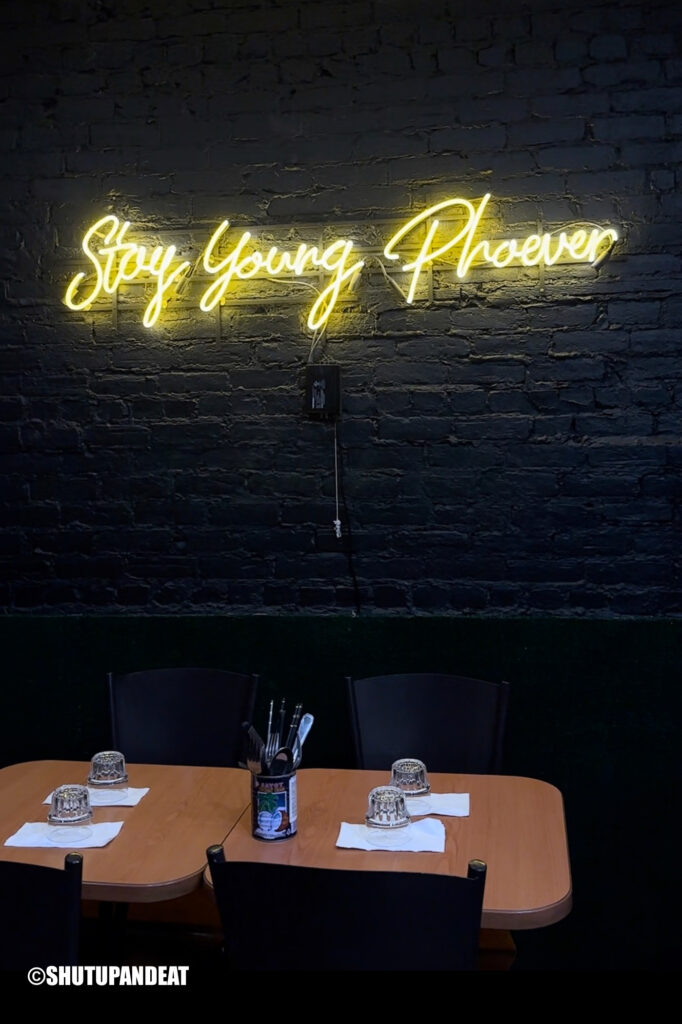 I was a bit disappointed that they didn't have the beef stew noodle…. or eggs (?!?) I was equally disappointed that I didn't try their classic pho. Located in an seedy part of Hochelaga, it was a bit difficult to sit on the terasse to enjoy the last few days of balmy summer weather with the unsavoury characters finding dates, random screaming matches and being harassed while eating. But this is life in the Hoche. We could have easily sat inside, but I decided to dine al fresco, so that's on me. Food was tasty and is a great option for the area. I was glad to see that their presence at the festivals this summer inspired me to visit their actual location. Looking forward to try their other dishes.
Golden Lotus
3637 rue st catherine Est
https://goldenlotusmtl.com/