It goes without saying that if your restaurant name includes a name of a dish, chances are that's your specialty. No one is going to Big Bob's Bussin' Burgers for their impecable teppanyaki service. Places like Amy's Dejeuner, Liuyishou Hot pot, Maffeo's Fried Chicken, and Toni Pizza, one look at the name you can pretty much guess what you're getting. I recently checked out a Vietnamese spot in Saint-Michel that specializes in one very particular dish – a savoury pancake called Banh Xeo – I went to Banh Xeo Minh.
I'm not an expert in Vietnamese cuisine by any means. I've had my fair share of pho and barbecue but specialty dishes are still something I want to explore more. The menu at Banh Xeo Minh is concise, with just a handful of soup noodles, rice dishes and their specialties. I passed on the classic dishes and ordered a bunch of their signature plates.
Bánh bột lọc
The Bánh bột lọc are small steamed dumplings of marinaded shrimp and pork wrapped in a tapioca starch skin topped with fried shallots, scallion oil and served with fish sauce. The preparation of this dumpling is very familiar to me, my family makes something similar but with a different filling. This version is chewier. The dumpling itself is subtle in flavour that is a mix of different textures; chewy from the skin, firm shrimp and fatty pork.
Bánh cuốn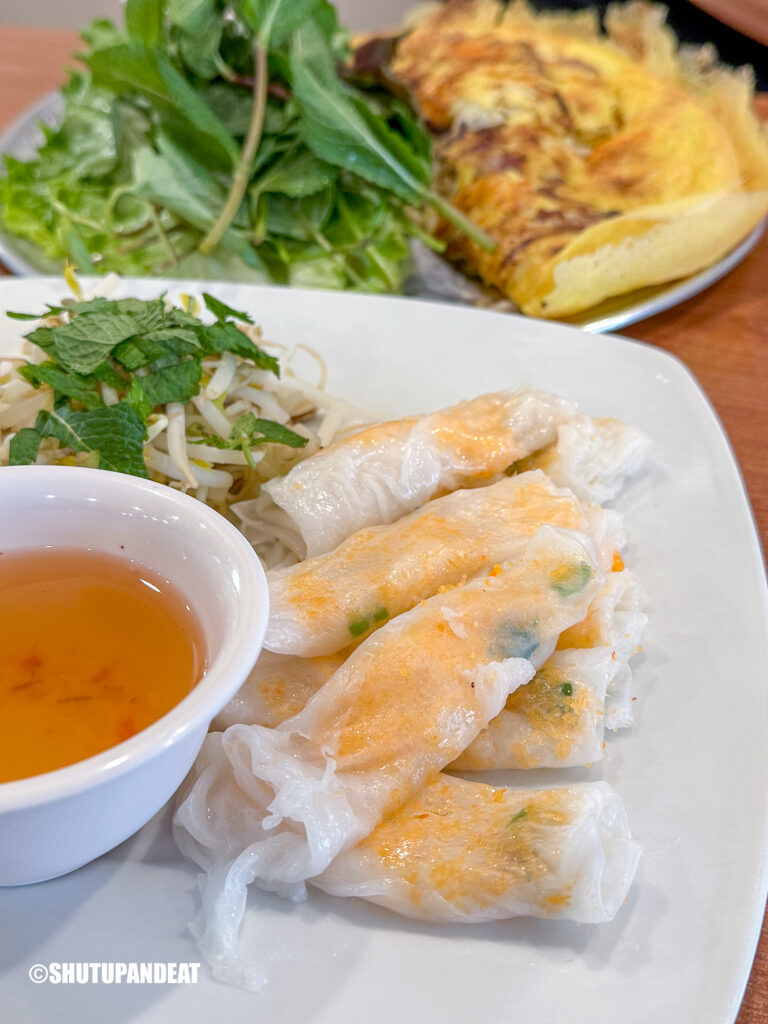 The bánh cuốn are small rice noodle rolls filled with shrimp, served with blanched bean sprouts and fish sauce. They are like the Chinese version in preparation that you have at dim sum, but these are smaller, more delicate with an overtly seafood taste (from the fish sauce). Tasty and addictive.
Bún mắm
Bún mắm is a fermented fish noodle soup, served with roasted pork, shrimp, roasted eggplant and poached fish cake. Seems pretty straight forward but it's the broth that makes this dish. It's the deep pungent aroma of unmistakable fermented fish paste that gives the soup its distinct umami and depth of flavour. I found that the chive and mint not only served as garnish but added an aromatic balance each mouthful murky broth.
Bánh xèo
What I came to Bánh xèo Minh for… Minh's signature Bánh xèo. A savoury rice flour and turmeric crepe filled with a bean sprout, shrimp and pork belly stir-fry. It's served with a pile of lettuce and herbs. Herbs like, Vietnamese coriander, perilla, mint, fish mint, and Thai basil.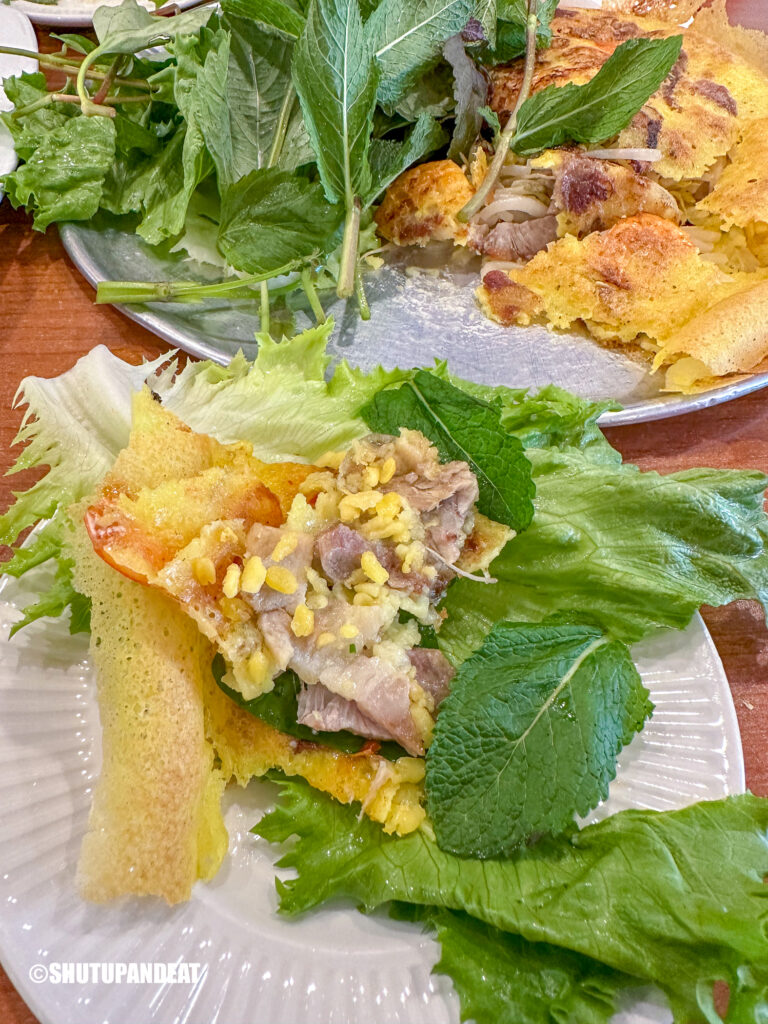 It's eaten by making a little pouch with lettuce, herbs and placing the crepe and fillings inside and dipping the whole thing in the prepared fish sauce. The crepe has a hint of coconut and the mix of herbs are incredibly fragrant in each bite. For me, this dish is somewhere between a snack and light meal. It's also a great way to get your week's worth of greens in one meal.
I don't know who Minh is, but this his claim to fame. It says a lot when you name your restaurant after a dish. Looking at the tables around me and seeing everyone eating it, I'm pretty sure I came to the right place. The flavours were balanced and subtle that you could identify each of the ingredients. So what makes the bánh xèo at Bánh xèo Minh so special? I can't tell you. I haven't had enough of them to say what makes this a standout version. But what I do know is that I am walking away with a great baseline to compare bánh xèo.
Bánh xèo Minh
2670 Rue Jarry E