I recently polled my Instagram how everyone defines brunch. Is it the food that dictates what brunch is? The time? The day? Answers were varied. Some think that brunch is explicitly regulated to Sundays after 10am, others will say anytime after noon. I also received answers that it's the type of foods eaten that makes a meal brunch. This blows my mind; eggs Benedict = breakfast, eggs Benedict with avocado and smoked salmon = brunch. I don't get it, but what I do get is that I've succumbed to the ritual of rolling out of bed on a Sunday and rushing to line up to eat breakfast. This week I checked out a spot that's quickly becoming a favourite of mine, Amy's Déjeuner.
Flapjack
Amy's menu is vast and has something for everyone. If you're a savoury diner, they have the traditional egg-centric breakfast dishes, benedicts, omelettes, crepes, as well as sandwiches, casseroles and poutines. But if you've got a sweet tooth, they've got you covered with pancakes, waffles, french toast and more. The classic two eggs any style, choice of meat, choice of potatoes, and pancakes always hits the spot.
Morning Burrito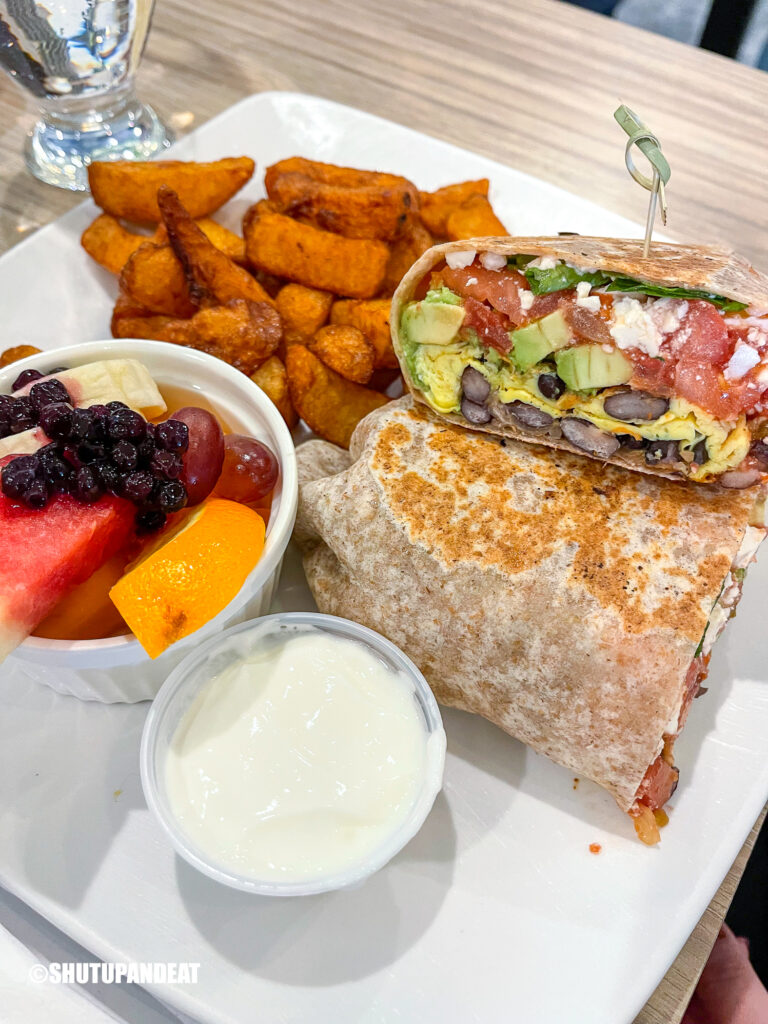 The vegetarian got the breakfast burrito; scrambled eggs, black beans, avocado, monterey jack (substituted with feta), lettuce, tomatoes, salsa that's served with a side of plantains, sour cream and fruit. The last thing I want to do on a Sunday morning is load up on a week's quota of beans from a burrito the size of my forearm. But to each their own. It was huge and very substantial.
Fried chicken and waffles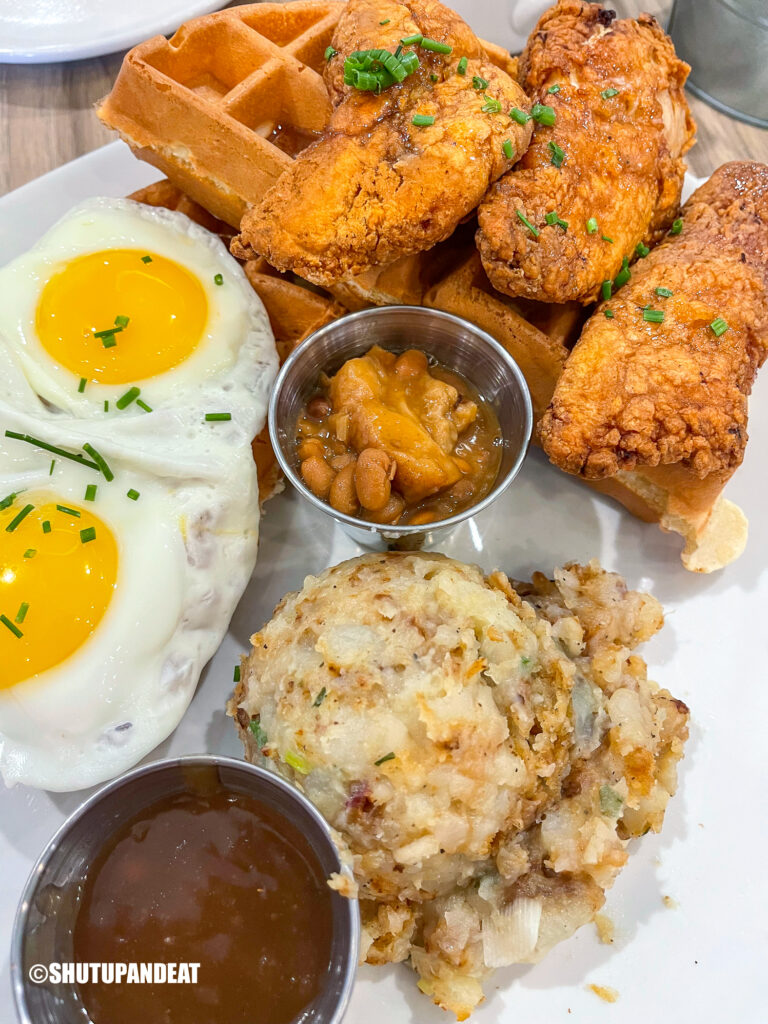 I'm a sweet and savoury kind of guy and my go-to is often plain pancakes with a side of bacon. But I can't pass up a fried chicken and waffle when I see it on a menu.
The very generous portion of homemade chicken tenders was moist and well seasoned. The batter was a bit soft and not as crispy as I would have liked. It was still very enjoyable to eat with the large perfectly cooked WHOLE-waffle. I opted for the delicious smashed potatoes over breakfast potatoes. Served with brown gravy and baked beans.
Donuts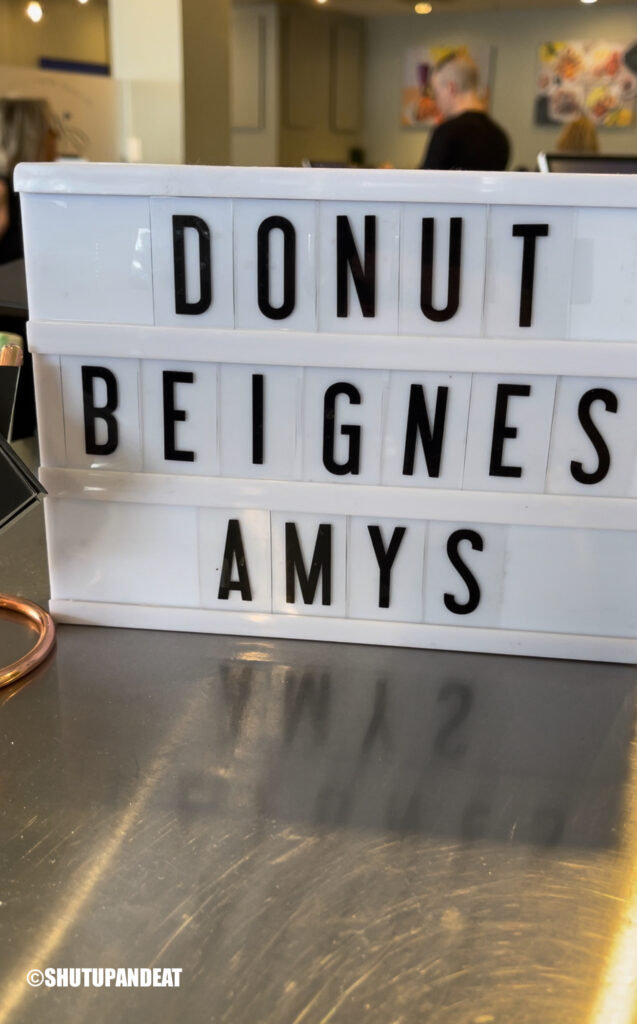 Not only does Amy's serve a killer brunch but they also offer homemade doughnuts. The kitchen is always replenishing their display case so there's no shortage of fresh doughnuts to order after your gargantuan meal. You always want to finish off brunch strong with something sweet and these doughnuts will tuck you in for your apres-brunch nap. Flavours change often and the day we went there options that included, chocolate, watermelon margarita, salted caramel cappuccino and this maple bacon.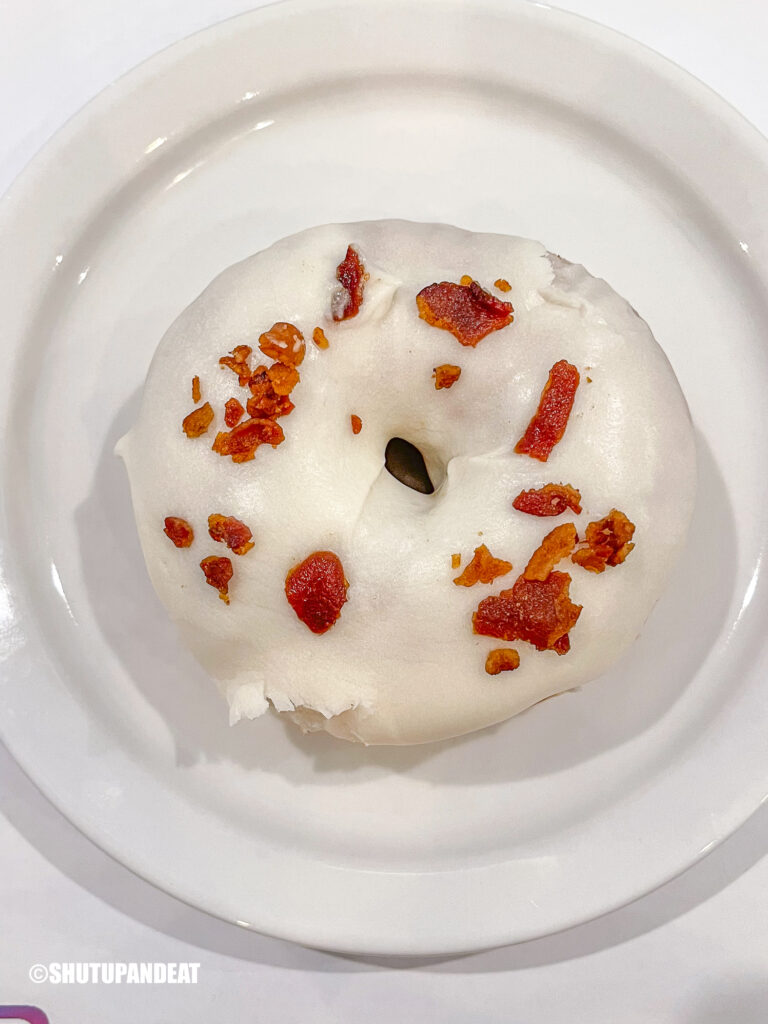 Amy's menu is extensive and this should not be regarded as a deterrent. In fact I would consider it a testament to the pickiest eater of being able to find something they like or for someone who would like to try something different. I haven't tried their sandwiches, poutines or casseroles, but looking around people seemed to enjoy them. So whether you're in the mood for breakfast, brunch or lunch, Amy's got something that's going to check off all the boxes… they've got doughnuts by the boxes as well.
Amy's Déjeuner
4701 C, Boul Saint-Jean
DDO, QC H9H 2A7
Tel: (514)-624-1777