I know fish isn't for everyone, but you can't get away from the media brainwashing us with the health benefits of fish as though we're some fatty-acid deficient zombies. The jingle ladened commercials of my youth never mentioned the Omega-3s that we have become such perverts for – they only preached consuming our strawberries if it came rolled up in plastic, listening to some red-headed clown and his posse pedal a nutritious family McMeal, then washing everything down with monosyllabic neon coloured drinks packed with wholesome goodness that ate holes into your teeth while you slept. I mean, eating healthy isn't all about twigs and berries and stuff you'd line the bottom of a hamster cage… where was I going with this? Oh yeah, fish. You don't like fish? Hack it.
What do I mean? Hacking something obviously means to exploit a weakness, and fish's weakness? It's dead and doesn't speak English to express its displeasure about being battered and deep fried. Yes, Hack your fish – fry them and eat it with fries that you've renamed "chips". I hit up Brit and Chips' new spot on Cote des Neiges this past week; doing recon and hoping they stay true to its original location.

With an identical menu as their Old Montreal Location, I started with the Curry fish cake. A hardy patty lightly seasoned, breaded and fried, harnessing the hefty weight and ergonomic comfort that would fit in the palm of your hand to be hurled through a window, or alternatively, break against your face.

As you can tell by the cross section of the patty, the crust was impossibly thin. The cake of fish, mashed potatoes, onions, bound with bread crumbs, was seasoned with a typical turmeric "yellow curry" and so was the sided mayo dipping sauce. As with anything else that's fried, the obligatory lemon wedge was extremely useful in cutting the heaviness of the oil as it was able to harness the power of public profanity when a stray stream of squirting lemon juice shot into my eye.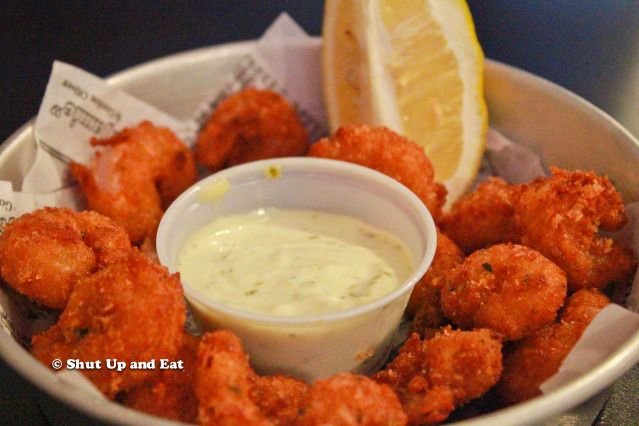 My lunch mate had the tandoori popcorn shrimp. I know what you're thinking; Brit… fish…. chips… Curry and Tandori? Opposed to what one might think the national dish of England is, it's actually Tiki Marsala, blimey right? I'm not going to give you some sort of cultural history lesson in why Indian influences are so present in English cuisine, because common sense is explanation enough – (blah blah British Colonly, blah blah cricket and tea.) The shrimps were crispy and packed full of flavour; briney and moist under the coating of batter, they really did pop under the hints of garam masala and heat of cayenne pepper – served with a sweet tartar sauce.

Brit and Chips offers five types of fish, each (not including the fish of the month) with its own unique batter – not including the Veggie Haloumi "fish"; the fake, mock fish… the "fockish". I had the salmon in Guinness batter. Two generous hacked fillet of salmon, I had the "with chips" option on the menu; I mean what's fish and chips without the French fries, I mean chips? Then it would just be "fish" and that's not fun. Not that it goes without saying, but the chips were as honest as a 19th century British machine worker covered in soot – hard on the outside and pillowy inside; never call a factory worker "soft".

Salmon has a tendency to dry out and become dense when overcooked – the fish was perfectly cooked, tender and flakey while remaining a blushing pink in the middle. You can't really taste the actual Guinness in the shattering batter, however, the dark, murkier and earthy flavours that a stout has is definitely noticeable after a few bites as the flavours linger in your mouth.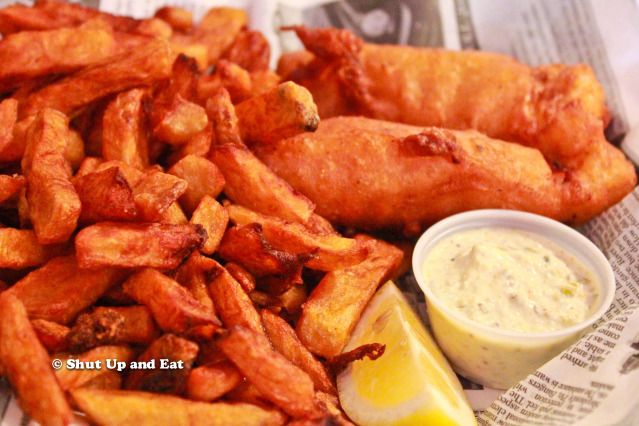 My friend had the Hake in Orange Crush batter. I'm convinced that the minds behind Brit and Chips put a lot of thought into their fish to batter matrix – I guess it only makes sense right? When our plates arrived, you can immediately tell just by looking that although both contained battered and fried fish, that both plates were drastically different.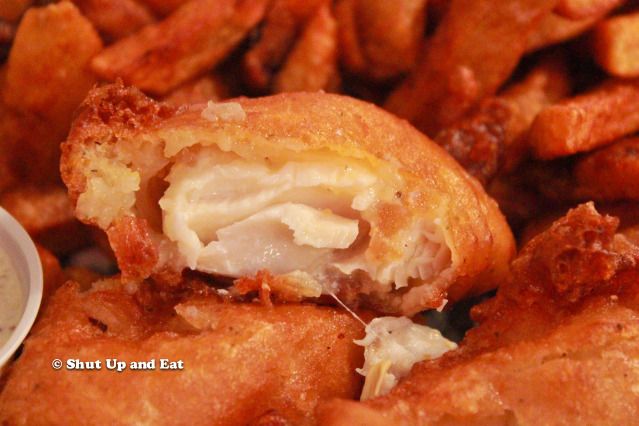 The orange crush batter was far more fluffier and had more of a bread like bite to it – reminiscent of those Chinese breaded chicken balls you'd find on a buffet table. The hake was thick and buttery – like the salmon was nicely cooked and rare in the centre. The sweetness in the batter was evident and went really well with the flocculent fillets of fish especially when spritzed with lemon; try rubbing the actual lemon wedge in your eye and let out an hearty expletive, I actually think it makes it taste better, trust me.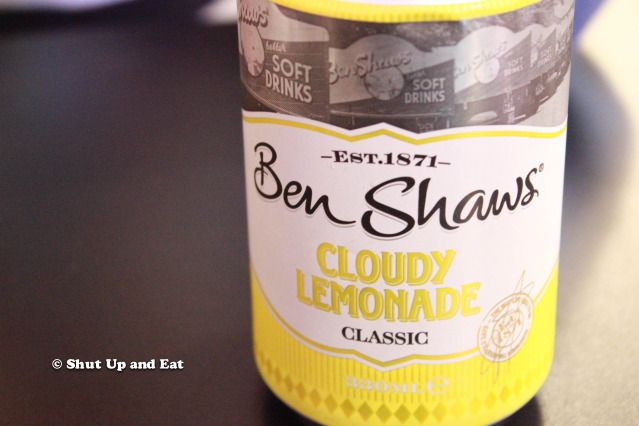 Be sure to try out some of their own imported specialty drinks, especially the Ben Shaw's cloudy lemonade. Barely sweet and extra sour, this bad boy will make you pucker like kissing your sleeping aunt on a dare and cut through the oily film left in your mouth.
Brit & Chips definitely are keeping it real with their fish and chips. The service was extremely diligent and helpful in answering questions about the menu, priced reasonable, and they're opened late throughout the week. They are also serving up British classics like scotch eggs, mushy peas, "deep fried whatever" – which turns out to be a deep fried chocolate bar – and pasties, which believe me, were NOT what I thought they were… if y'know what I'm saying'.
Brit & Chips
5536 Cote des Neiges
514-737-9555

Other location:
Brit & Chips
514-840-1001
Old Montréal
433 McGill