When I'm not bitching about the concept of "brunch", I'm having Dim Sum. Arguably the best way to spend your weekend mornings – in a crowded Chinese restaurant with old ladies yapping across two tables, steaming rungs of hot curious little bundles of various meats and vegetables wrapped in the pain of arthritic fingers that have seen at least half a pack of cigarettes before second hour of the Today Show… Not to mention the random tourist exercising the few random French words they picked up in their guide books thinking the best place to practice is in a Chinese restaurant saying "bonjour" and "si voo play" to the aunties pushing carts. AHHHH, Sunday! I have my go-to place for dim sum, and it's hard to stray when you know a restaurant's dim sum game is strong, however, recently there's a new player in the Dim sum game and I went to check it out.
Located at the top (6th) floor of the "new" and relatively empty and desolate and sometimes mistaken for an old school Batman stinger TV graphic, Swatow building in Chinatown, I hit up Le Cristal for my Dim Sum fix. Opposed to what you may be used to from other dim summaries, you order a la carte – checking off items on an ordering card. The first thing I noticed were the unique items that I haven't seen at other restaurants before and this piqued my interest.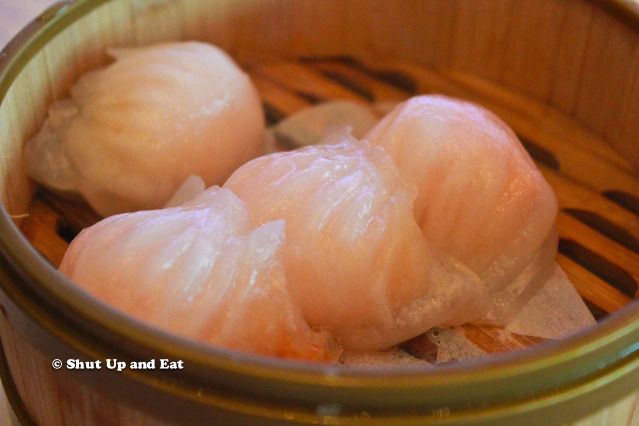 Before the more interesting dishes arrived, I had to order some of my dim sum staples. The "Ha Gow" – shrimp dumplings. Shrimp paste, mashed together with whole shrimp with strips of bamboo shoots, enveloped in a rice and tapioca flour wrapper. For those who have had these little pockets of awesome before, you'll know that once you let them sit for too long, picking them up with chopsticks become nearly impossible without either picking up its neighbour that stuck to it, or ripping the skin leaving you fingering half of the shrimp on your chopsticks and leaving a mess of dumpling carnage behind. PROBLEM SOLVED – Le Cristal wraps their ha gows in extra thick skins, let them cool, stack them on top of one another, doesn't matter; because when you pick one up, it'll remain intact.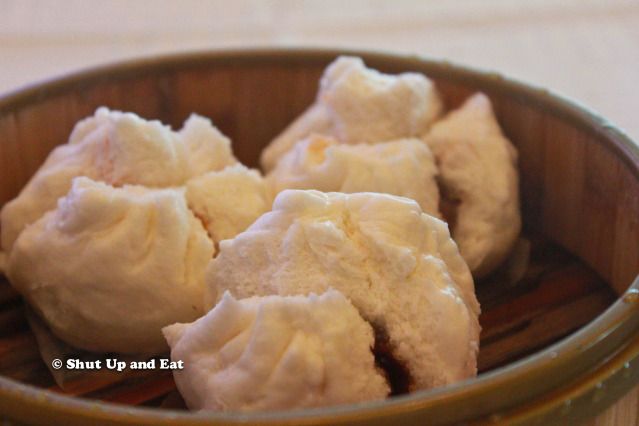 Steamed barbecue pork buns. This yeast and baking powder dough yields a thick and dense, pillowy bun; with a mix of chopped up Chinese roasted barbecue roasted pork. The blooming bun vents out all the steam and also acts as a natural splitting line for you to further cool your buns down. The buns are steamed on a small piece of parchment and contrary to popular belief and as much as people try to convince you otherwise, that paper is indeed edible… 😉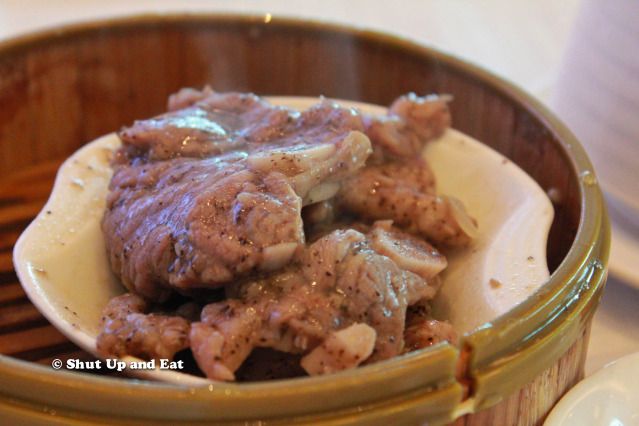 One of my absolute favourites, black pepper steamed short ribs. The short ribs are steamed in a gravy of the run off of the marinade thickened with corn starch. The beef has a little bounce in its bite but its tenderized accordingly. Best part of this dish is the chewy bits of tendon around the bone – speaking of which, be mindful as some of the pieces may have smaller bits of bone still stuck to the meat.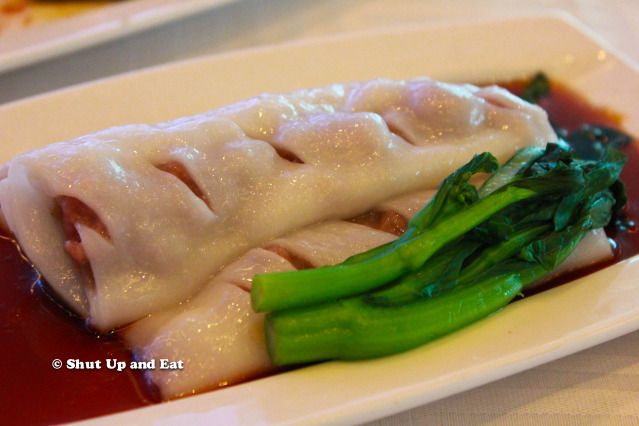 Next was the "steamed Kobe beef" rice roll. Fist, it probably goes without saying that they probably don't use actual Wagyu beef in this dish. Whether it be something lost in translation or they consciously omitted the "style" part of the name, I wouldn't take the name too seriously, just like how the Vancouver Canucks call themselves the President's trophy "winners". The beef was extremely tender and moist, I attribute that to the marinade of soy and baking soda. Mixed with water chestnuts and green onions, the steamed ice rolls had nice crunchy bits to it and was complimented with the homemade sweet soy sauce.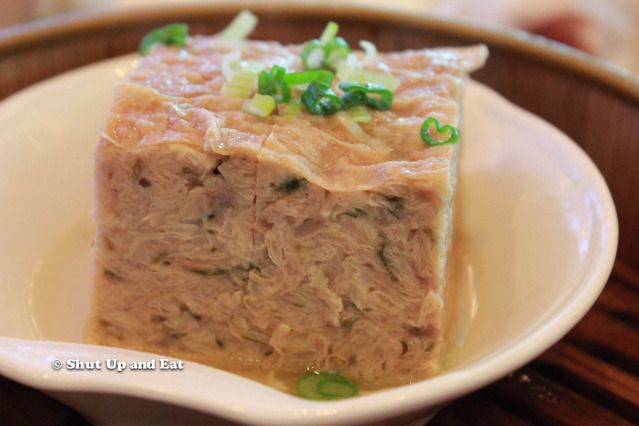 Here is where lunch got a bit weird. The beef cube with soy paper wrap. Our Filipino waitress set this down in front of me and I wasn't sure if I wanted to eat it or poke it with a chopstick and watch it jiggle. Like the previous dish, the beef was mixed with bits of water chestnut, green onions and bamboo shoots, mixed with soy bean sheets and steamed in a tray and cut into cubes. The taste itself wasn't mind blasting more than the texture of it was a complete mind-f*ck. A distinctive 'bounce' to the bite I couldn't get over the roughness and scratchiness of the soy paper incorporated into the beef that definitely gave this dish volume.

We then got the spring roll wrapped in steamed rice flour roll wrapped in roll wrap wrap roll roll wrap roll. At this point I was convinced that this menu was created just to mess with me. How do you put something that's crispy and fried into something that's warm, soft and steamed?! I ordered this purely based on the novelty of the dish, thinking to myself that this isn't going to work… It was placed in front of me, joking around with my lunch date, I nonchalantly picked up a piece and put in it my mouth. As I chewed, the crunch of the spring roll intertwined itself with the warm and soft rice flour wrap.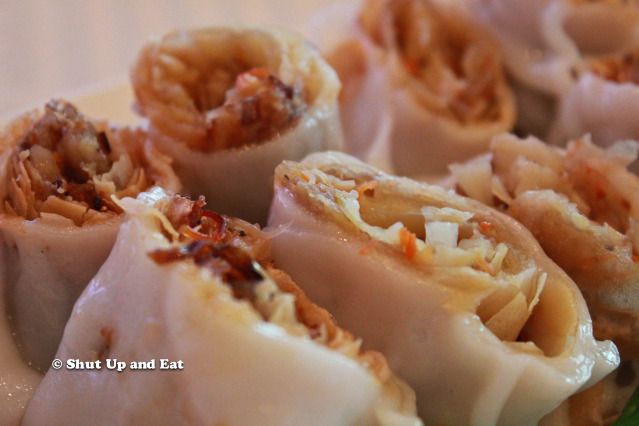 I put my chopsticks down and slowly looked at my friend and said… "Oh… my… God… It works." She, of course had no idea what I was talking about because the monologue of questioning the wackiness of the dish took place in my head, as she asked what it was that "works." The only way this dish would work is if the spring rolls are freshly fried as well as the rice flour wraps seconds from the steamer, married together and on your table within minutes. Served with the same homemade sweet soy sauce, this dish is definitely something you're not going to find in your favourite dim sum joint.
Normally you would be able to get a sneak peak of what the ladies are pushing in their carts when they abandon their Franglais explanation and just show you what's in the steamers. Le Cristal remedied their a la carte ordering system by providing you with a photo album of all the dishes that they offer… like those bars in Thailand where you can pick out your date for the night… I mean drink of choice. Price wise, Le Cristal is a bit more expensive, but not enough to notice when you're in the company of fellow dim summers and dumpling aficionados. Give it a shot, it's solid. I plan on going back to explore the rest of the menu.
Le Cristal Chinois
998 Blvd St-Laurent
(514) 876-8778