When I ask people for recommendations or ask their opinion of what was the best "…" they've had, more often than none, the most common answer (no matter what it is I'm asking about) is, "My mom makes the best". Ok, listen, unless you're going to get your mom to make me that magical whatever-it-is with the pork that's fed with wheat picked by foot by nuns with no arms, or with chives grown on the hills of the village where your grandfather grew up, harvested at the special time of day when the unicorns go out to pasture – I don't want to hear about it; plus… your mom is tired of me calling her.
I've come to a point where the ethos of this blog has cause the ultimate internal conflict, do I share? I must. This Spot on Sommerled in Montreal-west has been my go-to place for whenever I'm jonesing for cakes made on a pan… It is with great resentfulness that I divulge my pancake pusher… my flapjack fixer, the masters of batter pimping-griddle kings… I give unto you, Restaurant B&M.
I met my lady for late breakfast the other day at our secret breakfast spot. I hesitate to use the word "brunch", only because every time I say that word, I hate myself a little more (please see this for an explanation.) Seeing how we got there at that weird time of the morning when coffee pots are being washed, flat-tops are transitioning from eggs to burgers, we both had (obviously) different dishes, however, also different meals.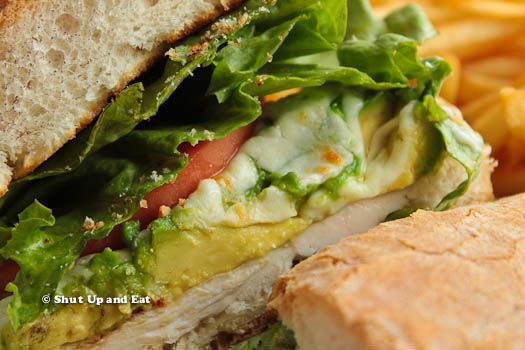 I had the grilled chicken sandwich, with avocado, mozzarella, lettuce, tomato and mayonnaise served on ciabatta bread with fries and salad. The sandwich was solid; the grilled herbed chicken breasts was moist, the creaminess of the avocado mixed with the chewy meted motz was really nice. The kicker is that the bun is toasted… not just toasted, but toasted on the grill. Spotty streaks of char on straight up white bread adds a nice unexpected smokiness of residual "whatever it was on the grill before" taste to your sandwich – Don't get me wrong, that's a GOOD thing!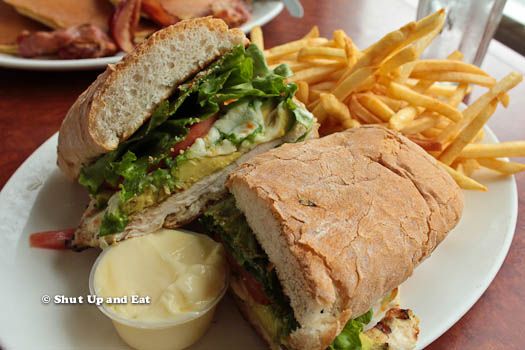 I didn't take a comparison picture, but size of this sandwich goes without saying that the price to quantity ratio of this dish is ridiculous – like B & M is run by a bunch of fat dudes who know how to feed people. A sandwich like this alone would have fetched the menu price itself anywhere else, but to include a side of fries and salad was borderline insulting. Major props on the mayo on the side; I like to be able to control my mayonnaise consumption distribution. Boring salad was salad.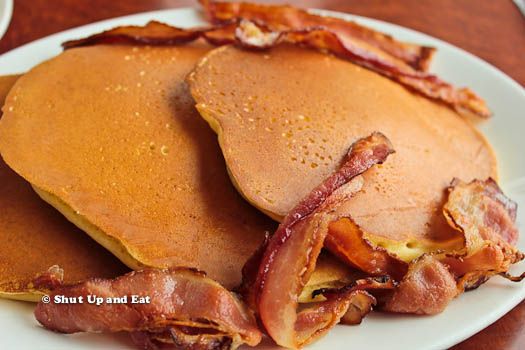 M had the order of pancakes and bacon – You have a choice of sausage, ham or bacon, but come on… the only real choice is bacon, ALWAYS. Why? Well, because 1) bacon is always the answer and 2) they give you eight fucking slices of it; That's FIVE, *****5***** more than most other places… oh yeah, this order also includes three incredibly fluffy pancakes.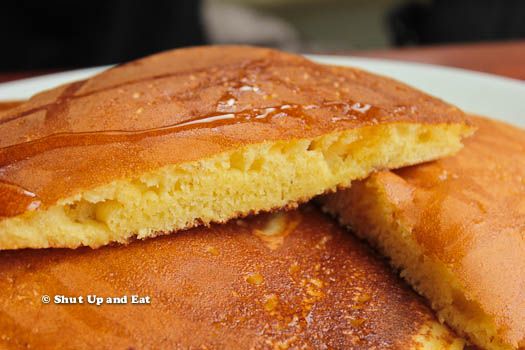 The pancakes actually taste like cake; not overly sweet, great bouncy texture with a nice griddled crust. Three of these are way more than you can finish, unless you suffer from whatever that disease is called that makes you maple syrup deficient and need to put away these bad boy syrup sponges.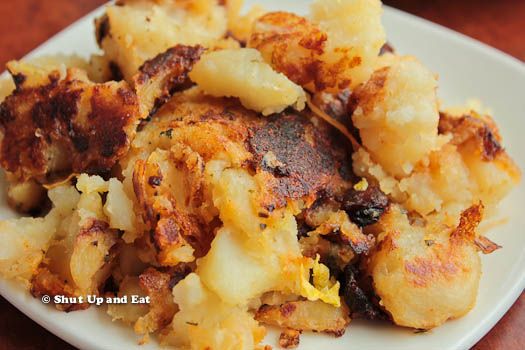 Not included with the pancakes, the side order of potatoes is a MUST. Again, cooked atop the flattop, the potatoes are sautéed with onions and bits of griddle magic, the black burnt bits are warrant enough to force your dining companion to get their own order… I'm just saying, all I wanted was a bite. But to diffuse any situation before it starts, get your own and don't share. Accept the looks you'll get when you're hunched over the bowl of potatoes stabbing at prying fingers and forks who try to get close.
I'm pretty much confidant to say that I've found Montreal's "best" pancakes. I put "best" in parenthesis because there's going to be a few of you who will probably write me to rebut the claim that some other joint makes better pancakes – so I'm going to leave it as relative… It's all to personal taste and opinion… but in reality, you're wrong – these ARE the best pancakes in Montreal… until your mom makes me hers.
Restaurant B & M
(514) 488-1555
6200 Somerled Ave
http://bmrestaurant.com/

Ps. Service is a bit spotty, so just regard it as part of the "charm". *cough*