Hunger… it's a funny thing, take cannibalism for example. How bad do things have to be before you decide to eat Steve? I guess desperate times, call for desperate measures… and my desperation led me to the land of the people who don't stop at stop signs, drive 10 minutes to the nearest grocery store and whose weekends comprise of picking out tiles at Reno Depot or driving their kids to soccer. Wait, don't get me wrong, I wasn't headed out to the west to eat humans, but my desperation to find quality Creole cuisine led me 25 mins down the 40 into D.D.O.
I hit up Bistro Nolah, out in the West Island for some Louisiane Creole grub.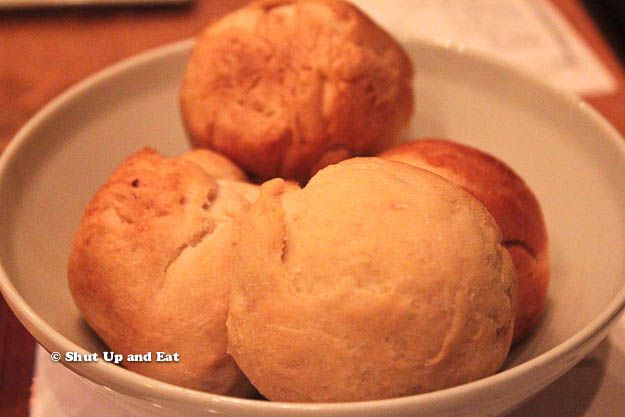 We placed our orders and then these little bastards were placed in front of us… like a challenge. Golden nuggets of bready goodness, hot and fresh out of the oven, they tempted us into smashing two refills of them before out appetizers came out. The smell of butter wafting from these rolls were intoxicating.

An amuse-bouche sent from the kitchen was fried jambalaya balls. Nolah's version of a Cajun arancini; a Cajuncini if you will. Served with a chive aioli, the croquet of rice, celery, onions and peppers was fragrant and set the tone of the preceding meal. Not going to lie, I have never been able to say "jambalaya" without saying it like Newman from the Soup Nazi episode of Seinfeld, as illustrated here:


My buddy and his wife split an order of the gumbo and sausage to start. A very generous portion, we joked that that would suffice for an actual meal for the ladies… you know, because they're girls (I'm just kidding, I love you baby). A hearty stew deep in flavour, slices of okra bathed in the murky roux, kissed by the oil from the andouille – which was plentiful to say the least.

We split an order of their Louisiana Crab Cakes served with a lime chipotle aioli. The crab cakes literally fell apart once we got through the crunchy outer crust – which is a testament to the amount to crab that comprised this cake and which end is the heavier side of the crab to breadcrumb-binder ratio, (there's more crab). Two croquets made up this appetizer which was split with a corn and tomato salsa. When eaten together, the corn added texture; as each of the kernels popped in your mouth, the corn lent an inherent sweetness to the briny crab to each bite.

The aioli should be noted; the heat was not overbearing as to take away from the crab and set your mouth on fire – the heat was controlled by the lime that both extinguished the flames as well as cut through the denseness of the cake and oil from the fry. Like a physics equation, this dish was well thought out and executed nicely.
But more importantly… THIS.


My lady had the three cheese mac and cheese AKA, the Lactaid killer. Cavatappi mixed with a very thick and creamy bechemel sauce topped with a secret three-cheese blend then lightly broiled. The right amount of creaminess and chew from the fatty cheeses as well as the inclusion of a sharper cheese to really hit the top of your palate.

Nothing super spectacular about the mac and cheese, it was solid and that's all you can really ask for. There was no pulled pork or bacon, 7 different kinds of cheeses made by Quebec nuns by blind cows or anything – it is what it is, a really tasty mac and cheese. One thing that I should mention, I'm sure the people at Nolah have discovered some sort of organic polymer or synthetic because the cheese ate like noodles – the stretch was awesome. No way can this be natural.

My buddy had the buttermilk fried cornish game hen which was served with a potato puree and nappa cabbage slaw. What stood out first was the dredge on the chicken – the crust of the fry was more "breaded" in treatment, rather than a thick batter as you would think. Could this have been a conscious decision? I think so. As a fowl, the cornish game hen's flavour is more robust than that of regular chicken – to be covered in a thick battered coating and masking the taste would only be a disservice to the overall taste direction of the dish.

His wife had the New York sirloin with a side fries, served with a chive aioli. I guess French influences not only found their way into settling part of Louisiana, but planted their asses right in the middle of Nolah's menu as well – there was a daily special that night of duck confit. There's not much to say about the steak, I mean there's only a few ways to really fuck up a steak – over cooking it, under seasoning it, or serving it on a flip flop – then again, if the cut is nice, I wouldn't be opposed to what ever the steak bearing vessel would be. The doneness was great, pink and juicy and full of flavour; and paired with a fluffy pomme frite structured log cabin, the dish was solid.

I had the braised short rib served with roasted parsnip, potato puree, doused in a homemade barbecue sauce. I'm a big fan of short ribs, so the bar was set high when I ordered this dish. The meat was tender and broke without the assistance of a knife. The unctuousness of the meat was not fatty, but moist; it was highlighted by the nectarous barbecue sauce that I could have drank by the glassful. The short ribs' distinct flavour comes through no matter what the preparation is, no matter what cuisine it subscribes to. The intrinsic savoury characteristic and beefiness makes my knees weak and eyes glaze… Eating a properly prepared short rib is practically comparable to… (I'm just kidding, I love you baby).

What Louisiane meal would be complete without Beignets. A southern classic, simple fried doughnuts topped with a dusting of icing sugar. I was looking forward to these before I even decided on my main course. Although pillowy and soft, the dough fell a bit short. It wasn't as doughy and doughnut like as I thought, however, it did finish off the meal on a light note and not heavy guilt-laded one as an actual doughnut would have.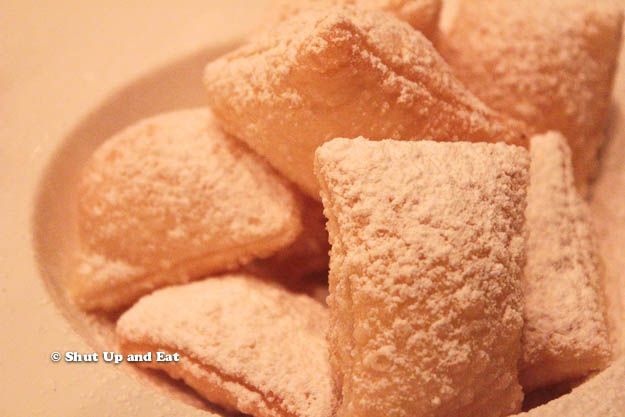 I'm glad to see the West island stepping up their food game. When I think southern Louisiane cuisine, I think of crawdaddies, crab boils, stews and barbecues made of old oil drums. The team at Nolah does something to Creole cuisine that shouldn't be done and took the grittiness out of it, especially so far away from the source. HOWEVER, if you're going to do it, you're going to have to make sure the level of refinement is that of what Nolah is able to achieve – if you're going to class up a modest cuisine, you're going to have to do it right, and that's what Bristo Nolah is doing. They don't claim it to be authentic and/or all those other adjectives to claim ownership of the cuisine, but their Creole/French inspired menu's roots run deep… south.
Bistro Nolah
3669 Boul. St Jean
Dollard-des-Ormeaux, Montreal, QC
514.696.9797