I've been following the couple behind BBQ Black Strap for a while now. As they documented their travels through the southern states in a barbecue pilgrimage, I drooled over their twitpics of BBQ for breakfast lunch and dinner, and knew it was love at first rub… if y'know what I'm saying. So when they let it be known that they were opening up a barbecue joint of their own, it was on top of my hit list… and by "hit list" , I mean a place whose food I will murder with my face.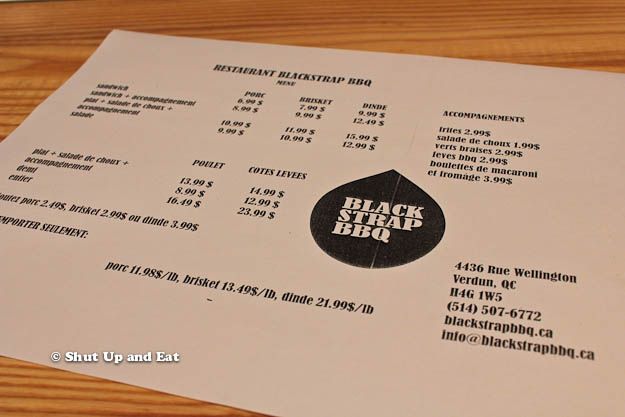 We hit up BBQ blackstrap. The menu is pretty straight forward; pick a meat, pick a side. First thing you'll notice is that bombarding smell of… NON-SMOKE. Yes, a joint doing barbecue that doesn't leave you self-conscious going back to work smelling like you just finished putting out a forest fire…(now that sauce stain on your shirt will be another story).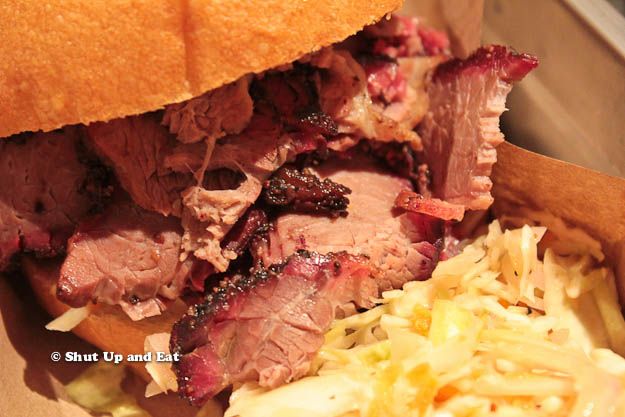 M had the brisket sandwich served with a side of coleslaw. Take a second and admire the hard work of the smoke permitting the meat, providing a fleshy pink ring to the brisket. The bark was sweet and mysterious and lent just the right amount of seasoning – the slaw also helped cut through the heaviness of the meat. The heap of meat in between the buns was generous; rubbed with spices, penetrated by smoke… and then I just took the description of the sandwich into a totally different place.

With that, this sandwich has forged its application to be included into any written documentation and/or spoken conversation that includes mention of The great barrier reef, the pyramids of giza and Stonehenge. Served with a side of coleslaw and lust, this humble sandwich is hearty and fills the brisket sandwich void in your soul.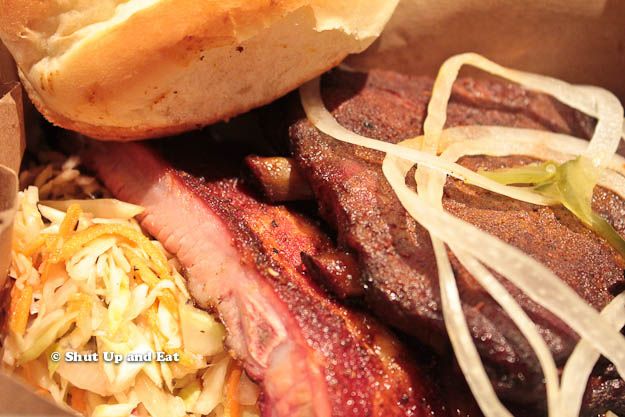 I had the pork ribs with a side of coleslaw and braised greens. Blackstrap subscribes to the Memphis style barbecue, having sauce on the side; because it's all about the rub. The plenteous portion and size of ribs was eye-opening; smoked to a sweet perfection were just clinging to the bone.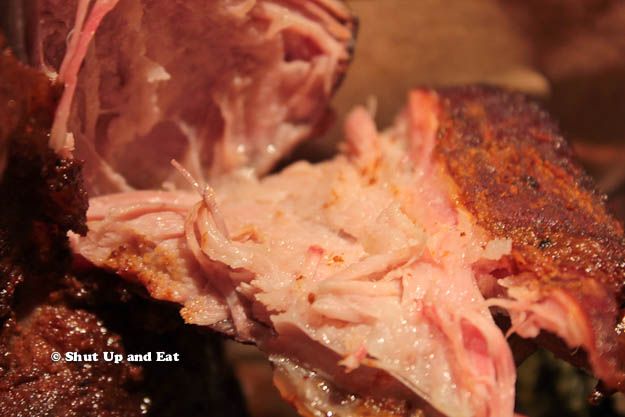 The meat on the ribs were juicy and moist – as you would expect from any properly prepared ribs to be. The flavouring once again comes from Blackstrap's signature spice and rub blend. To be honest, I don't think it needed the sauce on the side. Not to take away from their very tasty barbecue sauces – which I also tried with the meat – but the rubs stands alone. It's sweet and borderline fruity in taste, it ushered the smoke right into the meat – slathering and mopping it with sauce would only take away from the craft and integrity of the meat.
Before you read on… play the following youtube music clip while you look at the following pictures.

..
…
….
…..
……
…….
……..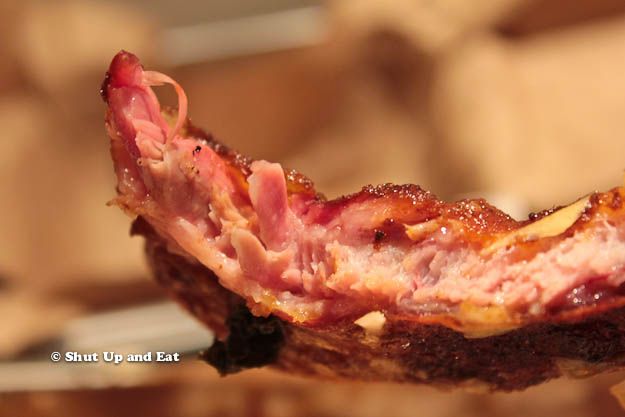 LOOK AT IT. That's all I heard in my head as I ate the ribs.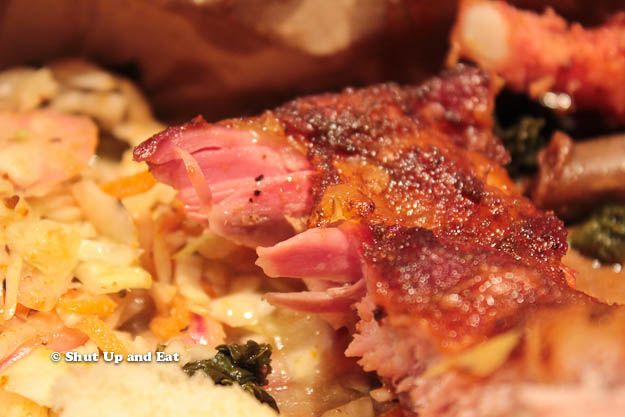 Did I mention the cheer portion size of the ribs? I ate about half of my dish and had to stop, then contemplated going to the car and changing into my thanksgiving stretchy pants. I pushed on and shamefully ate the rest… then slowly looked at my hands like murderers do in movies after they've had some moment of insanity and killed someone and asked myself what the hell I just did.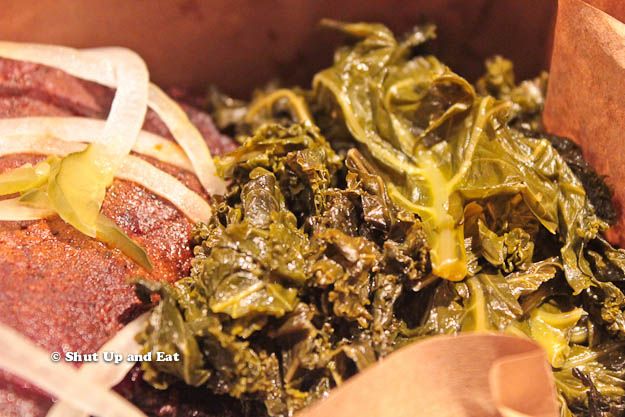 The greens were kale braised in apple juice and some cider vinegar – again, the tartness from the greens really cut through the unctuousness of the meat and provided and cleansing effect on the palate.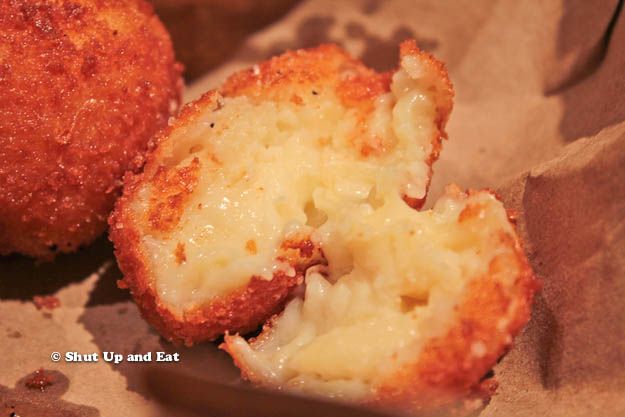 We also split an order of Blackstrap's mac and cheese balls. The genius behind this deep-friend childhood after-school memories is that it's deep-fried… into balls. I mean, any other way would, God forbid, require utensils – which would mean having to at least relinquish contact of one hand from the meat. The horror.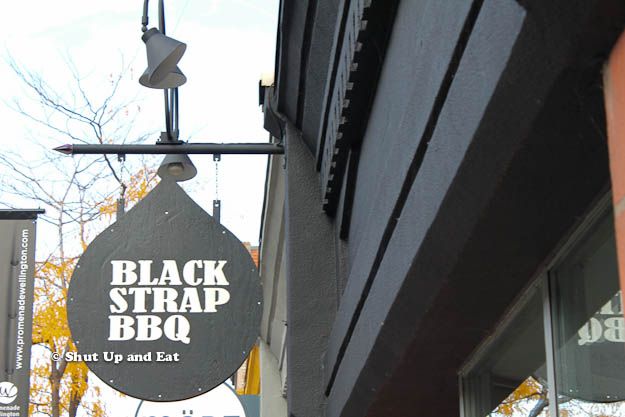 There is something to be said about eating something that's been cooking for over 10 hours and then devouring it in under 5 minutes. Barbecue is basically a big "fuck you" to vegans; taking meat and cooking it slow would be like having a long drawn out conversation with a principle-based non meat-eater about their ideologies and convictions about eating animals, then ordering a tartar extra raw.
A BBQ joint to call your own; People of Verdun, I applaud you… you lucky sons of bitches.
Blackstrap BBQ
4436 Rue Wellington
Montreal, QC H4G1W6
(514) 507-6772