Are there things that you can eat and eat and eat and never get sick of? For me it's dumplings. Like some people joke and believe that they have separate stomach for the things they love to eat, I love dumplings. I truly believe that I really do have a separate stomach to house and digest the copious amounts of dumplings that I can eat that would frighten the common person, make old people lock their doors and children cry. Where in my body this stomach is located, I'm unsure, but I have a feeling it's next to the stomach for pho and below the one for chips.
My girl and I went for dinner one night at what used to be Cactus bubble tea, right in front of Concordia's EV building. I am very familiar with this location as it used to house one of my favourite bubble tea shops I frequented way too often when I was in university. Hours on end playing cards… I mean "studying" and downing chewy blobs of tapioca filled most of my time at school. So it came as quite as a surprise to me when the place closed and was left empty for a while until this spot opened in its place.

We started off with what was described as "baked bread with soy meat". The picture looked appetizing, but I was thinking, fake meat… tofu "meat"… great, I was not prepared for second guessing of my social and ethical beliefs should I enjoy this dish. The bread in the picture looked good so I ordered it anyways. I psychologically prepared myself for mock meat, but when it arrived, it was a pleasant surprise.

The bread was crusty on the outside, warm and chewy on the inside. Each crunchy bite gave way to an aromatic filling of sautéed shredded beef stir fry fragrant in cumin, peppercorn and coriander. Served warm and the size of your palm – I could see myself eating at least 15 of these easy… then I could also see myself hating myself for not leaving room for dumplings.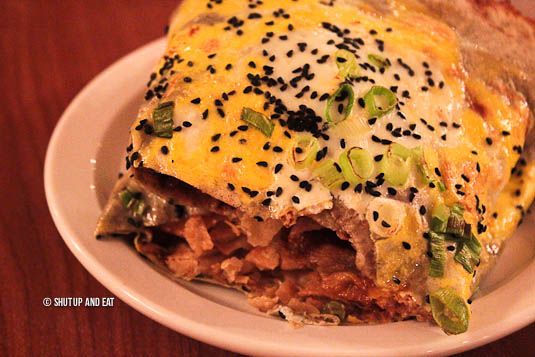 We also started with a crispy pancake – or what they call in Mandarin, a "Jing bing" – which literally means fried cake. A scrambled egg cooked inside a wheat crepe, spread with a sweet chili sauce, hoisin sauce, topped with pickled mustard greens, scallions and cilantro. The crepe is wrapped around a piece of fried dough and cut in half – a very classic Beijing street food that is enjoyed for breakfast.

Up until recently, no one was making this in Montreal except another spot downtown – that still isn't featured on the blog but I've been to numerous times. A light snack, this jing bing is peppered with nigella seeds – not sesame. Also known as black cumin, it's a flavour and aromatic element to a lot of northern Chinese cuisine. It definitely adds a little smokey "je ne sais quoi".

We ordered a rung of lamb and coriander dumplings – one of my favourites. The ground lamb is not at all gamey thanks to the floral coriander that quells the robustness of the meat. I make my dipping sauce of vinegar, chili oil… the best.

We ordered the classic pork soup dumplings. Obviously the main character in this dumpling is the soup, but it still does contain meat. There's a certain technique that one needs to eat a soup dumpling with finesse. It goes without saying that if this little steamed pocket of boiling soup is placed in front of you, unless your mouth in lined with asbestos, you're not going to toss the sucker into your mouth immediately. Let it sit in your dipping sauce for 20 seconds to cool off, place it in your spoon and nibble a hole to release the soup into your spoon then enjoy. The soup itself is deep and savoury; almost addicting. We sat under the AC unit that night, so the dumplings cooled off rather quickly; but they will do that regardless.
Restaurant Mei claims that they are the first to serve proper Xiaolongbao soup dumplings in Montreal. Let's get it straight for a second, the dumplings that you have been accustomed to that burst with soup and scorch the face of the person sitting in front of you are a different kind of "dumpling". To spare you the etymology of it all, to keep things simple, characteristics of a "soup dumping" is in the wrapping; pinched at the top whee as regular dumplings (jiaozi) are folded in half and pinched along a semi-circle. However, all bundled goodness has been categorized as "dumplings" outside of China.
Restaurant Mei
1425 Mackay
(514) 288-1314


Facebook