Who doesn't love a sandwich? It's the most versatile meal and snack. You can eat it in a restaurant or in a park. It's delicious on a plate or in the Metro with a shark. The humble sandwich is always a go-to meal regardless of the situation. Whether it's a BLT or beef shawarma, pork belly bao or even hot dog, I love all sandwiches. I especially love banh mi. A Vietnamese sandwich packed full of grilled meats, pork loaf, fresh verbs and pickles. I was recently invited to check out a new banh mi spot Mi Bao.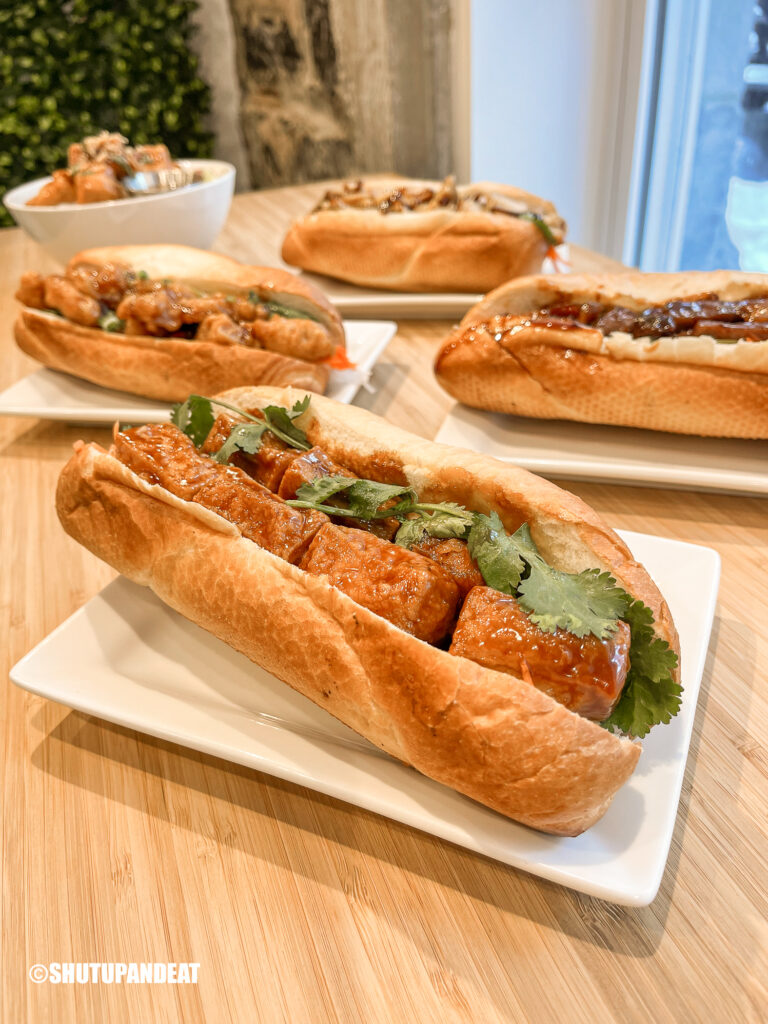 Located downtown facing the CHUM, Mi Bao is a play on words for bread and sandwich and specializes in banh mi. This quint little sandwich shop and lunch counter offers a handful of options that also include rice vermicelli bowls, won ton soup, rice bowls and salads.
Pork sandwich
The pork sandwich was Mi Bao's version of Chinese cha siu. Juicy pork loin marinaded in spices and slow roasted. The pork was crammed into a crispy Vietnamese baguette slathered with homemade mayo, pickled daikon and carrots, cilantro and drizzled with a sweet hoisin sauce. The pork was savoury that went well with the tangy pickles and sweet sauce.
Chicken sandwich
The chicken sandwich featured a generous heap of chopped roast chicken. All sandwiches have a spicy option which saw a drizzle of Sriracha. The chicken was nice and tender.
Tofu sandwich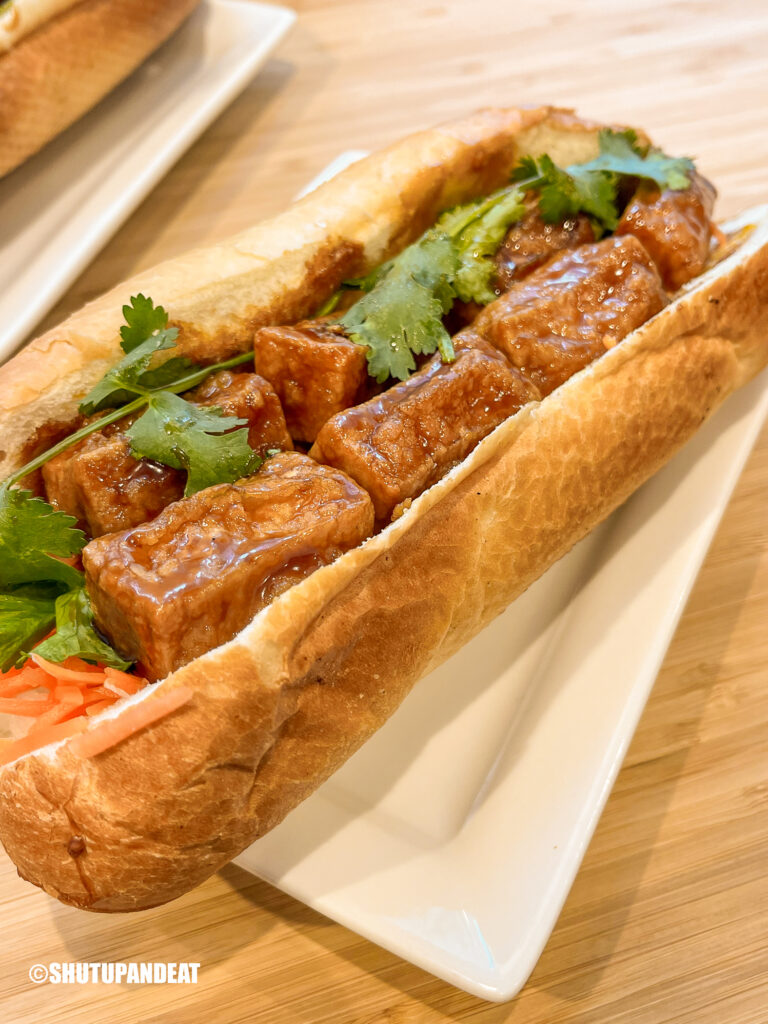 The tofu sandwich is a great vegetarian alternative. The sandwich comprised of whole pieces of fried tofu bathed in a sweet and savoury sauce. There's something about banh mi sandwiches that are borderline addictive. I'm convinced that it's the combination of perfectly chewy bread with a light crusty exterior, hugging a copious amount grilled meats, pickles and fresh herbs. Perfection.
General Tao sandwich
Yes, you read that right; a general tao sandwich. A mountain of battered chicken doused in a sweet and tangy sauce piled in between bread, topped with chopped scallions, cilantro. I don't know anyone who can resist general tao and making a mobile vessel for it to shove in your face is amazing.
Noodle bowl
The noodle bowl (and rice bowl) options are basically the same proteins in the sandwiches. A bed of rice noodle topped with your choice or pork, chicken, tofu and the addition of shrimp and shrimp and mango. Straight forward with no frills, the bowl does the job if you're hungry. I also had a chance to try their won ton soup. Dumplings the size golfballs swimming in a clear broth were comforting.
Not only is Mi Bao a great addition to the lunch and light meal options to the area, but it's also an outstanding third wave coffeeshop. Offering standard and unique coffee drinks all masterfully prepared with high quality beans – get the Vietnamese coffee. Stellar.
The owners also operate TT cafe in Ville-Émard/Côte-Saint-Paul that also serve light meals and snacks with a side of table tennis. The sandwiches here at Mi Bao are hearty and filling. The flavours are classic and will not require you to go outside of your comfort zone. I wish they had a classic option; with Vietnamese cold cuts and liver pâté, but these options are still fun. The rice and noodle bowls are thoughtful choices for more of a meal. Take out, grab-and-go recommended.
Sandwich Mi Bao
1073 Saint Denis St.
https://mibao.ca/

—
I was a guest of Mi Bao. Thoughts and opinions are my own.