I love dumplings. I don't know many people who don't like dumplings – that's only because I don't have time for people like that in my life and can't be bothered to befriend them. I will go where the dumplings are; near or far, if there are delicious bundles of meat wrapped in flour dough and served with sauce, you'll probably find me there, pulling out a seat for you. I'm a dumpling gypsy – not a gypsy dumpling; I can only imagine those things being made with lots of yak cheese and questionable meat. So roaming the city and following my nose for my next dumpling haunt, you can imagine how surprised I was when my nose led me into a repurposed sports bar in a neighbourhood known for Indian restaurants.
I walked into Jiu Xiang Yuan on the strip of Jean Talon that cuts through Parc Ex in what seemed to be an old sports bar. From what the sign said outside indicating that they are an actual a Chinese restaurant, I wasn't about to judge this book my its cover, or based on the fact they have video lottery terminals.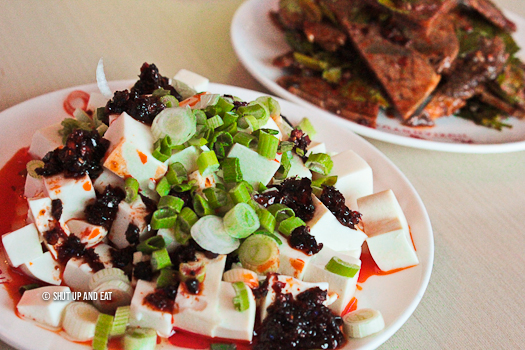 The menu saw a list of different kinds of dumplings; pork, chicken, lamb and seafood, as well as a handful of starters. We ordered the spicy tofu. You would never believe me unless showed you the picture (which I am) of what was placed in front of us; it was cubed silken tofu with chili paste, chili oil and sliced scallions. Was I expecting something else? Not really, I don't see many other ways you can interpret the menu listing of "spicy tofu". Delicate cubes of tofu drizzled in oil with generous dollops of chili paste peppered the plate. A deep engaging level of heat – nutty from peanut oil and numbing from the Szechuan peppers – it was intense but in a good way, like grabbing you by the nuts and making out with you.
We also had the "spicy beef". With the lack of explanation on the menu, we were left to imagine cubes of filet mignon grilled with chili powder and dusted with crushed cumin seeds, which wasn't the case. Cold slices of beef shank tossed with chili sauce mixed with fragrant coriander. A traditional Chinese dish, this cold starter was robust and spicy. With the same numbing heat as the tofu, these two dishes are served cold which helps with the heat if your tolerance is low.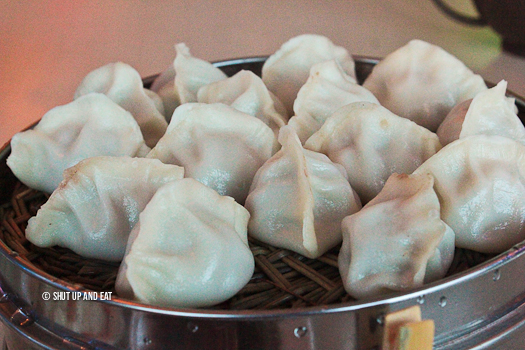 The order of lamb and coriander was steamed and came 15 to an order. These soup dumplings were piping hot and were anxious to explode over your clothes and singe off the skin in your mouth if it wasn't tamed by soaking it in soy sauce and vinegar first. The filling was undeniably lamby which was complimented with coriander and pepper.
We ordered the fried pork and shrimp dumplings. The crispy sheets of fried starch water is always a treat and something most shared plates have unjustly split amongst all eaters. The meat was firm and there was a whole shrimp mixed in the meat in each dumpling.
What I took notice to was the consistency of the meat – it looked like and its texture was like an actual meatball (even though technically the filling is a "meat ball".) I can only attribute this to having used ground pork in the filling mix. Not that that's a negative thing – labour and time is often a consideration when deciding to either use ground meat, or going through the process of hand-mincing the meat yourself. But since we were the only ones in there that night, I don't see a real valid excuse for not upping your dumpling game.
Like I said, the place is an oddball place for dumplings… definitely solid and admirable dumplings this far north of the downtown core.
Jiu Xiang Dumpling
931 Jean-Talon
514-271-4888