When was the last time you made a meal out of a snack? Besides watching the Habs in the Eastern Coonference finals against the Rangers and eating way too many chips that I really should, I've been lobbying and petitioning to have things like a plate of chicken taco nachos, pigs in blankets, a box of crust-less party sandwiches from Snowdon Deli to be recognized as actual legitimate meals.
Traditionally a bar and snack food, there were just a handful of Korean restaurants around town serving "Yangnyeom-tongdak" – a Korean style seasoned fried chicken. Often served slathered in a sweet and sour sauce, this dish is what happens when Colonel Sanders meets General Tao. I hit up this spot in NDG that's been welcoming guest and introducing them to the wonders of Korean Fried Chicken.
The two major sections of the menu are bone-in and boneless chicken – word the the wise, order with the bone. We ordered the half and half which is half regular fried chicken and half "korean-Tao" (chicken in sweet and spicy sauce). If I can be blunt for a second, the regular fried chicken is crispy as a motherfucker. If motherfuckers were crispy and fuck, this chicken would be it. The incredible crunch gave way to deliciously moist meat that was lightly seasoned and obviously VERY hot… duh it just came out of a fryer. The regular fried chicken is sided with a sweet and tangy honey-mustartd sauce. I felt that it didn't really need anything, as I'm content on eating straight up fried chicken, but was a nice thought for the dunkers and dippers out there.
The other half of the order is that classic Yangnyeom-tongdak – the same golden fried chicken doused in their homemade sweet and spicy sauce. Being tossed in sauce, the batter of the chicken held up. The last fought-over piece of chicken was crunchy right up until the end… that little soldier.
We also order the Sansul Gang-Jung – boneless chicken with a sweet chili sauce. I'm going to be honest here, I haven't felt these feelings since the time my girlfriend and I went out on our first date. The sweetness of the sauce was perfectly accented by the thin slices of fresh chili and garlic and topped with a dusting of crushed peanuts.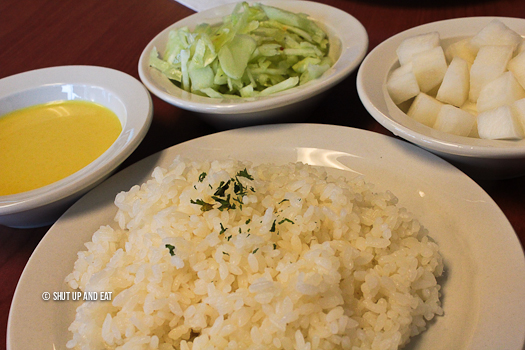 Each order comes with a side of rice or fries, and since we had two orders, we had one of each. The rice was rice, the fries where fries and the coleslaw was coleslaw… but the pickled radish is where it's at. Traditionally served with yangnyeom-tongdak, it helps cut through the richness of the sauce as well as cleanses and somewhat refreshes the palate.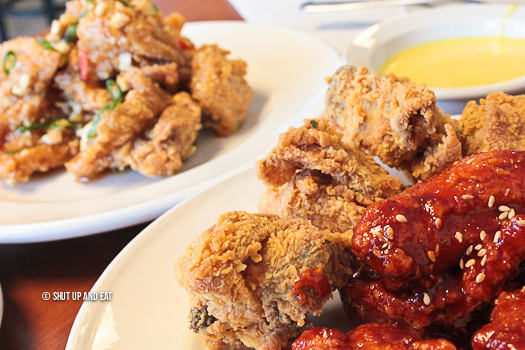 You order at the counter (which can be a bit awkward if it's your first time and need some explaining and you're holding up the line for the rest of the people who are seasoned veterans waiting to place their orders like chicken starved zombies – which you will be by the end of the week after having returned four times and eating your weight in fried chicken).
Dawa offers a couple of lunch specials as well of grilled plates and wings. They have also started delivering too; having found out I live in the sweet spot of their delivery zone, I can foresee becoming best friends with the delivery driver. There is fried chicken and then there is fried chicken… and then there's Dawa making fried chicken their bitch. This Korean version of fried chicken is a completely different animal (no pun intended) than the western version of fried chicken – different seasoning and preparation. So it wouldn't be fair to compare it to the southern variation of fried chicken that we are used to, however, Dawa's chicken is a fantastic addition to the Montreal fried chicken landscape.
DaWa
6135 Sherbrooke St W
(514) 508-3665
https://dawafriedchicken.com/