Every neighbourhood needs needs certain things to call their own: the corner depanneur, the crazy cat lady, that house with the nine kids, and a neighbourhood burger joint. Recently the lovely citizens of NDG welcomed a new burger joint, Notre-Boeuf-de-Grâces on Sherbrooke in NDG. The spot prides themselves on having ground beef ground on premises daily, and you know what that means… pink burgers! If you like your burgers well done and akin to eating a cork coaster, check your pulse because you don't know what living is all about.

The build your own burger side of the menu is pretty straight forward. With a myriad of topping choices, your burger is unique to you and the combinations of toppings are endless. I had to go old school and ordered the 6 ounce beef burger, with cheese, lettuce, tomato, onion, mustard and one of Notre-Boeuf-de-Grâce's signature sauces, the "Umami" sauce (a combination of homemade ketchup, porcini powder, anchovy and parmesan.) The meat was cooked on a flattop and had a great crust to it; it was beefy and rich. Top Notch. The burger was served on a lightly toasted brioche bun, which was soft and malleable enough to hold it's shape after you've squeezed it between your hands and fluffy enough to soak up the beef juice and sauces. The burger was savoury and its depth of flavour was nice; salty hits from the umami sauce definitely complimented the fatty blend of beef. My girl had the same burger but with the "secret sauce". Basically a tangy mayo and French dressing based sauce similar to a classic "burger sauce" or in essence… Big Mac Sauce.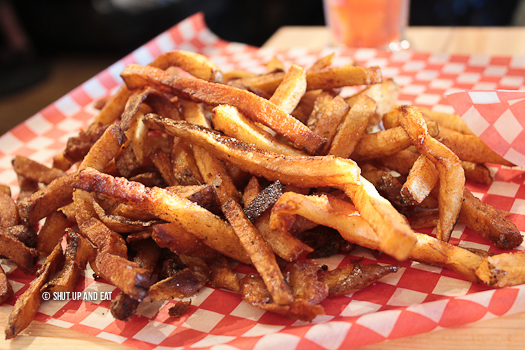 The fries were amazing. Generous in portion and one order was enough for two people. They were heavily seasoned and is a must to side with any classic burger.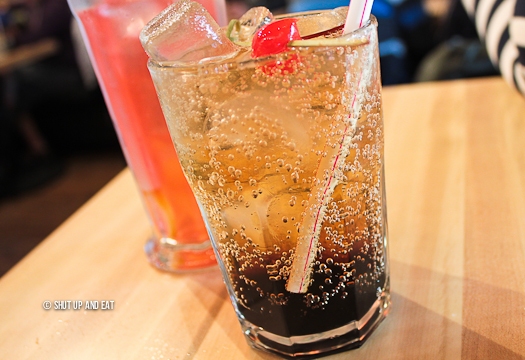 The homemade sodas were also great. Homemade cherry cola and raspberry soda; who doesn't like something bubbly with their burger? Alternatively, NBG has a great list of adult beverages that include cocktails, beers on tap and bottles and wines. We had a great vanilla soft serve for dessert as well.

From a base of a 3 oz or 6 oz beef burger patty, veggie burger, free-range natural grilled chicken burger and a burger of the month, you then have the option to pick from six classic toppings (free) and ketchup, mayo, mustard and relish. NBG also offers a choice of nine different signature sauces that range from their secret sauce, to their Armageddon hot sauce. Toppings from their "creation" list include tasty accents like caramelized onions, salami and fried egg for an additional cost. If you're not into putting forth effort in designing your own burger. NBG also has a list of signature burgers.
I have to admit the service was a bit spotty. We arrived and stood at the door because we weren't sure of what to do; do we seat ourselves? Wait for someone to acknowledge us? The two waitresses were too busy running orders, so we made our way to the cash register at the bar and asked the waitress if we order at the bar or at the table. She told us that we can order at the bar if it was to go, or someone will seat us. By that time people were already walking through the door and seating themselves. It also took a while to get our orders – granted it was a bit busy the night we went – when the waitress finally took our order, she was literally writing down our order word for word as there are so many options to pick and choose from and customization of burgers; this ordering system is quite cumbersome for the waitstaff to maintain a level of efficiency. The waitresses were courteous and making up for a man down – we were told they were short staffed that evening.
The awesome burgers will have me coming back for more.
Notre-Boeuf-de-Grâce
5732 Sherbrooke St W
Facebook