Montreal's pizza game is fierce. Recently there has been an influx of pizza places popping up around town that are all bringing different concepts to the table, from places that strive to bring you the most authentic of Italian pizza experiences to those who strive to deliver your pizzas with a bucket of chicken and a mixed-meat shwarma sandwich. Not that that's a bad thing as diversity is what makes Montreal and dinner tables less volatile while satiating a wider variety of appetites. I love pizza. I don't know many people who don't, and if I didn't, they wouldn't really be worth knowing. I recently stopped by this cute spot, San Genarro in Little Italy for lunch.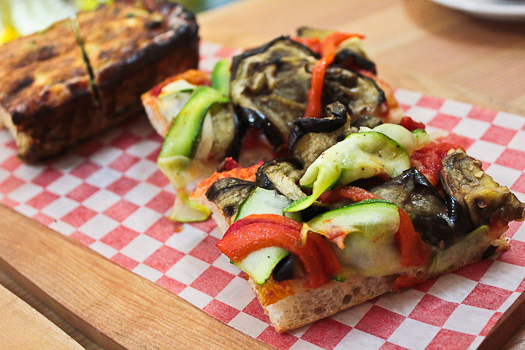 We tried a little bit of everything that was available. The roasted vegetable pizza was nice; thinly shaved zucchini, eggplant and peppers atop a noticeably sweet crust. Traditionally served and charged by weight, San Genarro charges by piece. This photo is of a regular slice (which is quite substantial) cut into two pieces.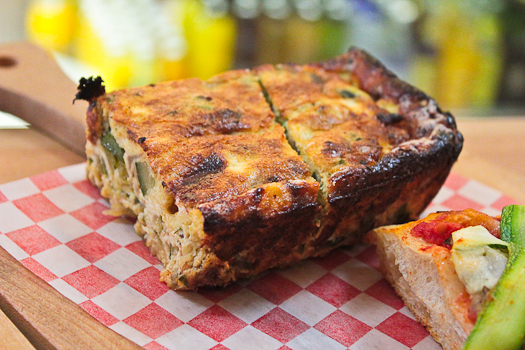 The breakfast frittata was dense and was peppered with slivers of bacon and vegetables. Ask for a corner piece – the far superior of all the crustless quiche pieces.

The ham and mushroom pizza with mozzarella – classic flavours but again, what stood out the most was the crust. Thick and chewy with an awesome crunchy underside, the crust was inherently sweet and tasted almost like cake… I love cake. This fortitude in pizza production was a surprise to me, but then wasn't a surprise to me once I found out that San Genarro has lineage to the heavy hitting Montreal Pizzeria that's been in the game for a while, Pizzeria Bottega (located down the street.) The only downside to these thick slices were that they took a while to heat up. Even after we were served, we had to ask them to reheat the reheated pizzas as they had gotten cold.

The monstrous arancini was filled with peas, cheese and bits of sausage. This fried rice-ball croquette had a great crust which complimented each soft fluffy bite of rice.

A quaint little neighbourhood spot for a quick bite of classic Italian favourites, from pizza, panani, salads and pastries. This spot serves rustic Roman style pizza (large rectangular pizza) by the slice. Courtesy staff that's eager to serve you and answer any questions you may have. Seating is limited but turnover is quick.
San Genarro
69 St-Zotique Est
514-273-6868
http://www.sangennaro.ca