There's no denying the fact that I love Chinese food. All of it; saucy stews and crispy noodles of Cantonese cuisine, spicy numbing stir fry dishes and fiery soups of Szechuan, sweet and sour notes of Hunan. The magic of Chinese food is that China is over 9 Million square kilometres, has 23 provinces and boarders 14 countries. The fine intricacies of Chinese food change from region to region and reflect the locally available produce, ingredients and influences of neighbouring countries. It's all "Chinese food" but all very different, but similar. I recently checked out Restaurant Delice Oriental (Huang He Lou), a spot downtown serving up classic Szechuan, Hubei and Hunan specialties.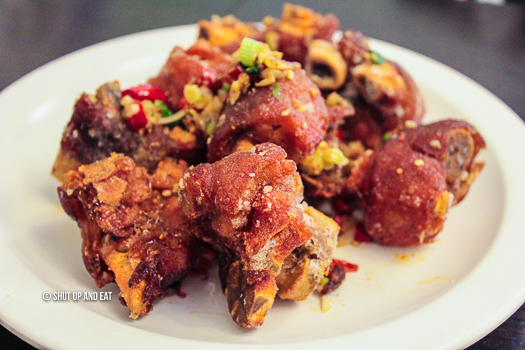 The menu is extensive and consists of mainly of Szechuan, Hubei, and Hunan dishes with specialty dishes that were primarily Hubei. We started with the crispy fried pig's feet. Ok, wait right there, I know it may not be for everyone, but you need to give this dish a try. Extremely tasty, the plate consisted of large pig knuckles deep fried, dusted with salt and pepper then tossed with ginger, garlic and sliced chilli peppers. Not inherently fatty as you may think – the fat renders out. You're left with delectable bites of crispy pork skin and tender pieces of meat you need to fish out with the tip of your tongue. Spiciness level starts off tingly, you'll be blowing your nose three bites in.

Chicken stir fry with chillies served with deep fried slices of mantou (chinese steamed buns). The sauce was ridiculous; spicy, savoury and sweet, this dish was perfectly balanced. As balanced as the handful of 8 plates I watched the waitress carry back to the kitchen as she tempted fate and challenged science while clearing the next table. What's with the fried bread? No Idea, but I used it to sop up all the sauce before I asked for a straw to finish off. That good.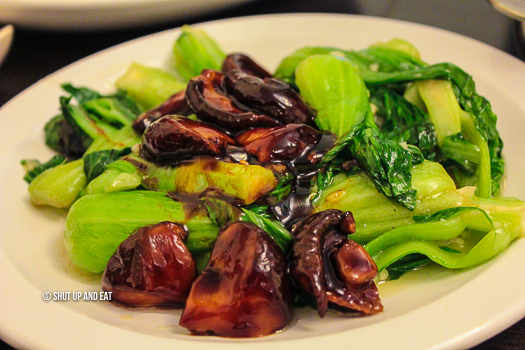 Stir fried Shanghai bok chop with mushrooms. The vegetables were blanched and simply tossed with garlic. The tender mushrooms were coated in a thick savoury sauce. Delicious. NOT spicy.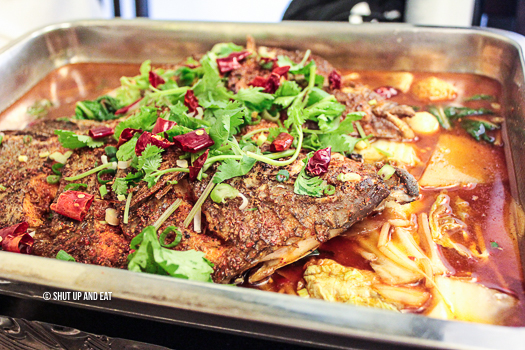 The dish I came in for – Delice Oriental's fish in charcoal hot pot. A butterflied and deep-fried, whole tilapia, garnished with sliced chilies and coriander. The fish was served atop a simmering spicy soup peppered with chilies and swimming with fishballs, sliced vegetables, like daikon, lotus root slices, and mushrooms. The soup got spicier as you ate it. It burned. It burned so fucking good. Extremely aromatic, the soup was borderline addictive. The fish was nicely cooked and the meat was tender, flakey, plump and juicy.

Hubei cuisine is similar to Szechuan and Hunan in that it incorporates fiery heat of dried chilies and various types of pepper. Sweet mother of baby Jesus, this place is amazing.
In all honesty, I discovered this restaurant by accident. I was in line to get into a neighbouring restaurant a couple of stores down. I never paid Delice Oriental any attention – the name turned me off and I automatically assumed it was just another chop suey house slinging general tao and chicken fried rice, until I took a closer look and realized that wasn't the case and made an effort to check it out. The menu also has seasonal dishes like lobster in a charcoal pot, beer braised duck in charcoal pot and spicy duck blood cake. I'm making plans to go soon, and you should too.
Delice Oriental
1858 Saint-Catherine St W.
Yelp