Recently I've been asked, "where should I go for brunch?" I am far from the foremost brunch authority. It just so happens that I've been covering a lot fo brunch places lately. I don't know why. Probably because I get hungry on Sunday mornings. People get hungry, it happens. Wikipedia defines brunch as: Brunch is a combination of breakfast and lunch eaten usually during the late morning to early afternoon, generally served from 11am up to 3pm. You know what I call this? LUNCH. Brunch has slowly become a categorization of an eating experience than actual meal. It usually includes cobwebs and lingering effects of alcohol from the night before quelled by a boozy daytime cocktail and something covered in hollandaise sauce. That being said, where are you going to eat this weekend? I recently checked out Foiegwa in Saint-Henri for brunch.
Considered a "French brasserie meets North American diner", Foiegwa's the local spot that serves up classic French fair in a cozy and casual environment that's easy on the eyes and great for the gram. Dishes like Bordelaise bone marrow with burgundy truffle, à la minute steak tartare with parmesan and truffle, and ratatouille and goat cheese line the menu, but I went for brunch.

The blueberry ricotta pancakes served with whipped butter and maple syrup.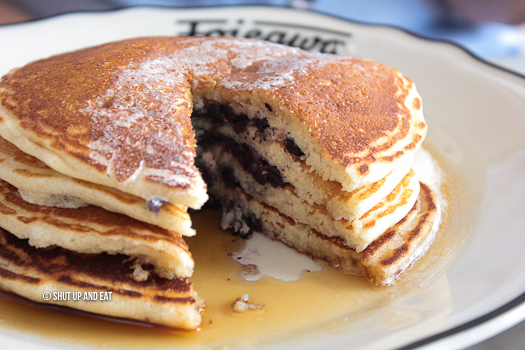 I love pancakes. No, I really do. On a job application under hobbies I would write, "eating pancakes" if it were socially acceptable or if I were brave enough to do so. These pancakes were good. Fluffy for the most part. Each pillowy bite was studded with tart blueberries. They were good, but my mind didn't shatter – not the best I've ever had. I would have liked to control my own syrup distribution; the pancakes were inundated with syrup.

Ordered bacon on the side – pancakes did not come with them, and what's pancakes without bacon? Perfectly cooked, smokey and salty.

Chicken and waffles. How did this even start? "I love fried chicken. I also love waffles. OMG YOU GUYS, I HAVE AN IDEA FOR A THING!" Well, how ever it came about, I'm all about it. The waffles were ok. I found it peculiar as to why there were only three-quarters of waffles to an order. Most standard circular waffle irons are divided into four quadrants. Are they all pre-made then plated three pieces to an order? Do the only fill waffle iron in a "U" shape?

The chicken was tender and incredibly moist, but bland. The batter was crunchy and provided the acoustics that is associated with a good piece of fried chicken. If it wasn't for the lack of seasoning, it would be fair to say that I would definitely be back if straight up fried chicken was on their menu. Then again, I'm going back to try their regular menu anyways, I'm just saying.
Foiegwa is opened late on the daily. Located on the busy corner of Notre-Dame West and Atwater, it also sits on the interesting intersection of French Brasserie and American diner – they are more French than anything else. The service was quick and friendly, and the menu was extensive, definitely something for everyone, especially those who like to add foie gras on everything… because you can!
Foiegwa
3001 Notre-Dame West
http://foiegwa.com