It's the holiday season, so you know what that means; food, food and even more food… Or as I like to call it "I'm-Not-Even-Hungry-Anymore-But-I-Can't-Stop-Eating-Season." All jokes aside, it's not the food that makes the season, but it's the company. It's all about the people that you're enjoying the copious amounts of food with in the name of merriment and cheer. However, catching up with loved ones can be stressful – managing schedules, meal planning, kids – but it doesn't have to be. What's easier than meeting up for a casual brunch to gossip about Aunt Debbie's new 27 year old boy toy? Nothing. I recently checked out this quaint little neighbourhood spot for brunch, Restaurant Well.

Their brunch menu is simple and fuss-free. A handful of dishes that range from edamame toast and cassoulet, to yogurt-granola bowls to a classic dej plate.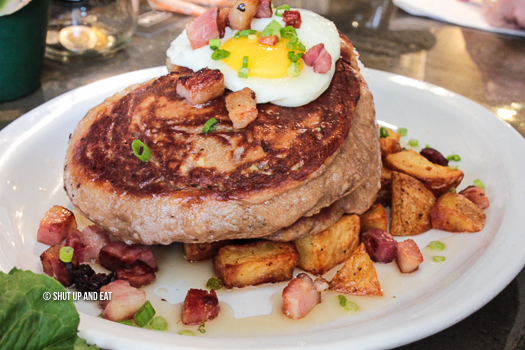 The ricotta pancakes (served with lardon and a fried egg) is quite possibly one of the best pancakes I've had in a very long time. There was a large scoop of ricotta sandwiched in between the two impossibly fluffy pancakes. This dish is served with crispy potatoes and large pieces of smokey lardon and slathered in maple syrup.

A perfect fried-egg jiggled as it was peached precariously on top the pancakes. The cinnamon in the batter was a bit heavy-handed (when eaten alone) but the saltiness of the bacon and ricotta with the syrup balanced it all out, and the cinnamon was muted to a mere whisper in each bite. The pancakes came pre-syruped – which I hate. Don't assume you know how much syrup I want on my pancakes. You don't know me or where I'm from. Killer dish regardless.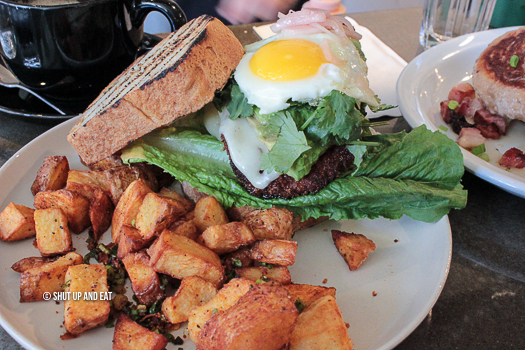 The fried chicken sandwich is fucking ridiculous. "Sandwich" in name only, because you're not going to pick this baby up. LOOK AT IT! Thick sliced bread, slathered with spicy mayo, romain lettuce, fried chicken, melty cheese, avocado, topped with cilantro, a perfect fried egg and pickled onions. The chicken was juicy is not a bit over cooked and unappealingly dark, but the flavour was nice.

The melty cheese and creamy slices of avocado with some of the dippy yolk made each bite rich, but the freshness of the cilantro and tart pickles cut right through it. The lettuce was obnoxiously huge – two large leaves of fresh Romain – could have been chopped up and made into a legit side salad. There is something about a sandwich made with thick sliced bread that makes me happy. Maybe it's because it's just a large plank of carbs that is used as a vessel to plow food into your face.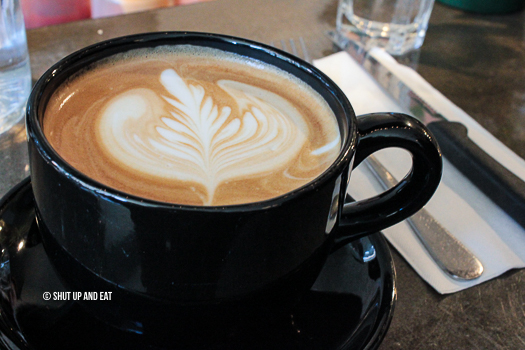 Located on Wellington, Restaurant Well is a cozy local spot that's going to satiate your fast-breaking needs. Tables line the entire length of the dining room with counter and bar space is available as well. If you're looking for a reason to catch up with loved ones or need an excuse for brunch, all's well and swell at Restaurant Well.
I can say as confidant as a filterless selfie, that this is probably one of my favourite places I discovered this year.
Restaurant Well
4567 rue wellington
514 494 4477
http://restaurantwell.com