I've been asked multiple times on my social media and especially during polls on Instagram; where is the best banh mi in Montreal? And it's always the usual suspects. The weird little shops that sell random sweet treats and sandwiches or the awkward counters inside Asian grocery stores. You know, the ones with aunties slathering homemade liver pâté, delicately holding raw-dogging – without protective gloves – a freshly sliced baguette, cramming it with miscellaneous ingredients then giving you your change from an old Costco-sized mayo bucket. But there's a place that I'm pumped to tell you about. So stop asking, I've found it; the best banh mi in Montreal. Its at Sandwicherie Sue.

I've been to Sue a handful of times and I've made my way though 5/8ths of their sandwich menu; from the "Traditional" which is your typical banh mi, to their vegetarian. This spot bills themselves as an "Asian sandwicherie", not subscribing to one particular style that gives them the freedom to riff on different kinds of sandwiches without getting crap from snooty purist who criticize the moment something doesn't line up to Wikipedia outlined ethnic sandwich definitions. Call it what you want, they serve banh mi and variations of it.

The "traditional" – roasted BBQ pork, thick slices of chả Huế (Vietnamese pork loaf with whole peppercorns) garnished with shredded lettuce, pickled daikon and carrots, sliced cucumber, in an insanely delicious crusty and fluffy baguette slathered with liver pâté and homemade buttery mayo.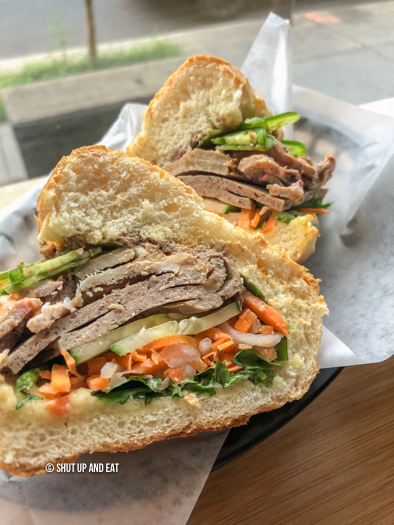 They offer the a spicy version that features slices of jalapeños and a drizzle of spicy mayo – PRO TIP: this is the correct version. Each bite is a perfect combination of smokey pork, livery pâté and peppery chả, piqued with the sweet and sour pickles and velvety mayo. If I were to try to describe anything more perfect, it would be going to Restaurant Hwang Kum in N.D.G. (for probably the best Korean food in the city) without calling in advance to see if they're open, going there to find that they're actually open.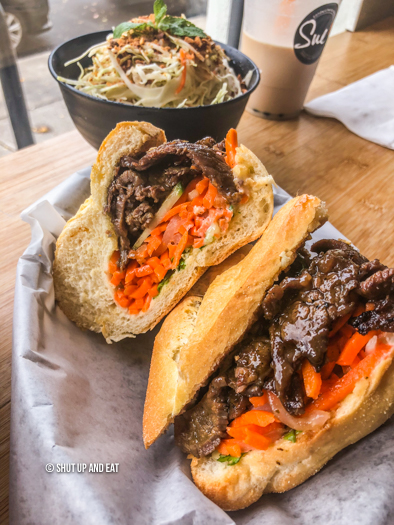 The south-east beef sandwich – thin slices of beef marinated in kaffir lime leaves. There is an undeniable umami from soy and smokey grilled char on the meat with a touch of sweetness. Delicious.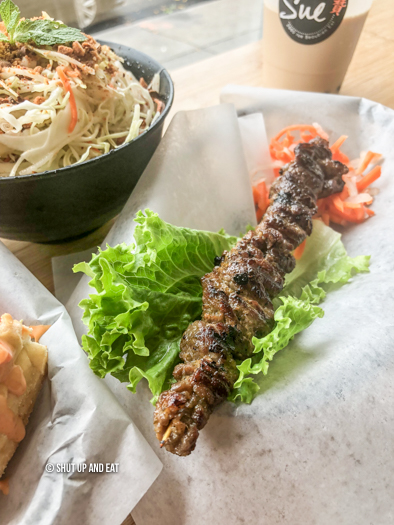 The beef and chicken brochettes are tender and flavourful. If their sandwiches weren't as awesome as they are, I can see myself making a meal of these meat lollipops. But then I could also see myself regretting it because their sandwiches are so good, that I'd probably get a sandwich to go, and then eating it in the car and getting it all over myself.

The papaya salad is ridiculous. Shaved green papaya, mixed with shredded cabbage, carrot pickles, topped with crushed roasted peanuts and tossed with an incredible sweet and tangy fish sauce dressing. This Asian coleslaw is bright and refreshing. GET IT.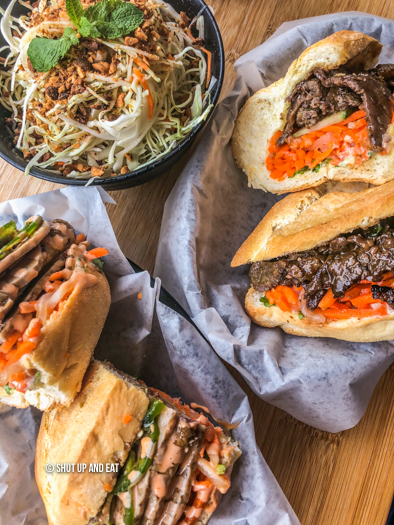 I need to mention the bread. Typical banh mi bread is light, airy and dry. It's often looked at as basically a vessel. It's rare to see a place put emphasis on their banh mi bread, and treating it as an integral role in the whole sandwich experience. The bread is hearty and substantial. It's fluffy enough to soak up any meat-juice run off, but airy enough to not feel heavy. Crusty on the outside, chewy on the inside.
Limited seating. Bubble tea and homemade signature lemonade available as well. This quick stop sandwich spot does the job every time. Fast and friendly service, that goes great with the best banh mi in Montreal (yes, I said it, so stop asking. You can keep asking, but I'll keep pointing your here.)
Sanwicherie Sue
2660 Beaubien East.
514.629.8SUE (8783)
http://www.sandwicheriesue.com/