What food related thing are you proud of? Are you able to eat really spicy foods and is potent enough to test plumping systems? Are you an expert sommellier that can discern different kinds of wine by blind sniffing the shelf at the SAQ? Have you ever eaten the weight of a small child at an all you can eat buffet? One of the things I'm most proud of is eating over 50 bowls of pho across Montreal to present the most comprehensive "Best Pho of Montreal" list. With this week's review, I'm happy to add another accomplishment to my list – having eaten at every Japanese ramen joint in Montreal. I visit Ramen Plaza.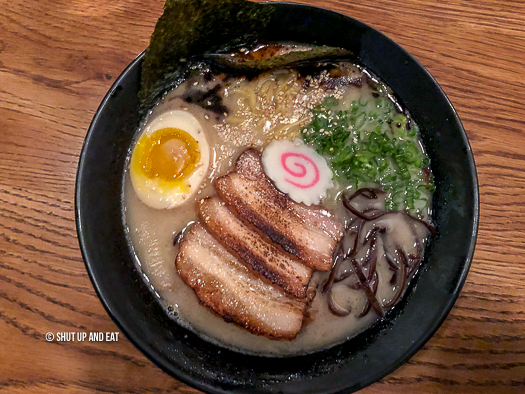 The menu consists of a bunch of appetizers, a couple of rice bowls, six different kinds of ramen bases with the choice of pork or chicken, fun cocktails and sake. We started with the okonomiyaki fries. Contrary to what you may think of awesome fry-ified strips of savory pancakes stuffed with cabbage, bacon and seafood; the "okonomiyaki fries" were basically overcooked sweet potato fries topped with the accoutrements you'd find atop this traditional griddle cooked pancake. A dousing of Japanese bbq sauce, drizzle of mayo and a sprinkling of bonito flakes, aonori, and pickled ginger over fries. Add cheese curds and you've got the beginning of a possible Japanese poutine. Yes I said it.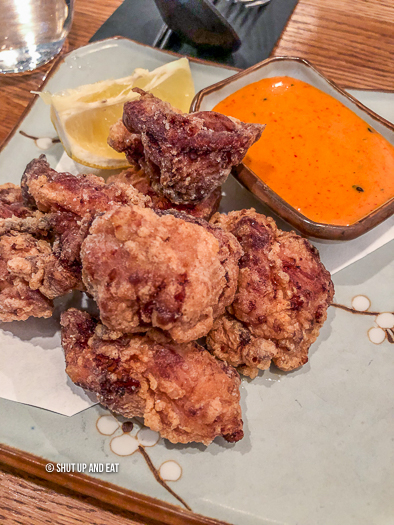 Classic izakaya and ramen shop staple (besides the noodles), chicken karaage – fried chicken. Large pieces of incredibly salty and crunchy friend chicken, served with a wedge of lemon and spicy mayo. Is there anything better than a fresh spritz of lemon juice on fried things? Maybe more fried things? The chicken was a bit dry and over cooked. But fried things with mayo tho.

I had the signature "Plaza" bowl – Rich pork broth, puled pork, cha-shu, wood-ear mushrooms, egg, naruto, and a spoonful of mayu. Garnishes like chili oil, roasted sesame, pickled ginger, roasted garlic weren't offered – I asked for chili oil. The pork belly was fatty, unctuous and lightly charred. It tasted porky but bland. I would call this broth short of tonkotsu. Although flavourful, it was missing the profound richness typical of a proper tonkotsu. The mayu – black garlic oil – was nice and added a smokey flavor but wasn't enough to really deep dive this bowl into a level past mediocre.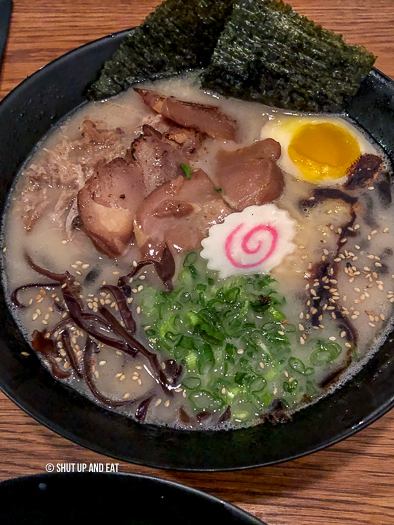 The Plaza bowl with chicken was pretty much the same. The chicken was dark meat and was heavily marinated. So much so that the texture was almost candied, toothsome to the bite. It was a bit salty, but that made up for the lackluster broth. The pulled pork in both bowls was mushy but added flavor to each mouthful.

Ramen plaza is generous with the noodles; you will definitely not walk out of there hungry. But will you walk out of there satiated and satisfied? Meh, depends how much you love ramen; casual eater and enjoyer, maybe. Enthusiast? Probably not. Don't get me wrong, the ramen is decent, but I probably won't go out of my way for it. If I was in the area and there is a ramen emergency, I'd eat it. They have some other classic dishes on their menu, actual okonomiyaki, takoyaki, gyozas, none of which I was really interested in ordering – I like to go to a ramen place for ramen, not Chinese pork buns.
Ramen Plaza
6553 St Hubert St
(438) 387-1779