I love dumplings. I give classes on dumplings. I basically look like a giant overstuffed dumpling. Needless to say, I'm all about dat dumpling lyfe. I'm always on the looking for new places to cop these little bundles of meat filled joy in and around the city. The last time I had dumplings in the West Island it was a catastrophe. The pitiful plateful of burned frozen dumplings were more disappointing than if season 8 of Game of Thrones was rewritten and then fucked up a second time. I didn't let this one bad experience extinguish all hope of finding dumplings worth eating west of the 13. In the spring, I noticed a very unassuming store front when I was driving along St. Jean. I remember seeing the sign for this store. The sign was of a dumpling. Was this the sign I was waiting for? Finally after weeks of papered up windows and disappointed drive-bys, the windows were clear and there was signs of life… or signs of dumplings inside. I tried Mama Dumplings.

I don't know the reasoning behind the name, but I can only assume it's Mama that makes the dumplings, or at least is the one responsible for the recipes. The menu is typical, a handful of appetizers and dumplings made with a choice of seafood and pork, chicken, beef and lamb along with a vegetarian option.

The hot and sour soup. Tofu, woodear mushrooms, bamboo shoots, shitake mushrooms and scallions. Not too spicy and not too sour. I added more vinegar. It was ok, it was soup.

The hot and sour cucumbers. Crisp, fresh cucumbers marinated in chili oil and vinegar. Sour with a hint of sweetness, these crunchy cukes were addictive.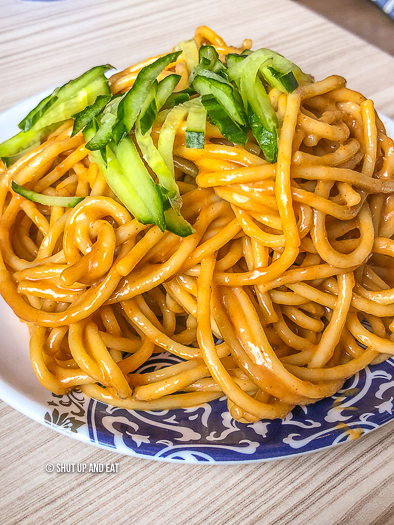 The noodle salad with peanut butter sauce topped with julienned spicy cucumbers. I make my own version of this. My dressing is a mix of peanut butter, sesame oil, vinegar, sugar and a bit a chili. It's a nice mix of sweet and savoury with some tang – so much fun. Mama Dumpling's peanut butter noodles were just that, noodles in what I think was straight up watery peanut butter. It was cold, heavy and bland. At this point I as getting skeptical about the food. But I was here for dumplings. Eyes on the prize.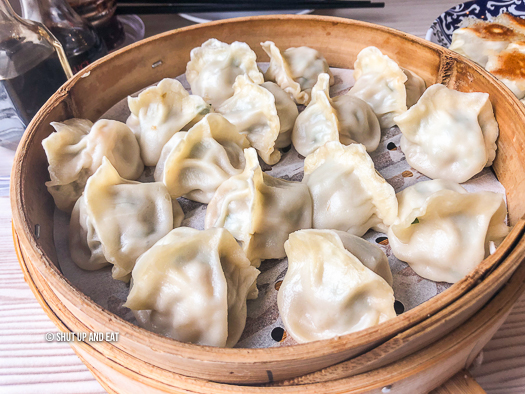 A choice of fried, steamed or boiled, we ordered the steamed pork and shrimp dumplings. First impression – they are handmade to order. You can tell by the opaque dumpling skin as well as the texture and chew once it's in your mouth. In my mouth… with my lips and my tongue.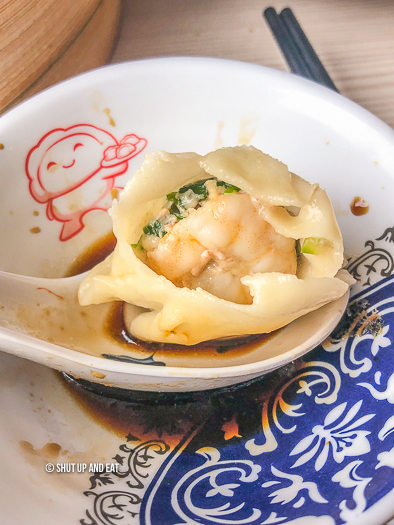 The filling was juicy and incredibly flavourful. Each dumpling featured a whole decent sized (for a dumpling) shrimp inside. PRO TIP: Remember that the soup that is incased in the dumplings is HOT. Don't put the entire thing in your mouth, unless your mouth in lined with asbestos.

The fried lamb and coriander dumplings were delicious. The filling was lamby and juicy. I'd like to bring your attention to the deliciously golden crust on the bottom (top) – it's a thing of beauty. I should also mention the wrapper; it's perfect. The right elasticity and chew in every bite. This is only possible if the dough is fresh and rolled out a la minute for each dumpling. You cannot replicate this with store-bought wrappers.

I was hoping for a player two in the West Island dumpling game, and we got one. Mama Dumpling hasn't been opened for too long and they still have some kinks to work out. Food quality was great, but service not so much – inefficient and slow. But that can be fixed as time goes on. I have high hopes for this place and it has restored my faith in West Island dumplings.
Mama Dumpling
3597 Boul Saint-Jean
(514) 305-1115